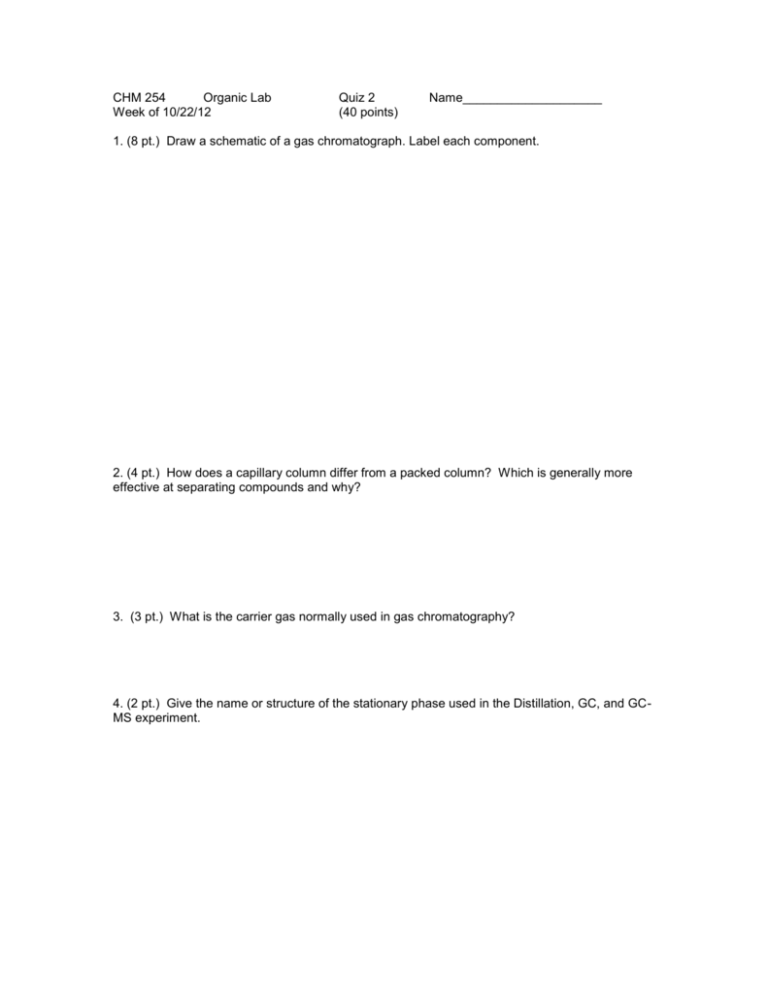 CHM 254
Organic Lab
Week of 10/22/12
Quiz 2
(40 points)
Name____________________
1. (8 pt.) Draw a schematic of a gas chromatograph. Label each component.
2. (4 pt.) How does a capillary column differ from a packed column? Which is generally more
effective at separating compounds and why?
3. (3 pt.) What is the carrier gas normally used in gas chromatography?
4. (2 pt.) Give the name or structure of the stationary phase used in the Distillation, GC, and GCMS experiment.
5. (3 pt.) There are three isomers of the aromatic hydrocarbon known as xylene. Based on the
b.p. provided, what would be their order of retention times in GC from shortest to longest?
Name
b.p.
o-xylene
143-145
m-xylene
136
p-xylene
137-138
6. (3 pt.) The b.p. of 1-chlorobutane and 1-bromobutane are 78.5C and 101.3C respectively.
Can they be effectively separated by simple distillation?
7. (4 pt.) Considering the below two component liquid mixture phase diagram, answer the
following questions:
a. What are the boiling points of A and B,
respectively?
120
110
Temperature
100
90
80
b. What is a molar composition of distillate if a
mixture of 80% A and 20% B has been
distilled? Show your work on diagram.
70
60
A 0%
100%
20%
40%
60%
80%
80%
60%
40%
20%
100%
0% B
8. (3 pt.) What is the general term for the stationary phase such as silica gel called in column
chromatography?
9. (8 pt.) The mass spectrum provided is of one of the five compounds listed. Which one is it?
Explain. Note that there is an observable M+1 peak. You do not need to know the structure.
The molecular formulas are provided. Indicate which peaks are the base peak, the molecular ion,
and the M+1 peak. If you are unsure of what the m/z is for the peak, you may ask.
Compounds
Formula
Atom
Atomic
masses (amu)
Toluene
Ethylbenzene
Ethoxybenzene
Propylbenzene
Propoxybenzene
C7H8
C8H10
C8H10O
C9H12
C9H12O
C
H
O
12.0000
1.00783
15.9949
91
92
45
65
51
10. (2 pt.) What defects in the stationary phase of column chromatography can cause the
compound bands to overlap?