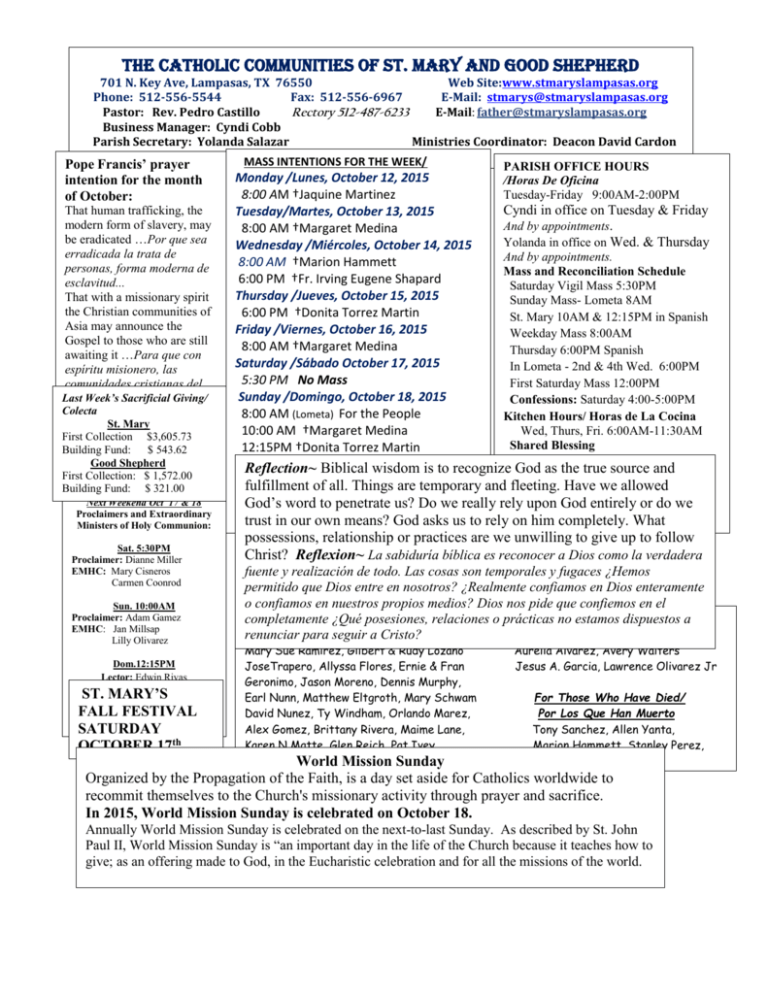 THE CATHOLIC COMMUNITIES OF ST. MARY AND GOOD SHEPHERD
701 N. Key Ave, Lampasas, TX 76550
Web Site:www.stmaryslampasas.org
Phone: 512-556-5544
Fax: 512-556-6967
E-Mail: stmarys@stmaryslampasas.org
Pastor: Rev. Pedro Castillo
Rectory 512-487-6233
E-Mail: father@stmaryslampasas.org
Business Manager: Cyndi Cobb
Parish Secretary: Yolanda Salazar
Ministries Coordinator: Deacon David Cardon
Pope Francis' prayer
intention for the month
of October:
That human trafficking, the
modern form of slavery, may
be eradicated …Por que sea
erradicada la trata de
personas, forma moderna de
esclavitud...
That with a missionary spirit
the Christian communities of
Asia may announce the
Gospel to those who are still
awaiting it …Para que con
espíritu misionero, las
comunidades cristianas del
Last
Week's asiático
Sacrificial
Giving/
continente
anuncien
Colecta
el Evangelio a todos aquellos
Mary
que aún St.
lo esperan.
First Collection $3,605.73
Building Fund: $ 543.62
Good Shepherd
First Collection: $ 1,572.00
Building Fund: $ 321.00
Next Weekend Oct 17 & 18
Proclaimers and Extraordinary
Ministers of Holy Communion:
Sat. 5:30PM
Proclaimer: Dianne Miller
EMHC: Mary Cisneros
Carmen Coonrod
Sun. 10:00AM
Proclaimer: Adam Gamez
EMHC: Jan Millsap
Lilly Olivarez
Dom.12:15PM
Lector: Edwin Rivas
Nancy Miranda
ST. MARY'S
FALL
Counters forFESTIVAL
this week Oct 12
Pat Olivarez &Clara Gamez
SATURDAY
OCTOBER 17th
MASS INTENTIONS FOR THE WEEK/
Monday /Lunes, October 12, 2015
8:00 AM †Jaquine Martinez
Tuesday/Martes, October 13, 2015
8:00 AM †Margaret Medina
Wednesday /Miércoles, October 14, 2015
8:00 AM †Marion Hammett
6:00 PM †Fr. Irving Eugene Shapard
Thursday /Jueves, October 15, 2015
6:00 PM †Donita Torrez Martin
Friday /Viernes, October 16, 2015
8:00 AM †Margaret Medina
Saturday /Sábado October 17, 2015
5:30 PM No Mass
Sunday /Domingo, October 18, 2015
8:00 AM (Lometa) For the People
10:00 AM †Margaret Medina
12:15PM †Donita Torrez Martin
PARISH OFFICE HOURS
/Horas De Oficina
Tuesday-Friday 9:00AM-2:00PM
Cyndi in office on Tuesday & Friday
And by appointments.
Yolanda in office on Wed. & Thursday
And by appointments.
Mass and Reconciliation Schedule
Saturday Vigil Mass 5:30PM
Sunday Mass- Lometa 8AM
St. Mary 10AM & 12:15PM in Spanish
Weekday Mass 8:00AM
Thursday 6:00PM Spanish
In Lometa - 2nd & 4th Wed. 6:00PM
First Saturday Mass 12:00PM
Confessions: Saturday 4:00-5:00PM
Kitchen Hours/ Horas de La Cocina
Wed, Thurs, Fri. 6:00AM-11:30AM
Shared Blessing
Wed. & Friday 9:30AM - 11:30AM
__________________________________________
Reflection~
Biblical wisdom is to recognizeFood
GodPantry
as the /true
source
Despensa
de and
Comida
SOMEONE IN THE HOSPITAL?
fulfillment
of
all.
Things
are
temporary
and
fleeting.
Have
we
allowed
Wednesday &Friday 9:30-11:30AM
If a member of your family is ill and would
Gift upon
shop isGod
opened
duringor
office
hours
God's
to penetrate
we really rely
entirely
do we
like
to seeword
a priest,
please callus?
theDo
parish
trust in our own means? God asks us to rely on him completely. What
office.
possessions, relationship or practices are we unwilling to give up to follow
Christ? Reflexion~ La sabiduría bíblica es reconocer a Dios como la verdadera
fuente y realización de todo. Las cosas son temporales y fugaces ¿Hemos
permitido que Dios entre en nosotros? ¿Realmente confiamos en Dios enteramente
o confiamos en nuestros propios medios? Dios nos pide que confiemos en el
For
Our Sick/ Por
Nuestro
Enfermos
For Those
Who Serve
Our Country/
completamente
¿Qué
posesiones,
relaciones o prácticas
no estamos
dispuestos
a
Anna
Belle para
Salazar,
RitaaValdez,
Por Los Que Sirven Nuestro Pais
renunciar
seguir
Cristo?Lisa Cardon
Mary Sue Ramirez, Gilbert & Rudy Lozano
JoseTrapero, Allyssa Flores, Ernie & Fran
Geronimo, Jason Moreno, Dennis Murphy,
Earl Nunn, Matthew Eltgroth, Mary Schwam
David Nunez, Ty Windham, Orlando Marez,
Alex Gomez, Brittany Rivera, Maime Lane,
Karen N Matte, Glen Reich, Pat Ivey,
Aurelia Alvarez, Avery Walters
Jesus A. Garcia, Lawrence Olivarez Jr
For Those Who Have Died/
Por Los Que Han Muerto
Tony Sanchez, Allen Yanta,
Marion Hammett, Stanley Perez,
Oscar Valadez
World Mission Sunday
Organized by the Propagation of the Faith, is a day set aside for Catholics worldwide to
recommit themselves to the Church's missionary activity through prayer and sacrifice.
In 2015, World Mission Sunday is celebrated on October 18.
Annually World Mission Sunday is celebrated on the next-to-last Sunday. As described by St. John
Paul II, World Mission Sunday is "an important day in the life of the Church because it teaches how to
give; as an offering made to God, in the Eucharistic celebration and for all the missions of the world.
St. Mary's Catholic Church
Food Pantry
September 2015 Report
Families Served = 213
Individuals Served = 815
New Clients =
22
Food Donated =
941 #
Capital Area Food Bank of
Texas Order for September
= 4,508 #
LOCK- IN
October 24, 12:00 noon –12:00 midnight
a full day of Fun, games, food, worship,
prizes. Grades 9-12. donations are still
being accepted for snack.
Contact Cindi Sierra 512 525-9859 or
Pat Olivarez 512 525-5992.
FALL FESTIVAL
Donations needed for the soda shack
contact Cindi Sierra 512 525-9859.
Any donations may be dropped off at
the Parish Office. Thank You!
There will be a Pastoral Council meeting this Tuesday October 13 at 6:30 p.m. in the Office.
The agenda includes:







Project for the Parish property on 183...
Ideas/suggestions to improve the bulletin and the website.
First approach to the Diocesan Pastoral Plan
Office schedule update
Proposed Christmas & New Year Mass Schedules.
Evaluation of the Festival: Golf Tournament, Turkey dinner, all the activities on October
17.
Miscellaneous.
On this coming Wednesday, October 14 there will be an altar servers meeting in the Chapel
beginning at 6:30 p.m. Those who received First Communion are encouraged to consider altar
server training. Please come to the meeting.
There will be no confessions, no mass next Saturday because of the Festival.
Youth are encouraged to participate more actively in the first Sunday mass beginning on
November first. D.R.E'S please help to coordinate this with the Catechists. Thank you.