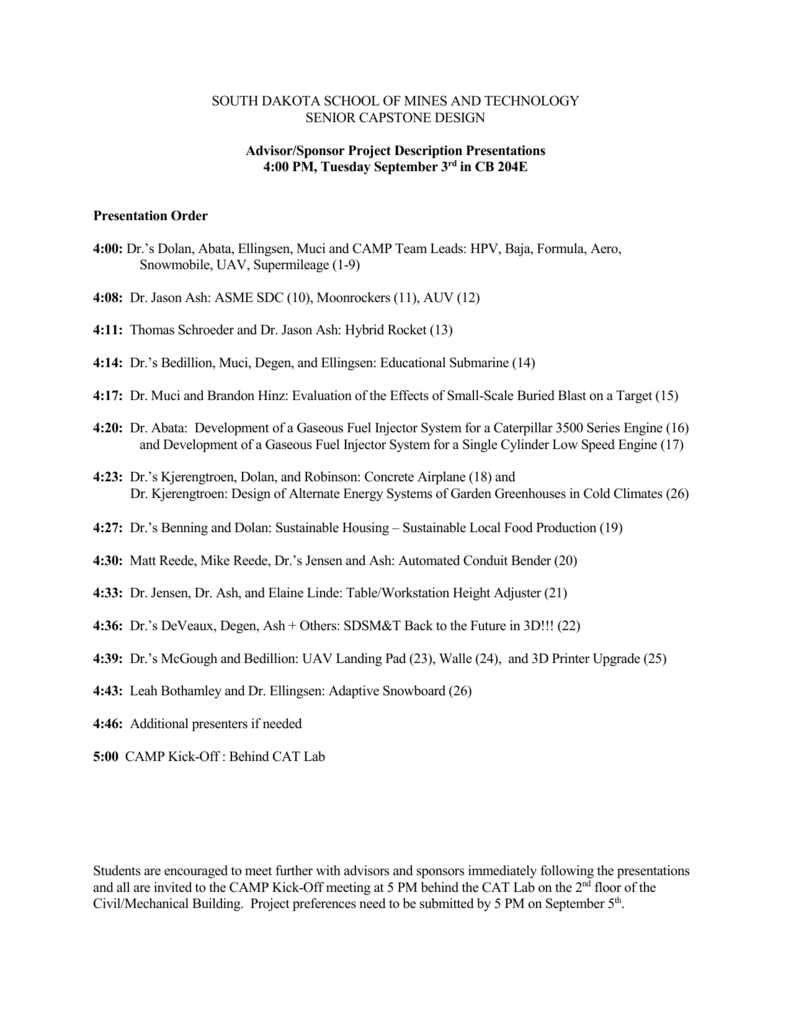 SOUTH DAKOTA SCHOOL OF MINES AND TECHNOLOGY
SENIOR CAPSTONE DESIGN
Advisor/Sponsor Project Description Presentations
4:00 PM, Tuesday September 3rd in CB 204E
Presentation Order
4:00: Dr.'s Dolan, Abata, Ellingsen, Muci and CAMP Team Leads: HPV, Baja, Formula, Aero,
Snowmobile, UAV, Supermileage (1-9)
4:08: Dr. Jason Ash: ASME SDC (10), Moonrockers (11), AUV (12)
4:11: Thomas Schroeder and Dr. Jason Ash: Hybrid Rocket (13)
4:14: Dr.'s Bedillion, Muci, Degen, and Ellingsen: Educational Submarine (14)
4:17: Dr. Muci and Brandon Hinz: Evaluation of the Effects of Small-Scale Buried Blast on a Target (15)
4:20: Dr. Abata: Development of a Gaseous Fuel Injector System for a Caterpillar 3500 Series Engine (16)
and Development of a Gaseous Fuel Injector System for a Single Cylinder Low Speed Engine (17)
4:23: Dr.'s Kjerengtroen, Dolan, and Robinson: Concrete Airplane (18) and
Dr. Kjerengtroen: Design of Alternate Energy Systems of Garden Greenhouses in Cold Climates (26)
4:27: Dr.'s Benning and Dolan: Sustainable Housing – Sustainable Local Food Production (19)
4:30: Matt Reede, Mike Reede, Dr.'s Jensen and Ash: Automated Conduit Bender (20)
4:33: Dr. Jensen, Dr. Ash, and Elaine Linde: Table/Workstation Height Adjuster (21)
4:36: Dr.'s DeVeaux, Degen, Ash + Others: SDSM&T Back to the Future in 3D!!! (22)
4:39: Dr.'s McGough and Bedillion: UAV Landing Pad (23), Walle (24), and 3D Printer Upgrade (25)
4:43: Leah Bothamley and Dr. Ellingsen: Adaptive Snowboard (26)
4:46: Additional presenters if needed
5:00 CAMP Kick-Off : Behind CAT Lab
Students are encouraged to meet further with advisors and sponsors immediately following the presentations
and all are invited to the CAMP Kick-Off meeting at 5 PM behind the CAT Lab on the 2nd floor of the
Civil/Mechanical Building. Project preferences need to be submitted by 5 PM on September 5th.