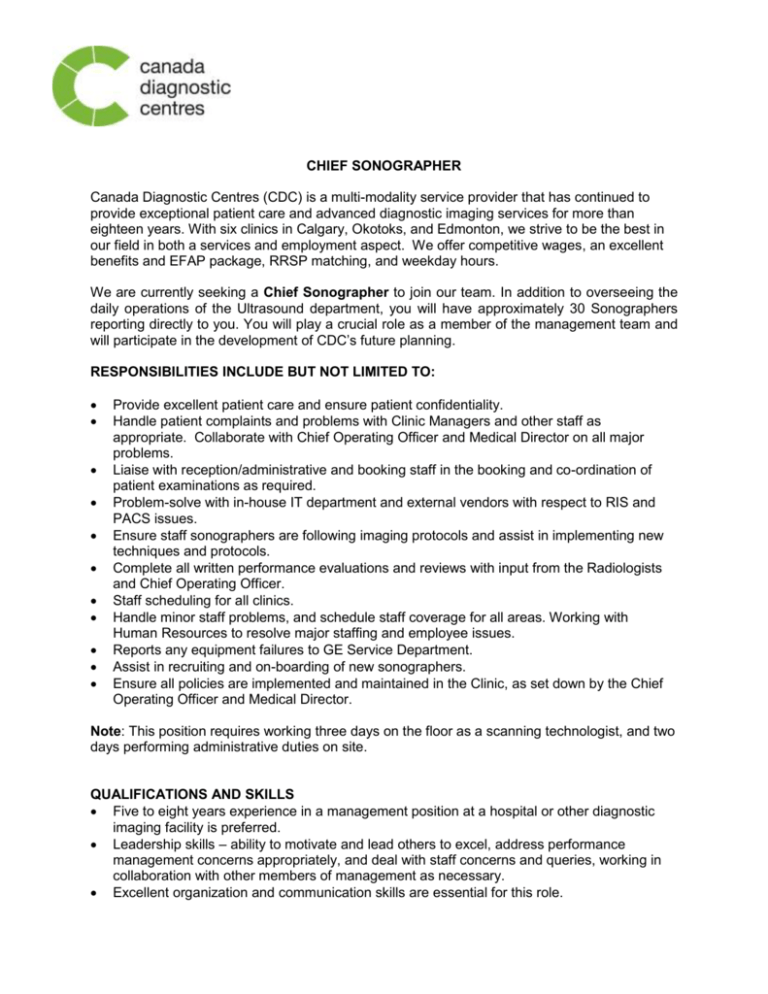 CHIEF SONOGRAPHER
Canada Diagnostic Centres (CDC) is a multi-modality service provider that has continued to
provide exceptional patient care and advanced diagnostic imaging services for more than
eighteen years. With six clinics in Calgary, Okotoks, and Edmonton, we strive to be the best in
our field in both a services and employment aspect. We offer competitive wages, an excellent
benefits and EFAP package, RRSP matching, and weekday hours.
We are currently seeking a Chief Sonographer to join our team. In addition to overseeing the
daily operations of the Ultrasound department, you will have approximately 30 Sonographers
reporting directly to you. You will play a crucial role as a member of the management team and
will participate in the development of CDC's future planning.
RESPONSIBILITIES INCLUDE BUT NOT LIMITED TO:











Provide excellent patient care and ensure patient confidentiality.
Handle patient complaints and problems with Clinic Managers and other staff as
appropriate. Collaborate with Chief Operating Officer and Medical Director on all major
problems.
Liaise with reception/administrative and booking staff in the booking and co-ordination of
patient examinations as required.
Problem-solve with in-house IT department and external vendors with respect to RIS and
PACS issues.
Ensure staff sonographers are following imaging protocols and assist in implementing new
techniques and protocols.
Complete all written performance evaluations and reviews with input from the Radiologists
and Chief Operating Officer.
Staff scheduling for all clinics.
Handle minor staff problems, and schedule staff coverage for all areas. Working with
Human Resources to resolve major staffing and employee issues.
Reports any equipment failures to GE Service Department.
Assist in recruiting and on-boarding of new sonographers.
Ensure all policies are implemented and maintained in the Clinic, as set down by the Chief
Operating Officer and Medical Director.
Note: This position requires working three days on the floor as a scanning technologist, and two
days performing administrative duties on site.
QUALIFICATIONS AND SKILLS
 Five to eight years experience in a management position at a hospital or other diagnostic
imaging facility is preferred.
 Leadership skills – ability to motivate and lead others to excel, address performance
management concerns appropriately, and deal with staff concerns and queries, working in
collaboration with other members of management as necessary.
 Excellent organization and communication skills are essential for this role.





Familiarity with requirements of the College of Physicians and Surgeons of Alberta.
Certified according to Staff Sonographer qualifications to perform duties that position
entails.
Flexibility and willingness to manage numerous tasks.
Ability to work well independently and within a multi-disciplinary team environment.
Additional formal training in business management is preferred.
If you are a motivated, dedicated, and experienced Sonographer interested in this exciting
opportunity, please send your resume in confidence to:
Stephanie Chung
Human Resources Generalist
Canada Diagnostic Centres
#1, 6020-1A St. SW
Calgary, AB
T2H 0G3
Email: schung@canadadiagnostics.ca
Fax: (403) 253-4630
www.canadadiagnostics.ca
*Please no phone calls*
Only candidates considered for an interview will be contacted.