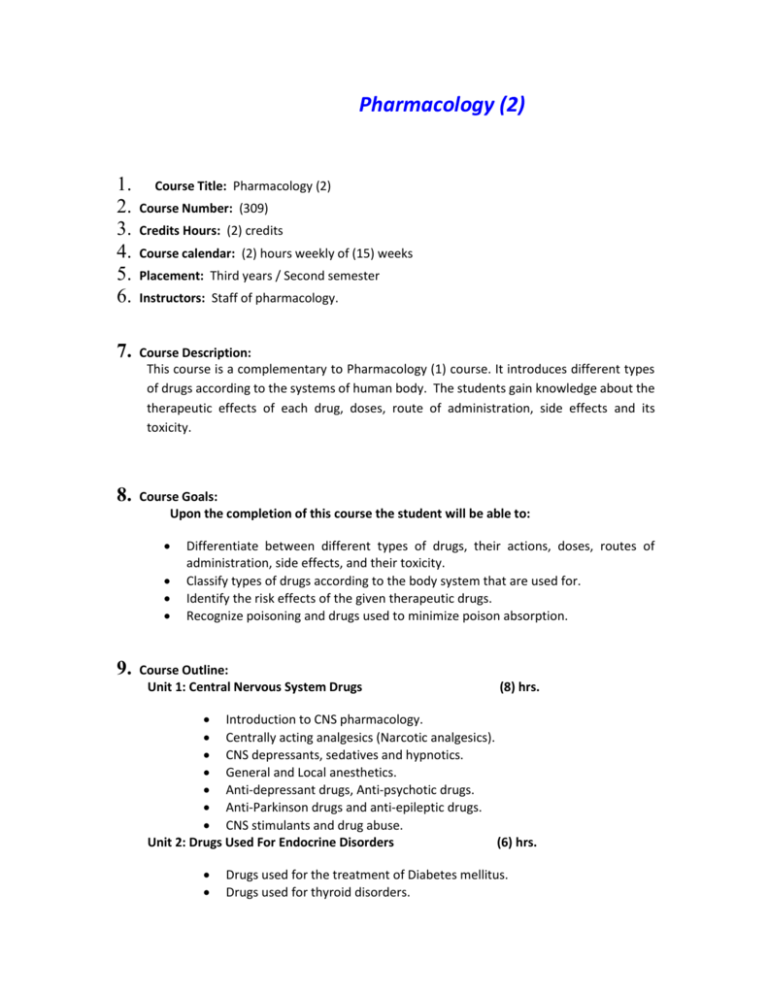 Pharmacology (2)
1.
2.
3.
4.
5.
6.
Course Title: Pharmacology (2)
Course Number: (309)
Credits Hours: (2) credits
Course calendar: (2) hours weekly of (15) weeks
Placement: Third years / Second semester
Instructors: Staff of pharmacology.
7.
Course Description:
This course is a complementary to Pharmacology (1) course. It introduces different types
of drugs according to the systems of human body. The students gain knowledge about the
therapeutic effects of each drug, doses, route of administration, side effects and its
toxicity.
8.
Course Goals:
Upon the completion of this course the student will be able to:




9.
Differentiate between different types of drugs, their actions, doses, routes of
administration, side effects, and their toxicity.
Classify types of drugs according to the body system that are used for.
Identify the risk effects of the given therapeutic drugs.
Recognize poisoning and drugs used to minimize poison absorption.
Course Outline:
Unit 1: Central Nervous System Drugs
(8) hrs.
 Introduction to CNS pharmacology.
 Centrally acting analgesics (Narcotic analgesics).
 CNS depressants, sedatives and hypnotics.
 General and Local anesthetics.
 Anti-depressant drugs, Anti-psychotic drugs.
 Anti-Parkinson drugs and anti-epileptic drugs.
 CNS stimulants and drug abuse.
Unit 2: Drugs Used For Endocrine Disorders
(6) hrs.


Drugs used for the treatment of Diabetes mellitus.
Drugs used for thyroid disorders.

Drugs related to hypothalamic and pituitary functions:
-Growth hormone.
- Onadotropins.
-Oxytocin.
-Corticotrophin.
-Anti-diuretic hormone.
 Adrenocortical hormones.
 Sex hormones and female contraception.
Unit 3: Non-steroidal Anti-inflammatory Drugs and
(1) hr.
Paracetamol.
Unit 4: Anti- histaminic Drugs.
(1) hr.
Unit 5: Immunosuppressant Drugs.
(1) hr.
Unit 6: Gastrointestinal Drugs.
(2) hrs.
 Drugs used in the treatment of peptic and duodenal ulcers.
 Laxatives, Anti-diarrhoeal drugs, Anti-emetics.
Unit 7: Chemotherapy of Infectious Diseases:
(4) hrs.
 Basic principles of anti-microbial therapy.
 Classes of anti-bacterial drugs.
 Anti-fungal drugs, Anti-viral drugs.
 Antiseptics and Disinfectants.
Unit 8: Chemotherapy of Parasitic Diseases
(1) hr.
 Antehelmentics.
 Anti-protozoal agents.
 Ati-malarial drugs.
Unit 9: Cancer Chemotherapy.
(1) hr.
 Principles of cancer chemotherapy.
 Anti-cancer drugs.
Unit 10: Nutrition.
(2) hrs.
 Vitamins.
 Enteral and Parenteral Nutrition.
 Drugs used for the treatment of obesity.
Unit 11: Toxicology:
(3) hrs.


Management of poisoning
Drugs and procedures used to minimize poison



absorption.
Drugs and procedures used for poison removal.
Specific anti-dotes.
10.
Learning resources:
Black board, over head projector, slide projector and scientific movies
11.
Teaching Learning Strategies:
Lectures, Discussions, and weekly seminars.
12.
Students Evaluation:
1st theory exam.
2nd theory exam.
Reports.
Final Exam
20%
20%
10%
50%
-----------------------------------------------Total
13.
100%
References.
 Anne Collins Abrams, Clinical Drug Therapy:
Rationales for Nursing Practice, 6th ed., New York, Lippincott,
2001.
 Richard A. Lehne, Pharmacology for Nursing Care, 4th ed.
London, Saunders, 2001.