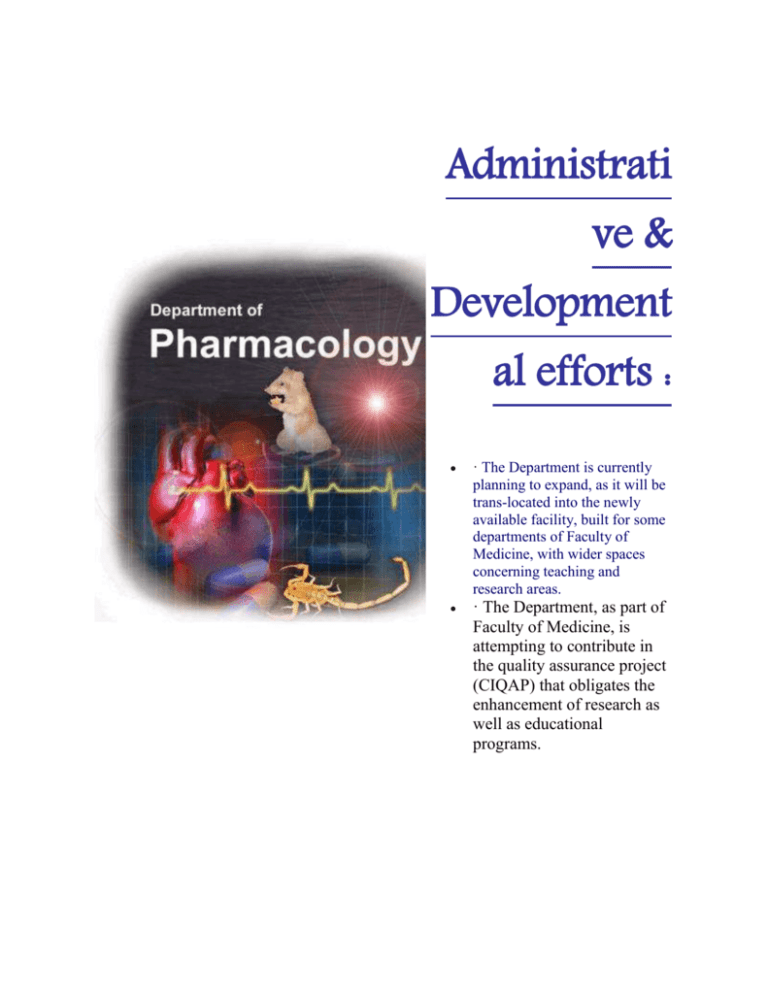 Administrati
ve &
Development
al efforts :

· The Department is currently
planning to expand, as it will be
trans-located into the newly
available facility, built for some
departments of Faculty of
Medicine, with wider spaces
concerning teaching and
research areas.

· The Department, as part of
Faculty of Medicine, is
attempting to contribute in
the quality assurance project
(CIQAP) that obligates the
enhancement of research as
well as educational
programs.
Head of Department
Prof. Aly Mohamed Omar
Abdelrahman
Members of the department
Research
· Ongoing research in the Pharmacology Department includes
cardiovascular pharmacology, metabolic syndrome animal
model, anti-cancer drug-induced toxicities, apoptosis, oxidative
stress and inflammatory markers.
· The Department of Pharmacology works in close collaboration
with other Departments in the Faculty of Medicine, as well as at
the national and international levels to cope with the rapidly
advancing competition in medical education and research.
Education
The Pharmacology Department,
Faculty of Medicine, Minia
University offers Pharmacology
courses for undergraduate
students of Medical, Dental, and
Nursing Faculties, as well as
Nursing Institute and School.
· In addition, the Pharmacology
Department also provides
Master, PhD and MD
postgraduates in different
clinical medical specialties with
their Pharmacology postgraduate
courses.