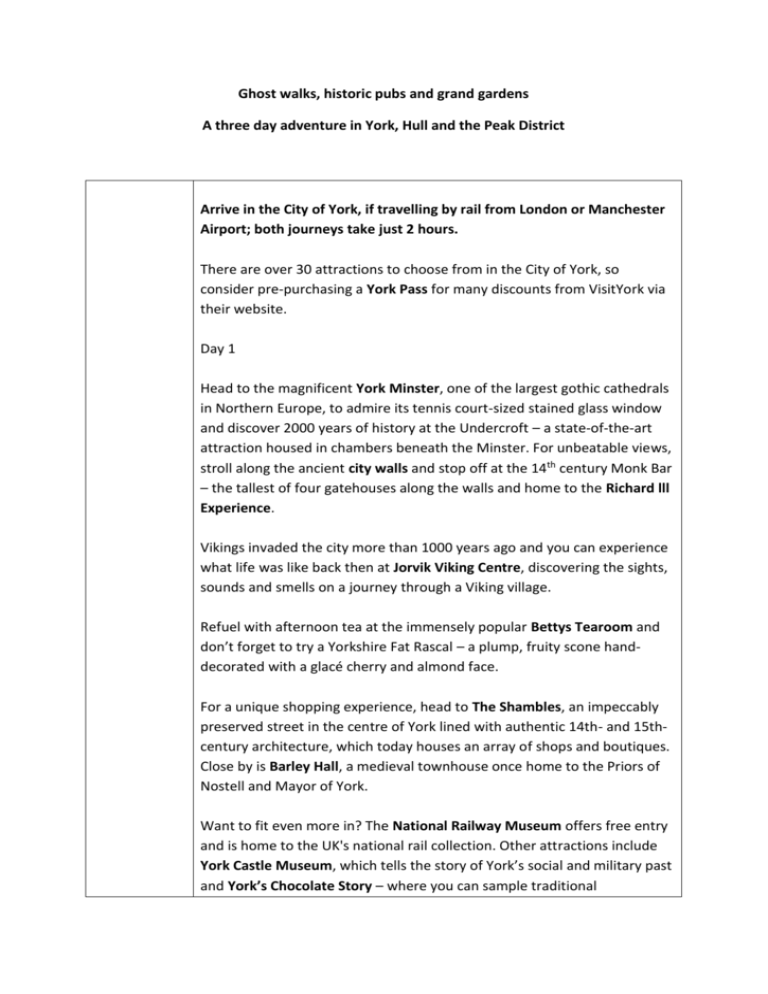 Ghost walks, historic pubs and grand gardens
A three day adventure in York, Hull and the Peak District
Arrive in the City of York, if travelling by rail from London or Manchester
Airport; both journeys take just 2 hours.
There are over 30 attractions to choose from in the City of York, so
consider pre-purchasing a York Pass for many discounts from VisitYork via
their website.
Day 1
Head to the magnificent York Minster, one of the largest gothic cathedrals
in Northern Europe, to admire its tennis court-sized stained glass window
and discover 2000 years of history at the Undercroft – a state-of-the-art
attraction housed in chambers beneath the Minster. For unbeatable views,
stroll along the ancient city walls and stop off at the 14th century Monk Bar
– the tallest of four gatehouses along the walls and home to the Richard lll
Experience.
Vikings invaded the city more than 1000 years ago and you can experience
what life was like back then at Jorvik Viking Centre, discovering the sights,
sounds and smells on a journey through a Viking village.
Refuel with afternoon tea at the immensely popular Bettys Tearoom and
don't forget to try a Yorkshire Fat Rascal – a plump, fruity scone handdecorated with a glacé cherry and almond face.
For a unique shopping experience, head to The Shambles, an impeccably
preserved street in the centre of York lined with authentic 14th- and 15thcentury architecture, which today houses an array of shops and boutiques.
Close by is Barley Hall, a medieval townhouse once home to the Priors of
Nostell and Mayor of York.
Want to fit even more in? The National Railway Museum offers free entry
and is home to the UK's national rail collection. Other attractions include
York Castle Museum, which tells the story of York's social and military past
and York's Chocolate Story – where you can sample traditional
confectionary and get a taste of York's chocolate-making history.
Elsewhere, Yorkshire Museum houses Roman and Viking artefacts and the
elegant Treasurer's House is filled with an extensive array of antique
furniture, ceramics, art and textiles.
Come sundown, admire the city's landmarks from the water on a relaxing
boat trip along the River Ouse or get goosebumps as you wander through a
maze of cobbled streets on a Ghost Walk which starts from the Kings Arms
pub by the river.
Did you know York is said to be the most haunted city in Europe?
Day 2
Depart York and travel to the City of Hull via the A1079 (travelling south
east) and the market town of Beverley, home to a gloriously gothic 13thcentury minster of the same name. The journey to Hull should take 1
hour 30 minutes.
With historical buildings, bustling shops and lively bars and restaurants,
Yorkshire's only waterfront city is a real hidden treasure.
Visit the Old Town where you'll find the free Museums Quarter, home to
Wilberforce House, the birthplace of William Wilberforce, a leading light of
the anti-slavery movement, and also the Streetlife Museum of Transport,
where you can step back in time with 200 years of transport history.
As well as plenty of modern bars and restaurants there are historic pubs to
visit too, such as Ye Olde White Harte with its Plotting Parlour, the place
where the plotting of the English Civil War allegedly took place.
Just a few minutes' walk from Ye Olde White Harte is the Mission which
started life as a seamen's mission in 1866 and is now one of the quirkiest
pubs in England. Housed in the former chapel, settle down with a pint and
admire the crooked wooden beams and colourful stained-glass window.
Afterwards, spend time at The Deep, one of the most spectacular
aquariums in the world, or walk along the marina enjoying the peaceful
sound of the boat masts swaying in the wind.
Make some time too for Hull's historic Fruit Market which has been
brought back to life with a number of thriving new creative and cultural
venues, collectively known as Früit. With art galleries and live music, as
well as boutique markets and fine dining, this retro location is now a hive
of new activity and just a short walk away from Hull Marina. With plenty of
lively restaurants and traditional pubs overlooking the stunning River
Humber, it's the perfect place to visit at sunset.
Continue your evening out with a show at the Hull New Theatre and Hull
Truck Theatre – an iconic British theatre company.
Did you know Hull is the UK City of Culture 2017?
Day 3
Travel south west from Hull via M62, M18 and M1 to Junction 29 via
Chesterfield to Chatsworth in the Peak District National Park; this will
take about 1 hour 40 minutes.
Chatsworth is one of the UK's most impressive stately homes with vast
gardens and parkland rolling as far as the eye can see.
Home to the Duke and Duchess of Devonshire, it has been passed down
through 16 generations of the Cavendish family, while the house's
elaborate architecture, interiors and one of Europe's most significant art
collections have been evolving for five centuries.
Spend time exploring Old Masters, contemporary ceramics, ancient
Egyptian artefacts, modern sculpture and much more in sumptuous stately
surroundings.
Make time for Chatsworth's grand greenery too, including the enchanting
gardens and famous waterworks such as the 300-year-old Cascade, the
Squirting Willow Tree Fountain and the impressive gravity-fed Emperor
Fountain.
Depart after lunch from Baslow (near Chatsworth), take A623 and turn
right to A625 via Hathersage to Castleton (12 miles/24 minutes).
The Peak and Speedwell Caverns are the biggest natural caverns in
Derbyshire, with the largest entrance to any cave in the British Isles. Take a
boat trip 450 metres under the Castleton Hills to the awesome Bottomless
Pit and experience what life was like for an 18th century miner.
Not too far away is Buxton, a resplendent spa town flowing with natural
mineral springs and filled with handsome landmarks including the Buxton
Opera House which hosts around 450 performances a year.
In summer, make sure you experience the eccentric Buxton Well Dressing
Festival and take a stroll through the heady scented Pavilion Gardens.
For something more unusual, journey underground and enter another
world as you gaze at Poole's Cavern's striking stalactites dating back two
million years.
Did you know the Peak District National Park, as well as its spectacular
scenery has featured in numerous books, films and TV shows: Chatsworth
(The Duchess, Pride and Prejudice), Haddon Hall (Jane Eyre, Pride and
Prejudice, Elizabeth, Henry VIII, Moll Flanders), Lyme Hall (Pride and
Prejudice), and North Lees Hall (Jane Eyre, Pride and Prejudice, The Other
Boleyn Girl).
Overnight in Buxton OR travel onto Manchester (from the Caverns via
A6013/A57 Glossop) OR (from Buxton via Macclesfield) OR to London (via
A619/Chesterfield/M1).