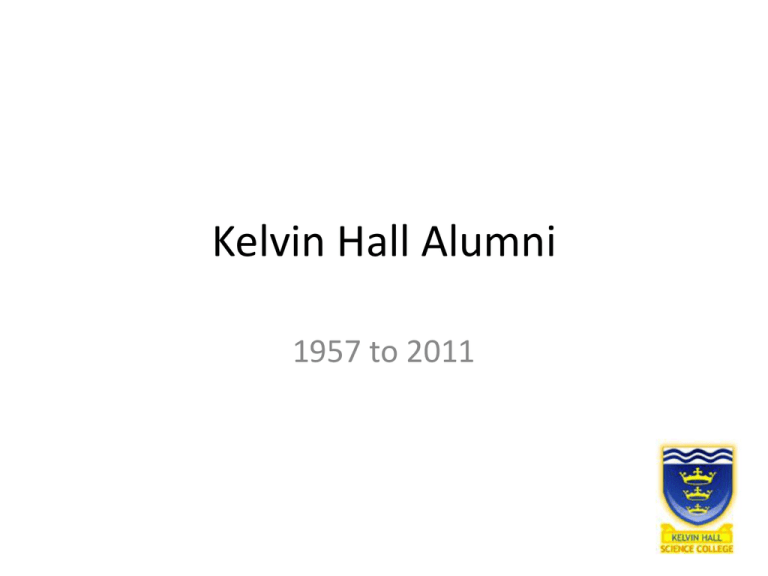 Kelvin Hall Alumni
1957 to 2011
Many of our former pupils have gone on to do great
things, what could your child become?...
Nick Barmby
1985 – 1987
Hull City Football Club manager and former
premiership footballer.
Martin Barrass
Years at Kelvin?
York-based actor, famous for his annual
appearances in pantomimes.
Bianca Blackburn
2005 - 2010
One of only three 17 year olds to be part
of the England U20 women's rugby team.
Steve Chambers
1999 – 2004
Hedge fund analyst and band
member.
John Clayton
1960 - 1966
Harbour Master for the port of
Musaffah in Abu Dhabi.
Saphia Crowther
1996 to 2001
Editor at Amnesty International,
responsible for writing appeals for
people who have been wrongly
imprisoned throughout the world.
Kris Edge
1998 – 2003
Avionics specialist working on the
electrical systems within fighter jets at
RAF Leeming in North Yorkshire.
Sally Fairfax
1989 – 1992
Presenter, news reader, reporter and
producer at BBC Radio Humberside.
Roland Gift
1972 – 1978
Former lead singer of British band, The
Fine Young Cannibals.
Jane Glaister OBE
1964 – 1971
A nationally recognised specialist in
the creative and cultural industries,
specialising in cultural heritage.
Malcolm Goodman MBE
1964 – 1972
Founding charity trustee of the National
Association of Youth Orchestras and The
Royal Air Force Music Charitable Trust.
Anna Hill
1986 –
Working as a music teacher in
Northern Ireland.
Gary Hood
1969 – 1973
Director of the Humber Sports
Partnership, which works to provide
more sporting opportunities to
communities across the Humber region.
Dr David Holmes
1961 - 1967
A clinical and forensic psychologist,
who has taken part in more than
1,000 TV and radio broadcasts.
Kimberley Jones
1999 – 2004
Working as a cover supervisor at
Kelvin Hall School.
Emma Palmer
2001 – 2006
Enterprise officer at Hull College, who
also runs technical theatre workshops for
young people.
Andrew Penny
1964 - 1970
Musical director of the
Hull Philharmonic Orchestra.
Ian Redmond OBE
1967 - 1972
Tropical field biologist and
conservationist, specialising in his work
with gorillas and elephants.