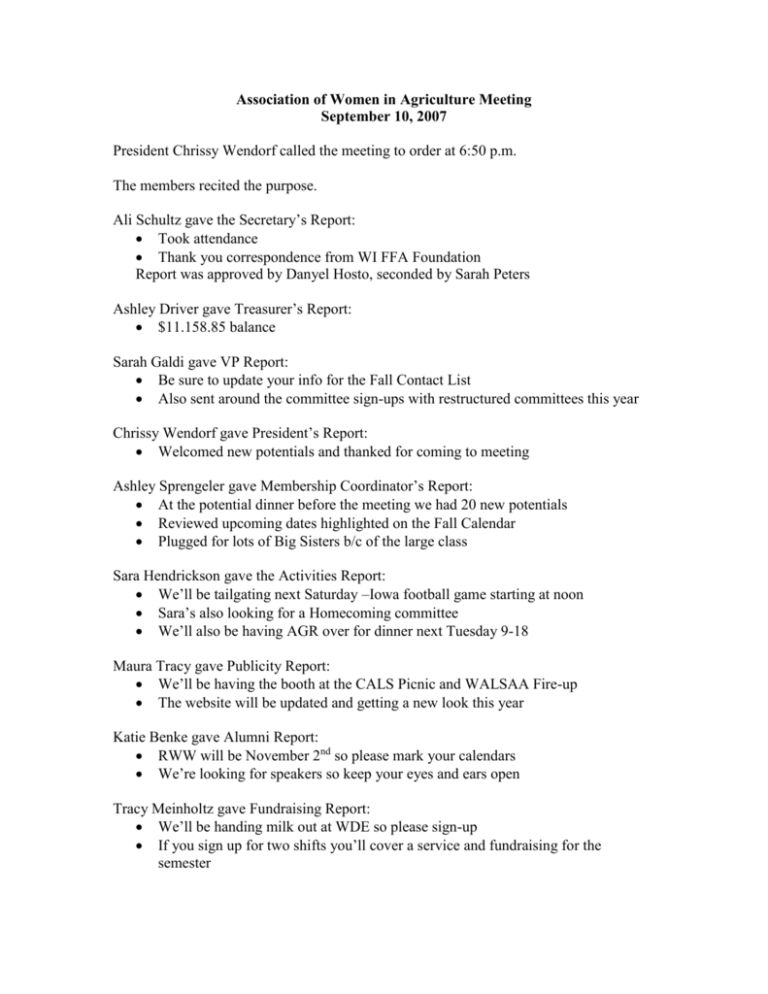 Association of Women in Agriculture Meeting
September 10, 2007
President Chrissy Wendorf called the meeting to order at 6:50 p.m.
The members recited the purpose.
Ali Schultz gave the Secretary's Report:
 Took attendance
 Thank you correspondence from WI FFA Foundation
Report was approved by Danyel Hosto, seconded by Sarah Peters
Ashley Driver gave Treasurer's Report:
 $11.158.85 balance
Sarah Galdi gave VP Report:
 Be sure to update your info for the Fall Contact List
 Also sent around the committee sign-ups with restructured committees this year
Chrissy Wendorf gave President's Report:
 Welcomed new potentials and thanked for coming to meeting
Ashley Sprengeler gave Membership Coordinator's Report:
 At the potential dinner before the meeting we had 20 new potentials
 Reviewed upcoming dates highlighted on the Fall Calendar
 Plugged for lots of Big Sisters b/c of the large class
Sara Hendrickson gave the Activities Report:
 We'll be tailgating next Saturday –Iowa football game starting at noon
 Sara's also looking for a Homecoming committee
 We'll also be having AGR over for dinner next Tuesday 9-18
Maura Tracy gave Publicity Report:
 We'll be having the booth at the CALS Picnic and WALSAA Fire-up
 The website will be updated and getting a new look this year
Katie Benke gave Alumni Report:
 RWW will be November 2nd so please mark your calendars
 We're looking for speakers so keep your eyes and ears open
Tracy Meinholtz gave Fundraising Report:
 We'll be handing milk out at WDE so please sign-up
 If you sign up for two shifts you'll cover a service and fundraising for the
semester

We're also doing a recipe exchange this year for a fundraiser so please begin
submitting recipes to her
Liz Seitz gave the Scholarship Report:
 A Dean's List sign-up went around for recognition
 We'll be reinstating a "rate my professor" survey for future use
 Next meeting we'll be voting for member of the month so please keep people in
mind for nominations
 The Test file is available on 3rd floor for use
o Please be sure that papers stay on 3rd floor and make copies as needed
Joell Henken gave the Sentinal Report:
 Thanked everyone for helping set up the room
 She's looking for ideas for guest speakers for meetings so if you have them please
submit to her
Sarah Peters
 Welcomed everyone back and potentials to our first meeting
 Is looking for people for the Sunshine Committee to help decorate and recognize
 Birthdays: Lynn Dickman, Andrea Showers, Emily Winther, Alane Uhe
Shi Lurvey gave the AWA Wear Report:
 She'll be sending out a survey for what we're looking for this year
 She wants final orders in by the beginning of Oct.
 She's also looking for feedback on AWA Name Tags
Rachael Herschleb gave the Newsletter Report:
 Paper newsletter is a thing of the past and we're going paperless
 Newsletter committee
o Looking for committee writers, ideas for articles etc.
Andrea Showers gave the Service Report:
 She sent around an activitiy poll so vote for what you want to do for service this
year
 WALSAA Fire-up still needs food serving volunteers/ bring a cap
Danyel Hosto gave the House Manager Report:
 Welcome to the house, it should be a place to stop by and hang out so feel free!
 Leases will be going out in November for the '08-'09 year
Steph Paul gave the House Steward Report:
 If you live out of house you have 5 free meals so come and enjoy them
 The menu's will be in Galdi's emails so watch for them!
Old Business
NONE
New Business
Calendar of events
 Email Ali 24 hours in advance if you can't make it to a meeting or
event, especially if it's mandatory
 Bold items mean they're mandatory
AWA Goals
 Reviewed goals for the year
o 75% members complete one service project and one fundraising
project activity during 1st semester
o 100% Potential member participation in at least on non-meeting
event
o 100% Active member participation in at least one Homecoming
activity
*** Remember that each member is to complete 2 service and 1
fundraising event the entire year!
Dues
 Due the 3rd mtg. Oct 8th  $60 checks payable to AWA
 Any later than the Oct 8th mtg and there'll be a late fee
Danyel Hosto moved to open nominations for Homecoming Court, Joell Henken
seconded the motion.
 Buffy Sacia –accepted
 Sarah Peters –accepted
 Chrissy Wendorf –accepted
 Sarah Galdi –accepted
 Becky Folger and Ali Schultz –respectfully declined
Annette Zwald moved to close nominations, Maura Tracy seconded. A paper
vote was taken
Announcements of various other club meetings, please refer to the Student Council
Calendar that was sent out.
Order of Homecoming nominees – Buffy, Chrissy, Sarah, Sarah Peters
Kudos
Adjourned at 8:35 p.m.