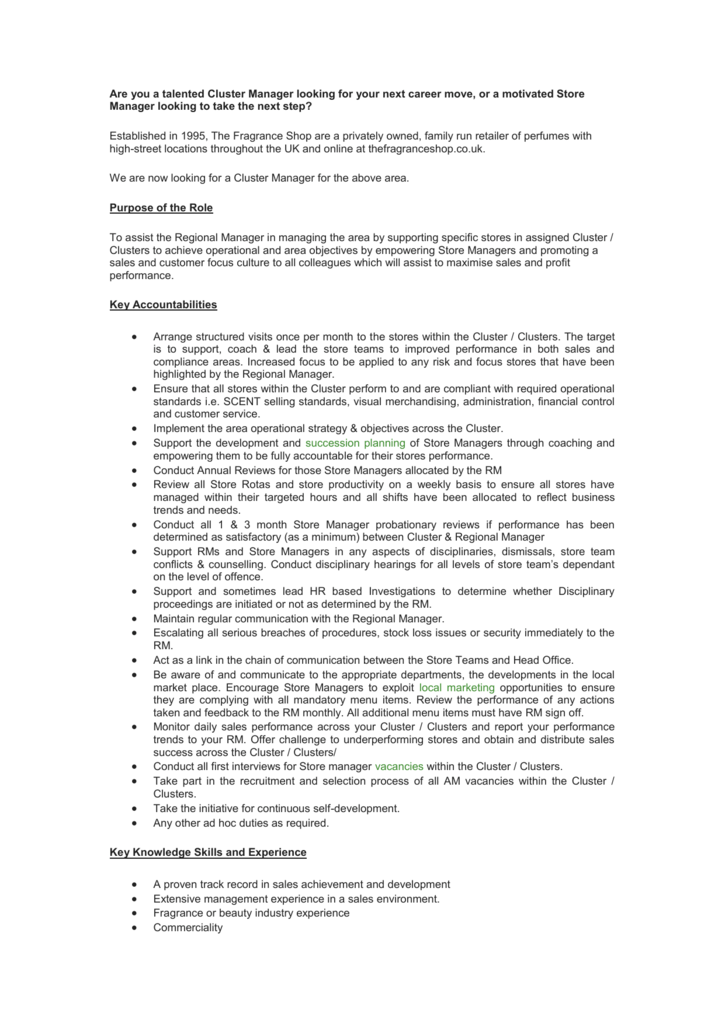 Are you a talented Cluster Manager looking for your next career move, or a motivated Store
Manager looking to take the next step?
Established in 1995, The Fragrance Shop are a privately owned, family run retailer of perfumes with
high-street locations throughout the UK and online at thefragranceshop.co.uk.
We are now looking for a Cluster Manager for the above area.
Purpose of the Role
To assist the Regional Manager in managing the area by supporting specific stores in assigned Cluster /
Clusters to achieve operational and area objectives by empowering Store Managers and promoting a
sales and customer focus culture to all colleagues which will assist to maximise sales and profit
performance.
Key Accountabilities


















Arrange structured visits once per month to the stores within the Cluster / Clusters. The target
is to support, coach & lead the store teams to improved performance in both sales and
compliance areas. Increased focus to be applied to any risk and focus stores that have been
highlighted by the Regional Manager.
Ensure that all stores within the Cluster perform to and are compliant with required operational
standards i.e. SCENT selling standards, visual merchandising, administration, financial control
and customer service.
Implement the area operational strategy & objectives across the Cluster.
Support the development and succession planning of Store Managers through coaching and
empowering them to be fully accountable for their stores performance.
Conduct Annual Reviews for those Store Managers allocated by the RM
Review all Store Rotas and store productivity on a weekly basis to ensure all stores have
managed within their targeted hours and all shifts have been allocated to reflect business
trends and needs.
Conduct all 1 & 3 month Store Manager probationary reviews if performance has been
determined as satisfactory (as a minimum) between Cluster & Regional Manager
Support RMs and Store Managers in any aspects of disciplinaries, dismissals, store team
conflicts & counselling. Conduct disciplinary hearings for all levels of store team's dependant
on the level of offence.
Support and sometimes lead HR based Investigations to determine whether Disciplinary
proceedings are initiated or not as determined by the RM.
Maintain regular communication with the Regional Manager.
Escalating all serious breaches of procedures, stock loss issues or security immediately to the
RM.
Act as a link in the chain of communication between the Store Teams and Head Office.
Be aware of and communicate to the appropriate departments, the developments in the local
market place. Encourage Store Managers to exploit local marketing opportunities to ensure
they are complying with all mandatory menu items. Review the performance of any actions
taken and feedback to the RM monthly. All additional menu items must have RM sign off.
Monitor daily sales performance across your Cluster / Clusters and report your performance
trends to your RM. Offer challenge to underperforming stores and obtain and distribute sales
success across the Cluster / Clusters/
Conduct all first interviews for Store manager vacancies within the Cluster / Clusters.
Take part in the recruitment and selection process of all AM vacancies within the Cluster /
Clusters.
Take the initiative for continuous self-development.
Any other ad hoc duties as required.
Key Knowledge Skills and Experience




A proven track record in sales achievement and development
Extensive management experience in a sales environment.
Fragrance or beauty industry experience
Commerciality


Good people management skills
Planning and organisation skills.
Would Suit Someone Who:






Is highly sales orientated and can lead from the front.
Enjoys a challenge
Self motivated
Results and targets driven
Enjoys people development and coaching
Analytical and motivated by data and factual information.
If you are interested in this vacancy please send your CV by email only to the contact details given. We
regret that we will only be able to contact those candidates shortlisted for interview, therefore if you have
not heard from us within 4 weeks of your application then you should assume you have not been
successful, but we thank you for your interest in our company and wish you well for the future.