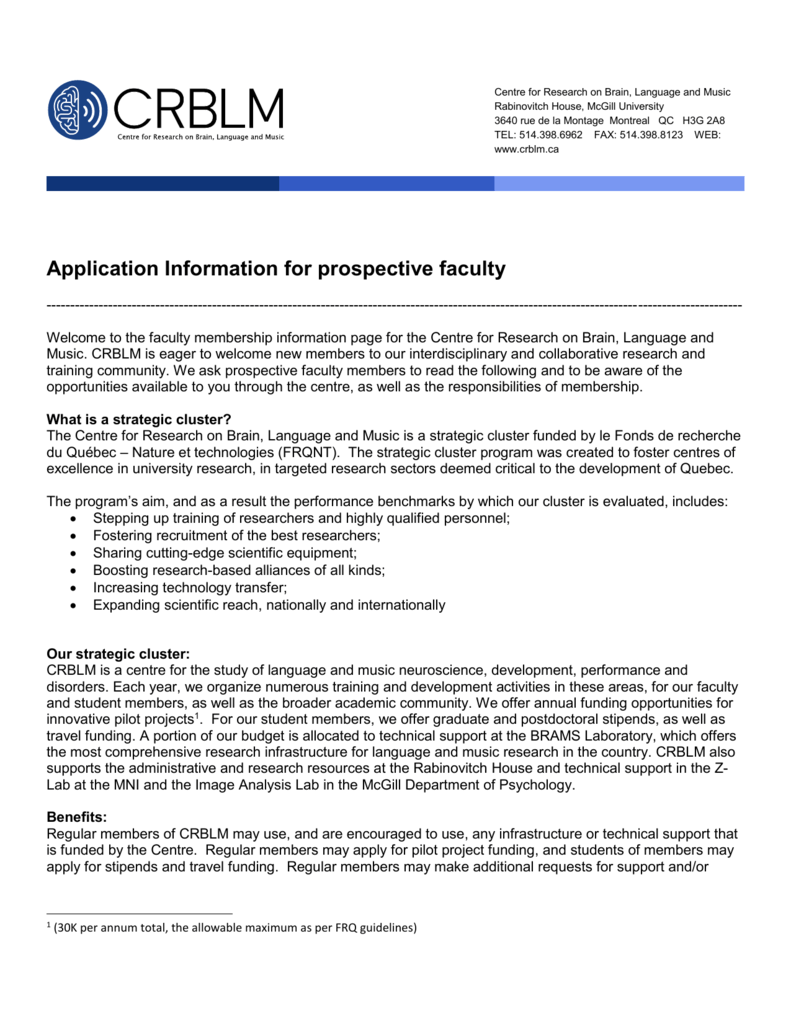 Centre for Research on Brain, Language and Music
Rabinovitch House, McGill University
3640 rue de la Montage Montreal QC H3G 2A8
TEL: 514.398.6962 FAX: 514.398.8123 WEB:
www.crblm.ca
Application Information for prospective faculty
--------------------------------------------------------------------------------------------------------------------------------------------------Welcome to the faculty membership information page for the Centre for Research on Brain, Language and
Music. CRBLM is eager to welcome new members to our interdisciplinary and collaborative research and
training community. We ask prospective faculty members to read the following and to be aware of the
opportunities available to you through the centre, as well as the responsibilities of membership.
What is a strategic cluster?
The Centre for Research on Brain, Language and Music is a strategic cluster funded by le Fonds de recherche
du Québec – Nature et technologies (FRQNT). The strategic cluster program was created to foster centres of
excellence in university research, in targeted research sectors deemed critical to the development of Quebec.
The program's aim, and as a result the performance benchmarks by which our cluster is evaluated, includes:
 Stepping up training of researchers and highly qualified personnel;
 Fostering recruitment of the best researchers;
 Sharing cutting-edge scientific equipment;
 Boosting research-based alliances of all kinds;
 Increasing technology transfer;
 Expanding scientific reach, nationally and internationally
Our strategic cluster:
CRBLM is a centre for the study of language and music neuroscience, development, performance and
disorders. Each year, we organize numerous training and development activities in these areas, for our faculty
and student members, as well as the broader academic community. We offer annual funding opportunities for
innovative pilot projects1. For our student members, we offer graduate and postdoctoral stipends, as well as
travel funding. A portion of our budget is allocated to technical support at the BRAMS Laboratory, which offers
the most comprehensive research infrastructure for language and music research in the country. CRBLM also
supports the administrative and research resources at the Rabinovitch House and technical support in the ZLab at the MNI and the Image Analysis Lab in the McGill Department of Psychology.
Benefits:
Regular members of CRBLM may use, and are encouraged to use, any infrastructure or technical support that
is funded by the Centre. Regular members may apply for pilot project funding, and students of members may
apply for stipends and travel funding. Regular members may make additional requests for support and/or
1
(30K per annum total, the allowable maximum as per FRQ guidelines)
2
funding for projects that have the potential to become significant areas of focus for the centre, as described
below. All members may participate in training and enrichment activities.
Responsibilities:
CRBLM asks regular members to confirm their commitment to helping build and promote the centre through
the following
 publicly affiliating with the centre, in email signature files and on your laboratory website;
 properly affiliating with and acknowledging the centre when we support your research.
o Members who use centre-supported labs or personnel, or who receive funding through our
annual funding activities, are requested and required to include CRBLM in affiliations and
acknowledgements in publications, presentations and media interviews.
 actively participating in the development of our community,
o attending, proposing or organizing events
o sharing skills through workshops or tutorials
o serving on organizing committees
o serving as a reviewer for the funding applications that we evaluate
 regular members are required to submit yearly annual report information. Members will also be asked
to upload a CCV and confirm participation in the centre, at the time of our midterm review and when the
centre applies for a fund renewal.
Your input:
We strongly encourage members to contact us with your input, ideas and requests. The centre may, where our
budget permits, offer support for targeted funding requests. Such proposals must: 1) involve several
researchers working together on a project or projects that constitute a critical area of research and that
represent a cost-sharing arrangement between the centre and those members; or 2) have an extremely high
potential to result in a successful national funding application, are examples of innovative research directions,
or have a high potential for valorization in the short term.
CRBLM does not participate in major equipment purchases for use in individual laboratories.
Membership Status
The status of regular member in a research cluster is defined, by FRQ, as a faculty member in a Quebec
university whose work aligns with the mandate of a research cluster at 50% or higher. Regular members
formally confirm their participation in a cluster with the FRQ and their CCVs are considered when the centre is
evaluated.
Faculty members and visiting researchers whose primary affiliation is with another research centre, within or
outside of Quebec, have a status of collaborator. Collaborators participate in centre activities but are ineligible
for funding.
How to Apply
Faculty members who would like to join are asked to send a CV and brief statement of intent, for review by the
CRBLM executive committee. The statement of intent should include: 1) your requested level of participation
as a Regular or Collaborative member; and 2) a brief description of your research interests which makes a
specific reference to how these align with the CRBLM mandate. The statement of intent need be no longer
than 1/2 - 1 page. Please submit your CV and statement to [email protected] with subject line: Faculty
Membership Application.