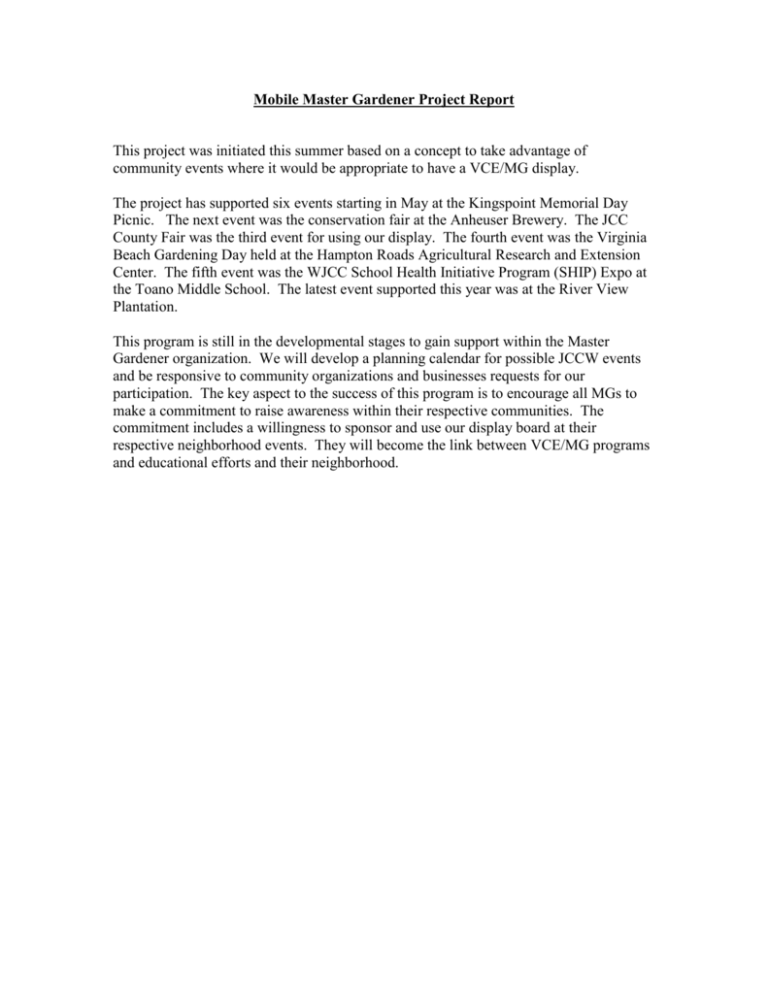 Mobile Master Gardener Project Report
This project was initiated this summer based on a concept to take advantage of
community events where it would be appropriate to have a VCE/MG display.
The project has supported six events starting in May at the Kingspoint Memorial Day
Picnic. The next event was the conservation fair at the Anheuser Brewery. The JCC
County Fair was the third event for using our display. The fourth event was the Virginia
Beach Gardening Day held at the Hampton Roads Agricultural Research and Extension
Center. The fifth event was the WJCC School Health Initiative Program (SHIP) Expo at
the Toano Middle School. The latest event supported this year was at the River View
Plantation.
This program is still in the developmental stages to gain support within the Master
Gardener organization. We will develop a planning calendar for possible JCCW events
and be responsive to community organizations and businesses requests for our
participation. The key aspect to the success of this program is to encourage all MGs to
make a commitment to raise awareness within their respective communities. The
commitment includes a willingness to sponsor and use our display board at their
respective neighborhood events. They will become the link between VCE/MG programs
and educational efforts and their neighborhood.