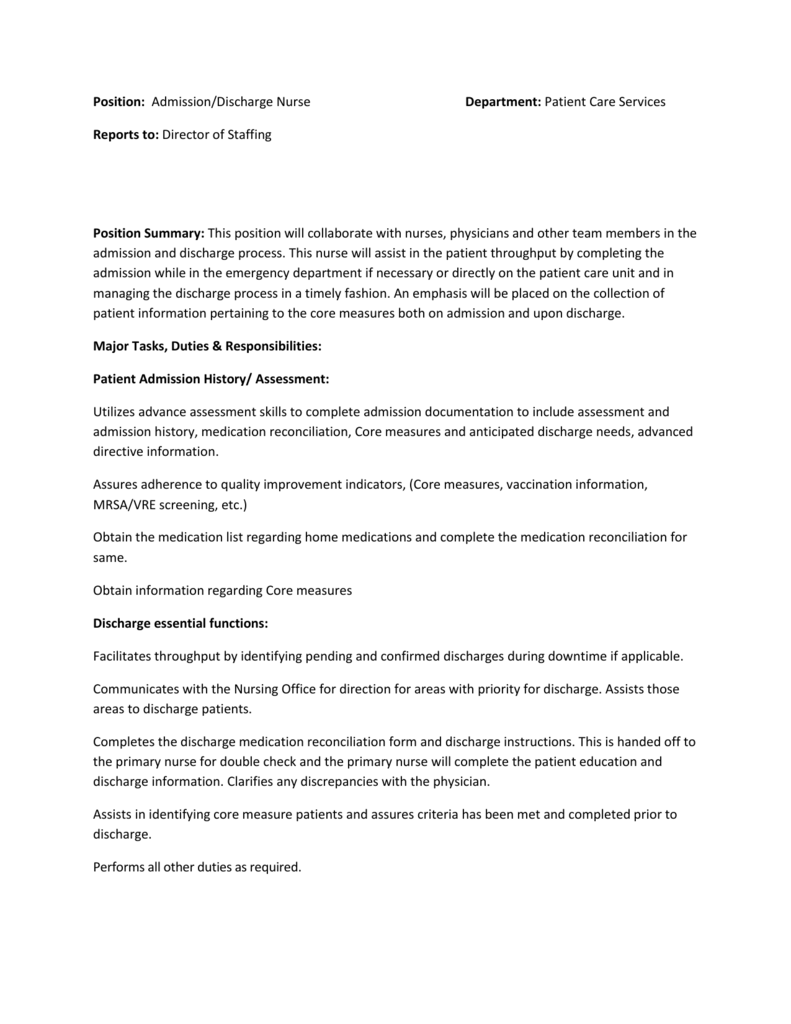 Position: Admission/Discharge Nurse
Department: Patient Care Services
Reports to: Director of Staffing
Position Summary: This position will collaborate with nurses, physicians and other team members in the
admission and discharge process. This nurse will assist in the patient throughput by completing the
admission while in the emergency department if necessary or directly on the patient care unit and in
managing the discharge process in a timely fashion. An emphasis will be placed on the collection of
patient information pertaining to the core measures both on admission and upon discharge.
Major Tasks, Duties & Responsibilities:
Patient Admission History/ Assessment:
Utilizes advance assessment skills to complete admission documentation to include assessment and
admission history, medication reconciliation, Core measures and anticipated discharge needs, advanced
directive information.
Assures adherence to quality improvement indicators, (Core measures, vaccination information,
MRSA/VRE screening, etc.)
Obtain the medication list regarding home medications and complete the medication reconciliation for
same.
Obtain information regarding Core measures
Discharge essential functions:
Facilitates throughput by identifying pending and confirmed discharges during downtime if applicable.
Communicates with the Nursing Office for direction for areas with priority for discharge. Assists those
areas to discharge patients.
Completes the discharge medication reconciliation form and discharge instructions. This is handed off to
the primary nurse for double check and the primary nurse will complete the patient education and
discharge information. Clarifies any discrepancies with the physician.
Assists in identifying core measure patients and assures criteria has been met and completed prior to
discharge.
Performs all other duties as required.
Qualifications:
Graduate of approved BSN Program preferred.
Must have a current license to practice as a Registered Nurse in Pennsylvania.
Minimum 2-4 years experience in the clinical field.
CPR certification and ACLS Certification and dysrhythmia course required within 3 months of hire.
Must possess the ability to provide good customer service, communication, and organization skills that
lead to positive outcomes in patient/family interactions, teaching activities and physician relations.
Must have excellent critical thinking skills.
Must be flexible, accountable and extremely adaptable. Must have the ability to adjust priorities during
crisis with minimum supervision.
Must have a working knowledge of the hospital policies and procedures, Joint Commission, State and
Federal regulations.