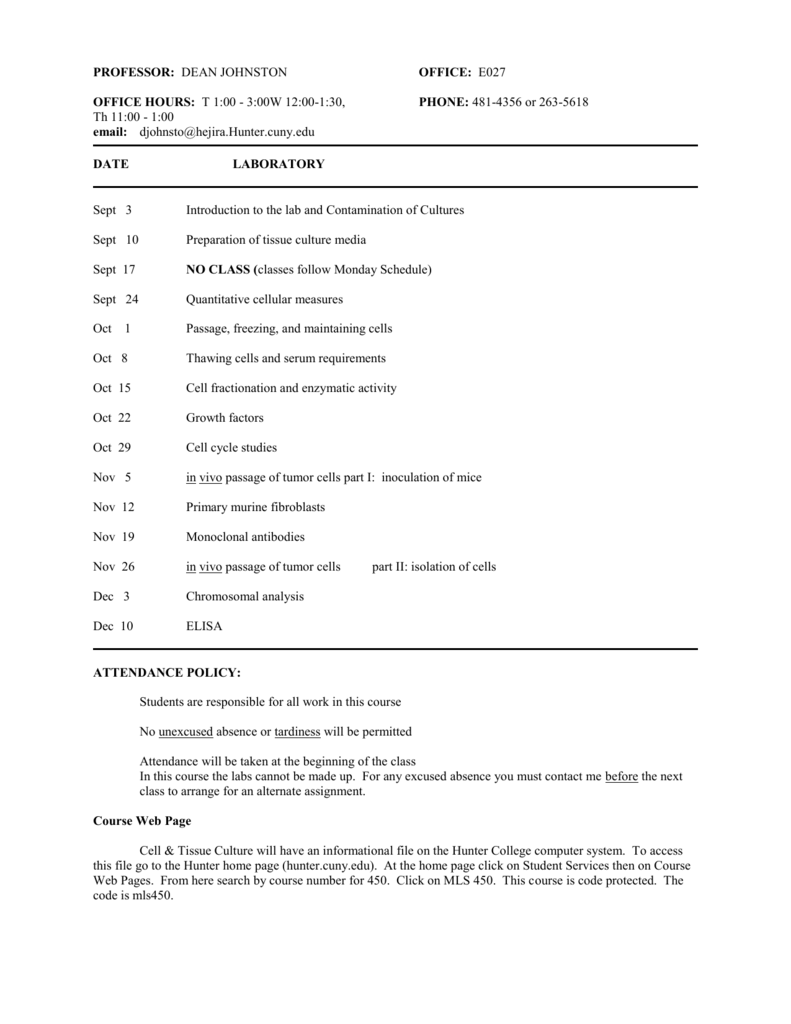 PROFESSOR: DEAN JOHNSTON
OFFICE: E027
OFFICE HOURS: T 1:00 - 3:00W 12:00-1:30,
Th 11:00 - 1:00
email: [email protected]
PHONE: 481-4356 or 263-5618
DATE
LABORATORY
Sept 3
Introduction to the lab and Contamination of Cultures
Sept 10
Preparation of tissue culture media
Sept 17
NO CLASS (classes follow Monday Schedule)
Sept 24
Quantitative cellular measures
Oct
Passage, freezing, and maintaining cells
1
Oct 8
Thawing cells and serum requirements
Oct 15
Cell fractionation and enzymatic activity
Oct 22
Growth factors
Oct 29
Cell cycle studies
Nov 5
in vivo passage of tumor cells part I: inoculation of mice
Nov 12
Primary murine fibroblasts
Nov 19
Monoclonal antibodies
Nov 26
in vivo passage of tumor cells
Dec 3
Chromosomal analysis
Dec 10
ELISA
part II: isolation of cells
ATTENDANCE POLICY:
Students are responsible for all work in this course
No unexcused absence or tardiness will be permitted
Attendance will be taken at the beginning of the class
In this course the labs cannot be made up. For any excused absence you must contact me before the next
class to arrange for an alternate assignment.
Course Web Page
Cell & Tissue Culture will have an informational file on the Hunter College computer system. To access
this file go to the Hunter home page (hunter.cuny.edu). At the home page click on Student Services then on Course
Web Pages. From here search by course number for 450. Click on MLS 450. This course is code protected. The
code is mls450.