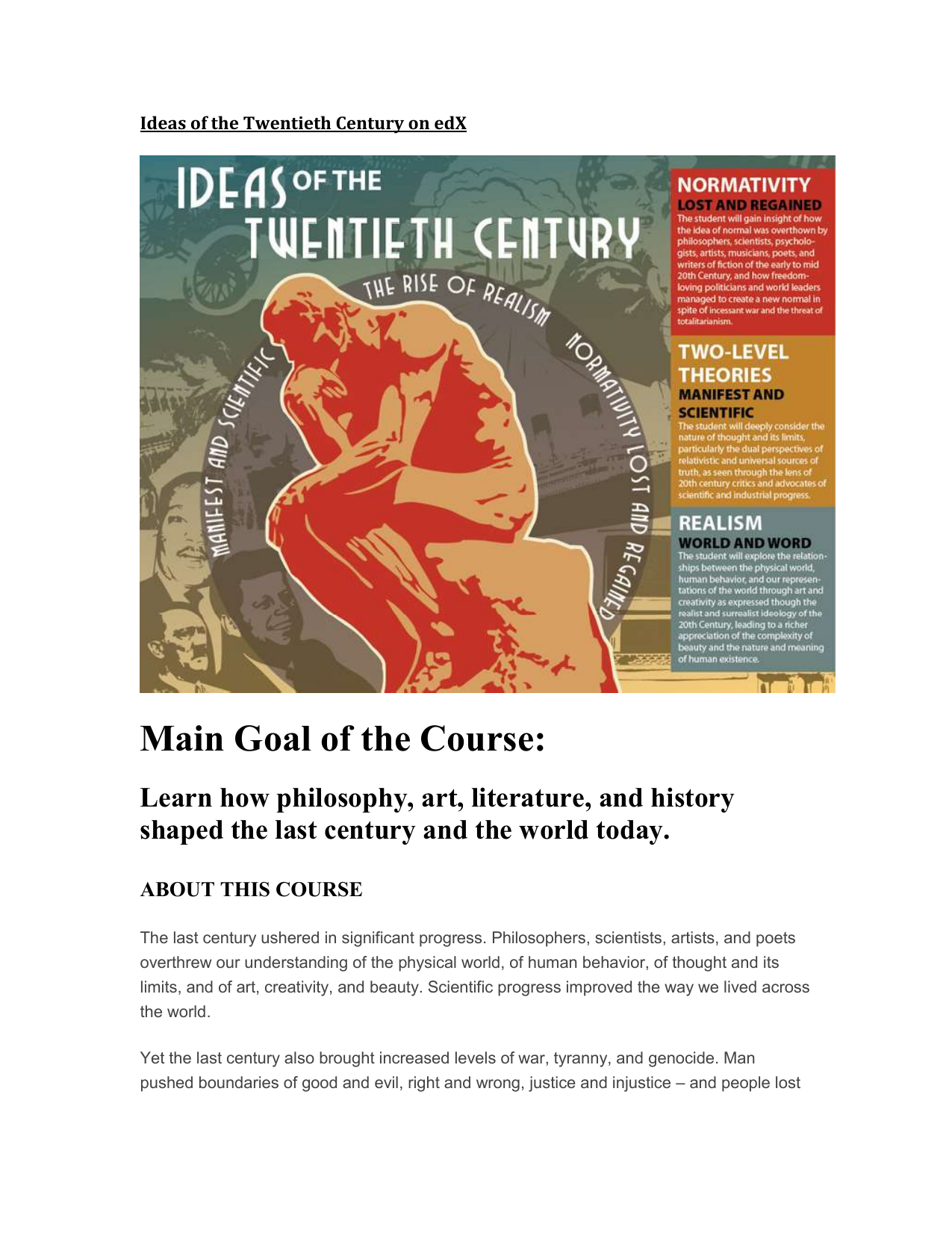 Ideas of the Twentieth Century on edX
Main Goal of the Course:
Learn how philosophy, art, literature, and history
shaped the last century and the world today.
ABOUT THIS COURSE
The last century ushered in significant progress. Philosophers, scientists, artists, and poets
overthrew our understanding of the physical world, of human behavior, of thought and its
limits, and of art, creativity, and beauty. Scientific progress improved the way we lived across
the world.
Yet the last century also brought increased levels of war, tyranny, and genocide. Man
pushed boundaries of good and evil, right and wrong, justice and injustice – and people lost
faith in values. Now, thinkers and leaders are reconstructing theories of value and creating
institutions to embody them.
Join this thought-provoking, broad-sweeping course as it draws intriguing connections
between philosophy, art, literature, and history, illuminating our world and our place in it.
Schedule
Sept 15 A Mighty Maze - A Contradiction in the Enlightenment
Sept 22 The Abdication of Belief - The 19th-Century Background (1848-1900)
Sept 29 - The Wisdom of the Age - The Rise of Realism (1900-1910)
Oct 06 - Downward to Darkness - Progressivism and War (1910-1920)
Oct 13 - No Country for Old Men -The Search for Value (1920-1930) & Literature Essay Assignment
Oct 20 - We are Dust and Dreams - Economic and Political Crises (1930-1940)
Oct 27 - Not Without Glory - World War II (1940-1950)
Nov 03 - A Renaissance of Wonder - Recovery (1950-1960)
Nov 10 - The Murmur of the Absolute - Romantic Rebellion (1960-1970) & History Essay Assignment
Nov 17 - Realism and Normativity Rediscovered (1970-1980)
Nov 24 - No Other End of the World Will There Be - Normativity and Liberty (1980-2000) & Philosophy
Essay Assignment
LAST DAY TO COMPLETE COURSEWORK: DEC 15

All times 0:00 UTC
Grading Policy
1. Lecture Sequences (Videos, Readings, and Discussions) are worth 70% of your grade.
2. Quizzes and Essays are worth 30% of your grade.
3. A final score of 60% or more is a passing grade to receive the course certificate.