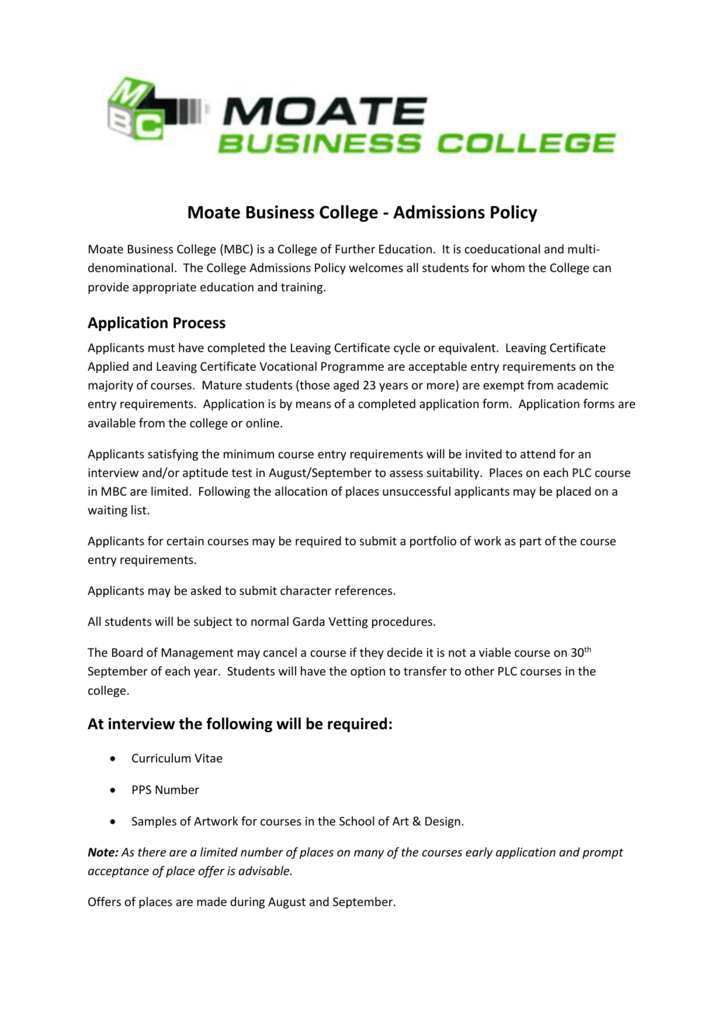 Moate Business College - Admissions Policy
Moate Business College (MBC) is a College of Further Education. It is coeducational and multidenominational. The College Admissions Policy welcomes all students for whom the College can
provide appropriate education and training.
Application Process
Applicants must have completed the Leaving Certificate cycle or equivalent. Leaving Certificate
Applied and Leaving Certificate Vocational Programme are acceptable entry requirements on the
majority of courses. Mature students (those aged 23 years or more) are exempt from academic
entry requirements. Application is by means of a completed application form. Application forms are
available from the college or online.
Applicants satisfying the minimum course entry requirements will be invited to attend for an
interview and/or aptitude test in August/September to assess suitability. Places on each PLC course
in MBC are limited. Following the allocation of places unsuccessful applicants may be placed on a
waiting list.
Applicants for certain courses may be required to submit a portfolio of work as part of the course
entry requirements.
Applicants may be asked to submit character references.
All students will be subject to normal Garda Vetting procedures.
The Board of Management may cancel a course if they decide it is not a viable course on 30th
September of each year. Students will have the option to transfer to other PLC courses in the
college.
At interview the following will be required:

Curriculum Vitae

PPS Number

Samples of Artwork for courses in the School of Art & Design.
Note: As there are a limited number of places on many of the courses early application and prompt
acceptance of place offer is advisable.
Offers of places are made during August and September.
An application form may be requested from the college or download it from our website.
Applicants will be interviewed for their preferred course. Interviews form a major part of the
admission procedure.
International Applicants
Application deadline: May 1st each year.
Following application a letter will be issued to the home address. This letter may be used to apply
for a visa to enable the applicant visit Ireland for an interview.
If successful at interview a place will be offered. Fees must be paid in full before a letter is issued.
This letter will be required to obtain a study visa. The Non EU Economic Fee is €3,654. Exam fees will
also apply – these range in price from €100 - €500.
Please Note: Moate Business College plays no part in acquiring visas for entry to Ireland. In order to
study in this college it will be necessary for applicants to obtain a study visa or other relevant
documentation. It is the responsibility of all overseas applicants to arrange their own study visa and
documentation. Moate Business College does not have student accommodation – it is the
responsibility of each student to locate their own accommodation.
Enrolment Criteria
The following criteria may be used in order to offer places on courses:

Availability of places on particular courses in the year of application

Suitability at interview

Examination results

Order of acceptance of offer

Order of Applications `

Students potential to succeed

Proficiency in the use of the English language
Every effort will be made to ensure that an applicant receives an offer on the course of their choice,
however if an offer is not made to an applicant for their course an offer may be made on their
second and third choices subject to availability.
Students with a disability/special needs
The college accepts applications from persons with disability. It is the policy of the college to foster
an inclusive education provision for all who wish to avail of the college services.
It is important that such applicants indicate to the college in good time the particular educational
needs and support services that they are likely to require in order to plan appropriately for their
particular needs. This will assist the college in applying to the DES for the appropriate learning and
personal supports that may be needed by an individual learner. The college endeavours to provide
learning support to students with special needs.
The availability of specialised learning support on an individual basis is dependent on the availability
of resources provided to the college.
The application process for a special needs pupil will be the same as that of any other applicant.
However, in order to assess the needs of a Special Educational Need student the parents/guardians
will be requested to provide a copy of the students educational, medical or where appropriate,
psychological reports.
The Board is aware that there may be occasions that the special treatment, facilities, personnel or
resources sought and needed might not be granted. Whilst every effort will be made to
accommodate an individual's needs for support, in some circumstances it may not be possible to
make reasonable adjustments. On such occasions if it were not possible or unduly difficult for a
student to avail of the educational services of the College, the Board will reserve the right to refuse
admission.
The Board of Management needs to be aware of any special needs as early as possible, so that these
needs can be assessed and addressed if possible. In making provision for special needs students the
following information is required:

Has the student had access to any of the following resources:

Special Needs Assistant or Classroom Assistant

Help, for specific needs, from any resource teacher

Assistance with behavioural modification

Psychological Assessment – report to be provided

Any additional resources to help with their special needs

Help in areas including visual impairment, hearing impairment, general learning disability or
emotional disturbance.

Any resource in relation to travel or mobility etc.
Course Duration
MBC is in compliance with the Department of Education & Science directives/regulations re duration
of courses/attendance.
Course Charges
As all our programmes are recognised by the Dept. of Education & Science there are no Course Fees.
However, all students will still be liable for the payment of all examination and certification fees and
charges for membership of professional bodies, where applicable.
Upon acceptance of an offer of a place applicants will receive a list of the charges relevant to the
course for which they are applying. There is a Acceptance/registration charge which must be paid in
advance. This charge is non-refundable. For courses commencing September 2013 this charge is
€100. A charge of €200 is also applied to any applicants who do not have a medical card or are not
entitled to a grant, in accordance with government budget changes in 2010
All PLC Applicants should note that they may be entitled to receive a PLC Maintenance Grant.
Eligibility for such grants is means-tested by the VEC in which the Applicant resides and not by the
College. The Maintenance Grant does not cover the costs of registration or examination fees. It is a
Maintenance grant paid to eligible recipients on a monthly basis directly into their bank account
subject to satisfactory attendance. Information concerning PLC Maintenance Grants should be
obtained from the local VEC of the applicant and not the college.