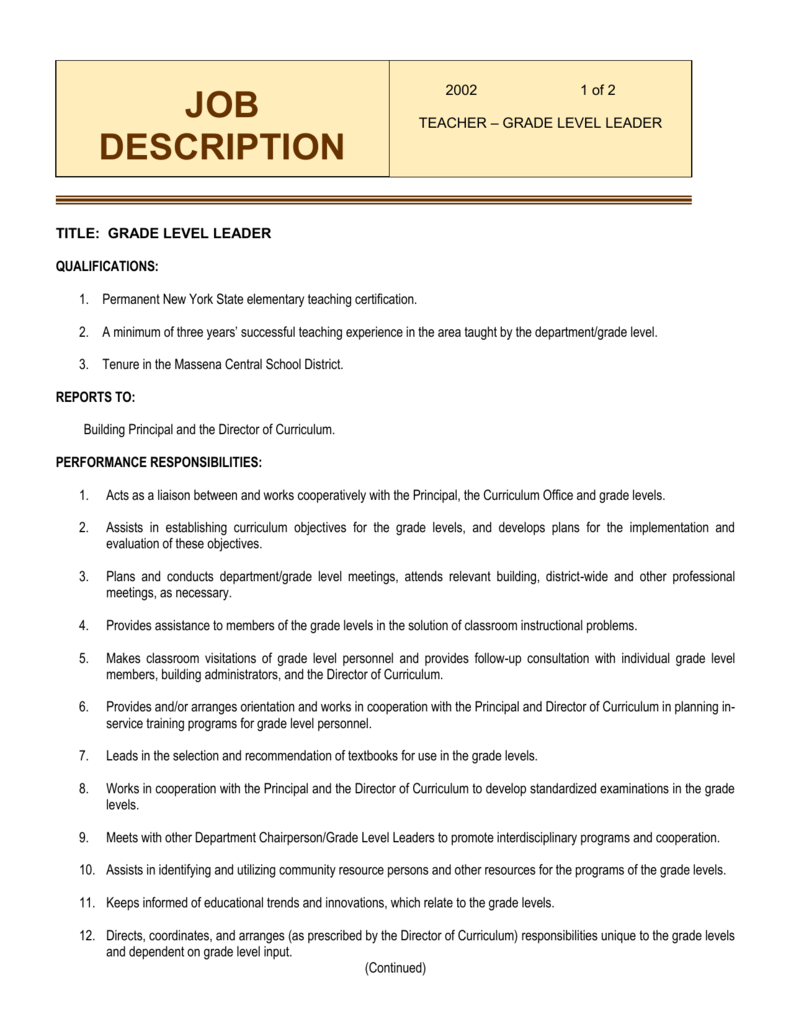 JOB
DESCRIPTION
2002
1 of 2
TEACHER – GRADE LEVEL LEADER
TITLE: GRADE LEVEL LEADER
QUALIFICATIONS:
1. Permanent New York State elementary teaching certification.
2. A minimum of three years' successful teaching experience in the area taught by the department/grade level.
3. Tenure in the Massena Central School District.
REPORTS TO:
Building Principal and the Director of Curriculum.
PERFORMANCE RESPONSIBILITIES:
1.
Acts as a liaison between and works cooperatively with the Principal, the Curriculum Office and grade levels.
2.
Assists in establishing curriculum objectives for the grade levels, and develops plans for the implementation and
evaluation of these objectives.
3.
Plans and conducts department/grade level meetings, attends relevant building, district-wide and other professional
meetings, as necessary.
4.
Provides assistance to members of the grade levels in the solution of classroom instructional problems.
5.
Makes classroom visitations of grade level personnel and provides follow-up consultation with individual grade level
members, building administrators, and the Director of Curriculum.
6.
Provides and/or arranges orientation and works in cooperation with the Principal and Director of Curriculum in planning inservice training programs for grade level personnel.
7.
Leads in the selection and recommendation of textbooks for use in the grade levels.
8.
Works in cooperation with the Principal and the Director of Curriculum to develop standardized examinations in the grade
levels.
9.
Meets with other Department Chairperson/Grade Level Leaders to promote interdisciplinary programs and cooperation.
10. Assists in identifying and utilizing community resource persons and other resources for the programs of the grade levels.
11. Keeps informed of educational trends and innovations, which relate to the grade levels.
12. Directs, coordinates, and arranges (as prescribed by the Director of Curriculum) responsibilities unique to the grade levels
and dependent on grade level input.
(Continued)
JOB
DESCRIPTION
2002
2 of 2
TEACHER – GRADE LEVEL LEADER
TITLE: GRADE LEVEL LEADER (Continued)
TERMS OF APPOINTMENT:
Grade Level Leaders will occasionally be expected to work beyond the normal teaching day and/or normal teaching year.
The teaching responsibilities of a Grade Level Leader will be established annually by the Principal/Director of Curriculum. Time
will be designated on a regular basis for performance of duties as Grade Level Leader. At the elementary level, this time may be
allocated by relieving the teacher of before and after instructional assignments.
Appointment of the Grade Level Leader is an annual appointment, made by the Board of Education, upon recommendation of
the Building Principal, Director of Curriculum and the Superintendent of Schools.
EVALUATION:
Each Grade Level Leader will be evaluated at least once annually by the Building Principal and/or Director of Curriculum.