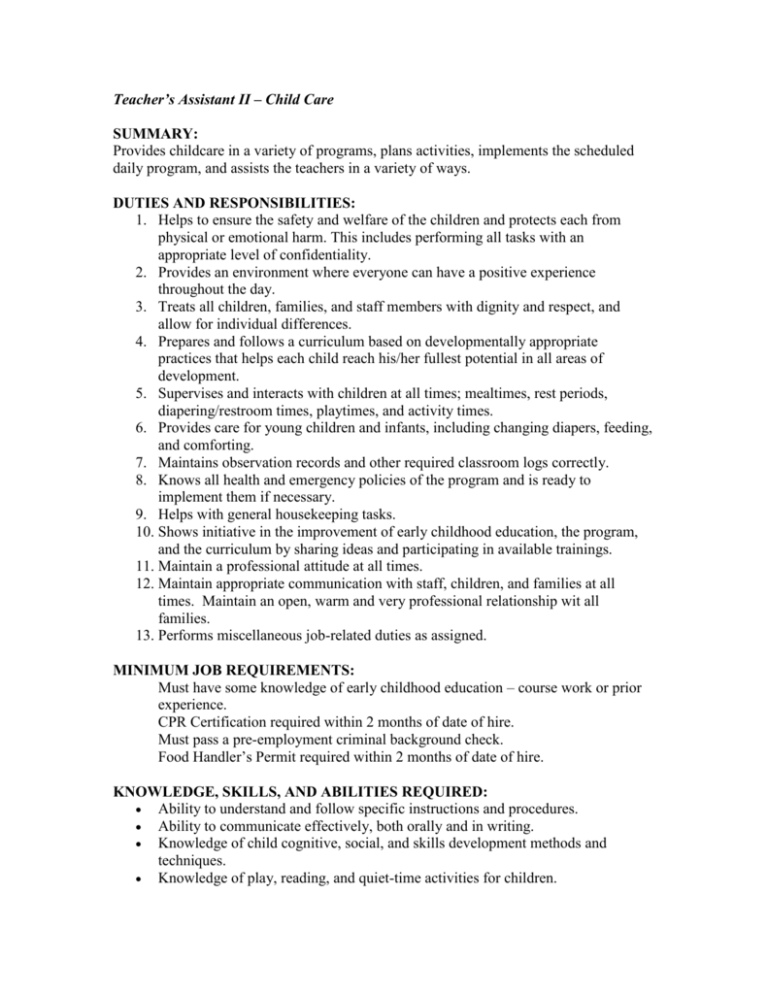 Teacher's Assistant II – Child Care
SUMMARY:
Provides childcare in a variety of programs, plans activities, implements the scheduled
daily program, and assists the teachers in a variety of ways.
DUTIES AND RESPONSIBILITIES:
1. Helps to ensure the safety and welfare of the children and protects each from
physical or emotional harm. This includes performing all tasks with an
appropriate level of confidentiality.
2. Provides an environment where everyone can have a positive experience
throughout the day.
3. Treats all children, families, and staff members with dignity and respect, and
allow for individual differences.
4. Prepares and follows a curriculum based on developmentally appropriate
practices that helps each child reach his/her fullest potential in all areas of
development.
5. Supervises and interacts with children at all times; mealtimes, rest periods,
diapering/restroom times, playtimes, and activity times.
6. Provides care for young children and infants, including changing diapers, feeding,
and comforting.
7. Maintains observation records and other required classroom logs correctly.
8. Knows all health and emergency policies of the program and is ready to
implement them if necessary.
9. Helps with general housekeeping tasks.
10. Shows initiative in the improvement of early childhood education, the program,
and the curriculum by sharing ideas and participating in available trainings.
11. Maintain a professional attitude at all times.
12. Maintain appropriate communication with staff, children, and families at all
times. Maintain an open, warm and very professional relationship wit all
families.
13. Performs miscellaneous job-related duties as assigned.
MINIMUM JOB REQUIREMENTS:
Must have some knowledge of early childhood education – course work or prior
experience.
CPR Certification required within 2 months of date of hire.
Must pass a pre-employment criminal background check.
Food Handler's Permit required within 2 months of date of hire.
KNOWLEDGE, SKILLS, AND ABILITIES REQUIRED:
 Ability to understand and follow specific instructions and procedures.
 Ability to communicate effectively, both orally and in writing.
 Knowledge of child cognitive, social, and skills development methods and
techniques.
 Knowledge of play, reading, and quiet-time activities for children.




Child supervision skills.
Ability to provide basic nutrition and hygiene services for infants and young
children.
Knowledge of child care facility, services and/or staff licensure and certification
requirements.
Ability to provide a supportive and caring environment for children.
CONDITIONS OF EMPLOYMENT:
 Successful candidate must submit to post offer, pre-employment physical
examination/medical history check.