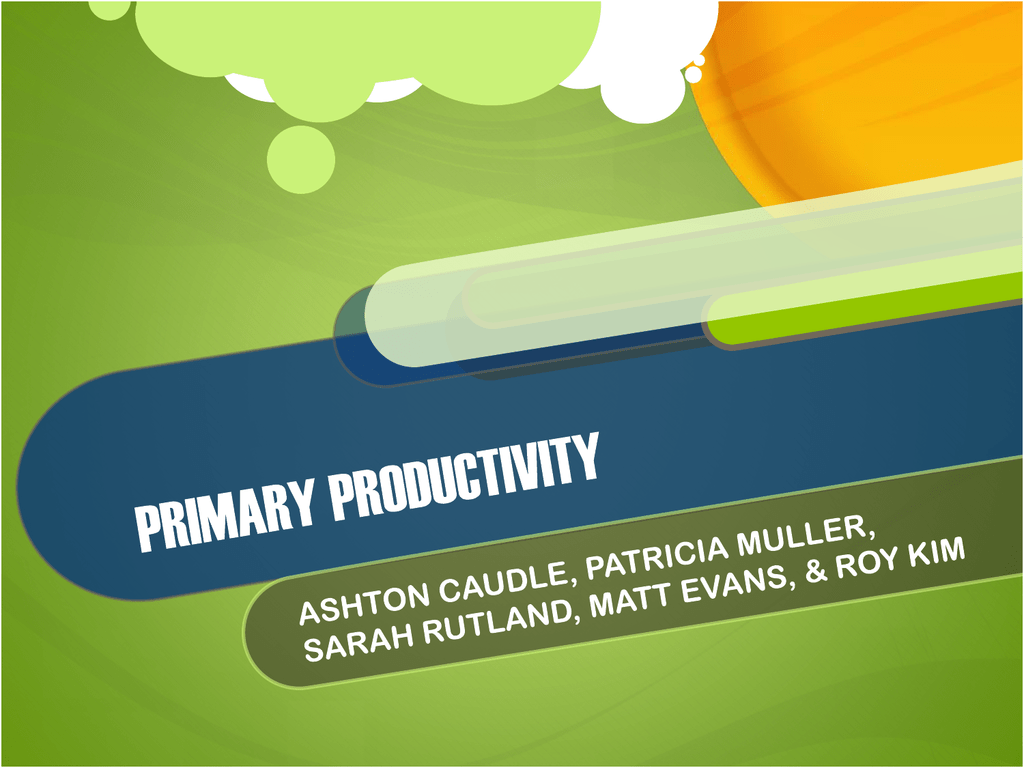 BACKGROUND:
Primary
productivity is the
production of
organic compounds
from atmospheric
or aquatic carbon
dioxide mainly
through the process
of photosynthesis.
The main source
of energy for
primary
production is
sunlight, which is
one of the three
reactants of
photosynthesis.
Our Experiment:
For this experiment, we tested the rate at which
photosynthesis and cellular respiration occurs
within algae. We used different light intensities
to vary the amount of light energy that will come
into the algae to be converted to chemical
energy and oxygen. To record this data we
measured the amount of dissolved oxygen to
find the productivity of the algae.
PROBLEM STATEMENT:
How will exposure to certain amounts
of light affect the levels of dissolved
oxygen in a sample of solution and
therefore the productivity in that
solution?
HYPOTHESIS
As the intensity of the light source increases,
the producer will have a greater amount
of dissolved oxygen, making the
productivity greater.
independent variable = light intensity
dependent variable = net and gross productivity.
MATERIALS:
•7 BOD bottles
•Chlorella culture
•gloves,
•manganous
sulfate
•starch indicator
•sulfamic acid and
a measuring spoon
•Rubber bands
•2 titration syringes
•2 20-mL sampling vials
•17 fiberglass screens
•small sheet of aluminum foil
•marker
•60-mL syringe
• alkaline potassium iodide
azide
•sodium thiosulfate
PROCEDURE: Day 1
Create a Baseline- Fill a bottle with pond water and cap.
Determine DO by following the Winkler Method protocol.
Light and Dark Bottle- Fill two bottles with pond water.
Wrap one bottle with aluminum foil to exclude all light
(dark bottle). Leave the other uncovered. Leave the
bottles under florescent light overnight.
Simulated Depth Samples- Fill four bottles with pond
water. Cover one with one fiberglass screen, one with
three screens, one with five screens, and one with eight
screens. Secure screens with rubber band. Leave the
bottles under florescent light overnight.
Procedure: Day 2
Determine
the dissolved
oxygen of
sample
bottles by
following the
Winkler
Method
Protocol.
RESULTS
OBSERVATIONS
The pond water started out as a greenish-clear color with green
algae in the bottom
After the solutions were fixed, they turned a pale yellow color.
The less light intensity the bottles were exposed to, the darker they
appeared.
After adding starch indicator, the solution turned purple.
As the titration with the sulfate progressed, the purple solution at the
endpoint turned clear.
When the Winkler Method was finished there was an algae precipitate
ANALYSIS
18
16
Percent Light vs. Productivity
14
dissolved oxygen levels
(productivity)
12
10
8
net productivity
gross productivity
6
4
2
0
-2 0
50
100
light intensity (% light)
150
ANYLSIS: Calculations
Loss due to
respiration:
Net Productivity
(oxygen left after
respiration)
Gross Productivity
(total amount of dissolved
oxygen)
Dissolved oxygen
baseline sampledissolved oxygen 0%
light
Dissolved oxygen sample
x% light - dissolved
oxygen baseline sample
Net productivity + loss due
to respiration
**This shows how
much oxygen
respiration used
**This shows the
productivity after both
photosynthesis and
respiration have
occurred
**This shows productivity
just by photosynthesis
alone
These values we
got from our
experiment
These are the values we calculated
CONCLUSION
Based on the data collected, our
hypothesis was supported because as
the light intensity increased, the gross
productivity and net productivity also
increased.
DISCUSSION QUESTIONS
#1
Q) At approximately what light intensity does the
rate of respiration equal the rate of
photosynthesis?
A) By looking at the graph we see that at approx.
18% light intensity the producer has neither a
negative or positive productivity, but is at
equilibrium.
#2
Q) At approximately what depth in the simulated
pond does this occur?
A) From the table we see that 3 screens simulate a
2.0 meter pond depth and 5 screens simulate a 3.0
meter pond depth. Therefore we can conclude that
for 18% light, the depth of the pond would be
approximately 2.5 meters.