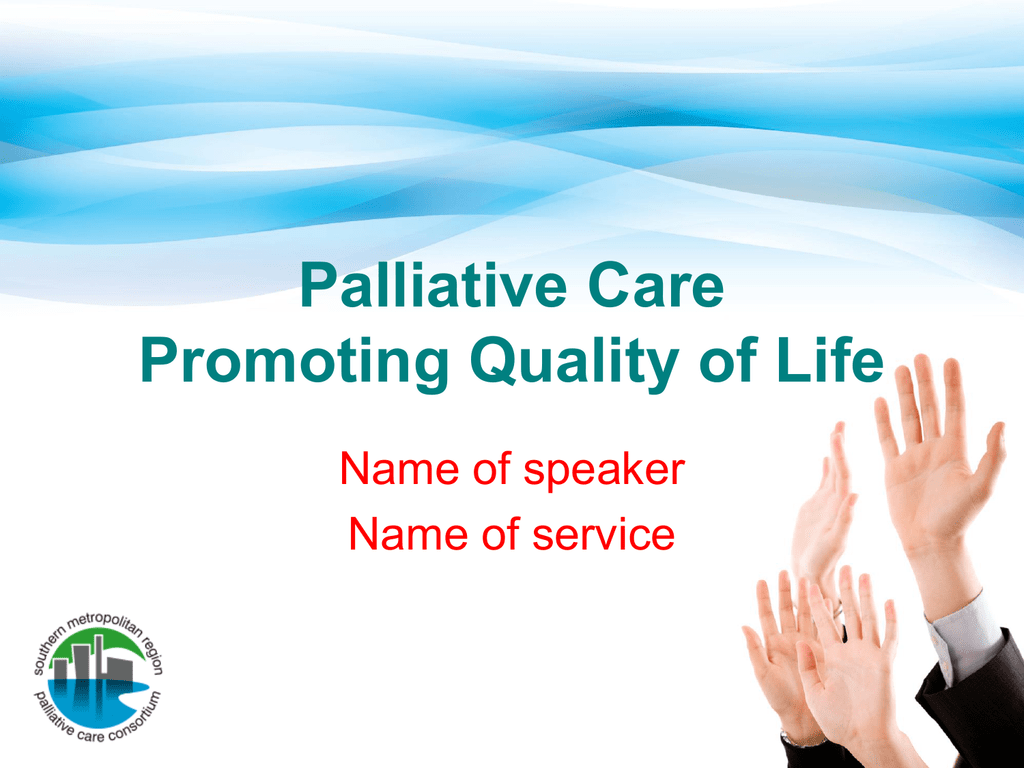 Palliative Care
Promoting Quality of Life
Name of speaker
Name of service
Content
–
–
–
–
What is palliative care?
What do palliative care services do?
What can I do to help?
Contacts and resources
Some alarming statistics
 We have a 25% chance of developing
hypertension during our life
 We are about 5 times more likely to
have a stroke if we smoke
 We have a 30% chance of developing
some form of cancer in later life
We have a 100% chance of dying at some
stage in our life!!
What is palliative care?
• It's specialised health care provided by experts
who are experienced in supporting people living
with a terminal illness and their families.
• Palliative care can include:
–
–
–
–
pain and symptom management
help with spiritual issues
counselling
practical support
Who needs palliative care?
• People living with a terminal illness
• The families and/or carers of people
living with a terminal illness
• People whose treatment has changed from finding a
cure to improving the quality of daily life
• People who need more specialised support than
they can receive from their general practitioners and
families
Palliative Care Services in the
Southern Metropolitan Region
• Inpatient services
– Calvary Healthcare Bethlehem, Caulfield
– Southern Health, Monash and Casey
– Peninsula Health, Frankston
• Community PC Services
– Calvary Bethlehem, inner south
– Peninsula Hospice Service, Frankston and
Mornington Peninsula
– South East Palliative Care, outer south east
Insert name of your
palliative care service
General Information
• Location
• History
• Funding
What do we do?
We provide expert palliative health care and practical support to people
living with a terminal illness, in their own homes.
This includes:
- nursing and medical care
- counselling and welfare support
- art and / or music therapy
- pastoral care
- client care volunteer support
- bereavement support
We also support families and carers of
people living with a terminal illness
Where do our clients live?
We provide services for people living in:
List LGAs
Some statistics
• Number of service users
• Number of visits per service user
• Different demographic groups
(ie children, people from CALD)
• Number of volunteer services provided etc
What do we need
to do our job?
• Qualified and experienced staff and volunteers
• A supportive community
• Cars to get staff to client's homes and drive
people to groups and appointments
• Venues to conduct group and individual support
work and administrative activities
• Equipment – hired for clients with funding from
government and the community
• Funds to support staff and volunteer training and
professional development
• Funds to reimburse volunteers for their
travel expenses
Where you come in
Most people who are living with a terminal illness spend
their time with family and friends, outside the health care
system.
Many people are not prepared when they find themselves
in this situation.
We need to re-learn how to care for each other – for people
who are dying and for people who are left behind.
(Adapted from Kellehear 2005).
Where you come in.. continued
– Most people want to remain connected
to their local communities when they
are dying.
– Services aren't enough on their own
and can't provide everything people
need.
Volunteers
Trained volunteers help clients and their families,
according to needs. This may involve sitting with
a person while the carer goes out, driving the
client to a medical appointment or simply
providing company.
Volunteers may also give administrative support,
help with support groups and visit clients in the
hospital.
A story
Tell one of your stories here
Frequently asked questions
•
•
•
•
How do people get referred?
When do people get referred?
What does the service cost?
How can you help?
How you can support our service
• Become an advocate by telling others
about our service.
• Attend fundraising events.
• Join a fundraising auxiliary.
• Buy fundraising merchandise.
• Make a donation or bequest to the service
in your will.
• Establish a regular donation
(quarterly, annually).
Become a volunteer!
Contact
• Phone
• Email
• Web site
• For donations contact
• To become a volunteer contact
Interesting websites
• www.smrpalliativecare-consortium.org.au
• www.pallcarevic.asn.au
• www.palliativecare.org.au
Thank you for
your time!