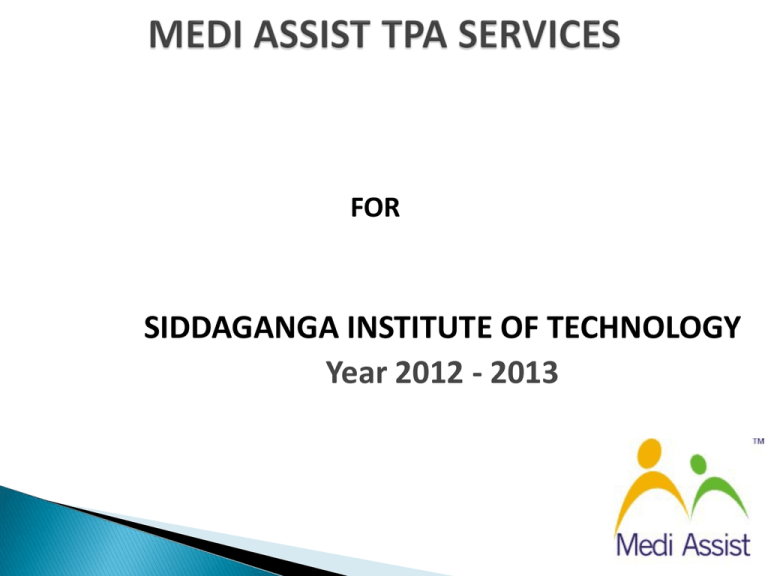 FOR
SIDDAGANGA INSTITUTE OF TECHNOLOGY
Year 2012 - 2013
POLICY OVERVIEW
INSURED
SIDDAGANGA INSTITUTE OF TECHNOLOGY
INSURER
THE NATIONAL INSURANCE COMPANY LTD
POLICY NUMBER
604203/48/12/8500000613
604203/48/12/8500000609
604203/46/12/8500000058
THIRD PARTY
ADMINISTOR
MEDI ASSIST INDIA TPA PVT LTD
PERIOD OF INSURANCE FROM
TO
19/10/2012
18/10/2013
Please Note:
Policy features detailed in the following slides are only important highlights which are subject
otherwise to the Terms, Conditions and Limitations of the Policy. Please refer to the Policy
Schedule/Wordings issued by the Insurer for more details of the same.
PAN India Presence
Corporate Office
• Bangalore
Regional Offices
Mohali
Delhi
Jaipur
Lucknow
Ahmedabad
Jamshedpur
Bhopal
Indore
Nagpur
Bhubaneswar
Surat
Guwahati
Patna
Kolkata
Mumbai
Pune
Vishakhapatnam
Hyderabad
Our Offices
Mangalore
Cochin
Trivandrum
Bangalore
Chennai
Coimbatore
•
•
•
•
•
Corporate office
Regional offices
Branch offices
Mumbai
Bangalore
Chennai
Kolkata
New Delhi
Branch Offices - 19
Year
Manpower Strength
2007
400
2008
525
2009
750
2010
830
2011
1010
2012
1350
Medi Assist India TPA Pvt. Ltd | Private & Confidential | Not for Circulation
3
POLICY COVERAGE
The Mediclaim Policy Reimburses Hospitalisation Expenses
incurred due to:Disease
Illness or
any bodily injury sustained through Accident
Treatment done in a Hospital /Nursing Home / Day Care
Centre on the advice of a qualified Physician / Medical
Specialist / Surgeon
As an Inpatient in the Hospital (fulfilling the definition
of Hospital)
For a minimum of duration of 24 hours
DEFINITION OF HOSPITAL
 An institution established in India for indoor care & treatment of sickness and
injuries
 Registered as Hospital or Nursing Home with local authorities
 Under supervision of registered & qualified medical practitioner
 Has minimum of 10 inpatient beds (In towns having less than 10 Lakhs
population OR
 15 inpatient beds if located in other towns
 Has fully equipped operation theatre of its own
 Has fully qualified Nursing Staff and Doctors and Maintains Daily Record for
each Patient
 The Term Hospital or Nursing Home shall not include an establishment which is
a place of rest, a place for the aged, a place for drug-addicts or place for
alcoholics a hotel or a similar place
POLICY COVERAGE
Day Care Procedures where 24 hours hospitalization is not applicable
Anti Rabies Vaccination
Hysterectomy
Appendectomy
Inguinal/ventral/Umbilical/ Femoral Hernia
Coronary angiography
Coronary angioplasty
Parenteral chemotherapy
D&C of cervix
Dental surgery following accident
Prostrate
Lithotripsy (Kidney Stone Removal)
Eye surgery
Fracture/dislocation excluding hairline fracture
Radiotherapy
Sinusitis
Gastro Intestinal Tract System
Stone in Gall Bladder, Pancreas and Bile Duct
Haemo Dialysis
Hydrocele
Tonsillectomy
Urinary Tract System
Piles/ fistula
Note: All ailment mentioned above will not be payable for the first two years of operation of the policy.
admissible provided the treatment is taken in a registered Government
EXPENSES COVERED
2.1
Room, Boarding and Nursing Expenses as provided by the Hospital / nursing home not exceeding 1% of Sum Insured Per
Day for Normal Room or actual amount whichever is less.
2.2
Intensive CareHospital
Unit (ICU) Expenses not exceeding 2% of sum Insred Per Day or actual amount whichever is less
2.3
Surgeon, Anaesthetist, Medical Practitioner, Consultants' Specialist fees.
2.4
Anesthesia, Blood, Oxygen, Operation Theatre Charges, surgical appliances, Medicines & Drugs, Dialysis, Chemotherapy,
Radiotherapy, cost of Artificial limbs, Cost of Prosthetic devices implanted during surgical procedure like Pacemaker and
relevant laboratory/Diagnostic tests, X-ray and other medical expenses related to the treatment.
2.5
Pre-Hospitalization medical charges up to 30 days period immediately before insured's admission to hospital for that
treatment of illness or injury
2.6
Post-Hospitalization medical charges up to 60 days period immediately after insured's admission to hospital for that
treatment of illness or injury
Expenses incurred on Ayurvedic / Homeopathic / Unani Treatment are admissible provided the treatment is taken in a registered Government
IMPORTANT NOTE
The amounts payable under 2.3 and 2.4 shall be at the rate applicable to the entitled room category. In case Insured opts for a room
with rent higher than theExpenses
entitled
category as under 2.1,the charges payable under 2.3 and 2.4 shall be limited to the charges applicable
incurred on Ayurvedic / Homeopathic / Unani Treatment are admissible provided the treatment is taken in a registered Government
to the entitled category. Hospital
No payment shall be made under 2.3 other than part of the hospitalization bill.
Expenses incurred on Ayurvedic / Homeopathic / Unani Treatment are admissible provided
the treatment is taken in a registered Government Hospital
FEW NON MEDICAL EXPENSES NOT PAYABLE
Following are few Non Medical Expenses which are not reimbursable under the Policy:
 Telephone charges
 Attendant's charges
 Home Visit/Nursing charges - at residence after discharge
 Assistant fee/Follow up charges in advance
 Sundry/Medico Legal Charges/Diabetic chart charges
 Thermometer Charges
 Container for Specimen/Disposable Bag charges
 Admission Kit
 External Surgical Aids: Lumbo-sacral/Collar belt /Knee cap/Knee brace/ walker/hot water bag/baby
kit/urine pot / traction kit/ folding commode etc
 Inhaler/ Nebulizer /Glucometer or any other equipments
 Diet charges
 Special/protein diet/health drinks unless prescribed by the doctor
 Documentation/Folder/Stationery/In Patient chart charges
 Expenses on vitamins and tonics unless forming part of treatment
 Naturopathy Treatment, Acupressure, Acupuncture, Experimental and unproven
treatment/therapies.
 (ABOVE LIST IS NOT EXHAUSTIVE. TO SEE THE COMPLETE LIST OF NON MEDICAL EXPENSES PLEASE VISIT OUT WEBSITE
WWW.MEDIASSISTINDIA.COM)
FEW MAJOR EXCLUSIONS
 Circumcision, Cosmetic or Aesthetic Treatment, Plastic Surgery unless required to treat any injury
or illness
 Vaccinations and Inoculations, Vitamins and Tonics unrelated to treatment
 Cost of braces, equipment or external prosthetic devices, non-durable implants, eye glasses, cost of
spectacles and contact lenses, hearing aids including cochlear implants and durable medical
equipment
 All types of Dental treatments except arising out an accident
 Obesity treatment and its complications, congenital external disease/defects or anomalies,
Treatment related to all psychiatric and psychosomatic disorders,
 Infertility, sterility, use of intoxicating drugs/alcohol, use of tobacco leading to cancer
 Intentional self inflicted injury, attempted suicide and arising out of non adherence to any medical
advice
 Participation in hazardous sports of any kind, or any criminal act
 STD, AIDS and other related conditions
 Diagnostic, X-Ray or Lab expenses not consistent with or incidental to the diagnosis of positive
existence of ailment
 Voluntary Termination of Pregnancy
 Naturopathy treatment, Experimental/Unproven treatment
 Service Charges and All Non Medical Expenses
 Domiciliary Hospitalization, Treatment taken outside India
 Note : Please refer to policy condition for full list of exclusions
CASHLESS CLAIMS PROCESS
 This service enables the customer to avail treatment at the Network Hospital without being
required to pay for the treatment.
 All expenses incurred will be paid to the Hospital after deducting non medical expenses subject
to maximum limit of sum insured
 Please produce your Medi Assist ID Card to the Network Hospital where you wish to avail
treatment. Additionally you will be required to provide a valid Photo ID proof such as Voter ID,
PAN Card, Driving License etc to the hospital
 Kindly fill in the Medi Assist Card Number, Name of the Patient, Age & Contact Number in the
Cashless Request Form
 The treating doctor/ hospital will fill in the remaining part of the Request Form & Fax it to Medi
Assist for approval.
 Pre Authorisation approval for Cashless will be sent through Fax / Email to the Hospital
 Please Check & Sign the hospital bill before Discharge
 Avoid informing the hospital your total coverage details to prevent inflated billing
Claims Processing – Pre-Authorization/ Cashless
Medi Assist India TPA Pvt. Ltd | Private & Confidential
11
Network of Hospitals – Pan-India
No. of
Hospitals
Number of
Packages
Hospitals with
Discounts
582
30
29
27
13
192
2
14
3
418
11
18
17
7
1
-
-
Delhi
Goa
Gujarat
Haryana
214
7
495
204
153
1
60
103
158
4
243
160
Himachal Pradesh
13
5
8
Jammu & Kashmir
15
2
5
Jharkand
Karnataka
Kerala
Madhya Pradesh
Maharashtra
Nagaland
Orissa
Pondicherry
Punjab
Rajasthan
Tamil Nadu
Tripura
Uttar Pradesh
Uttaranchal
West Bengal
Grand Total
26
645
200
82
771
2
49
10
190
130
499
2
234
23
197
4690
1
188
22
9
331
11
85
33
243
85
8
75
1626
9
399
91
40
402
11
2
122
103
197
2
166
19
92
2704
State
Andhra Pradesh
Assam
Bihar
Chandigarh
Chattisgarh
Dadra & Nagar Haveli
1400
1351
657
1282
Zones Hospital Network
West
1351
Bangalore
657
South
1282
North East
Total
1400
4690
Medi Assist India TPA Pvt. Ltd | Private & Confidential | Not for Circulation
12
PROCEDURE FOR REIMBURSEMENT CLAIMS
 Please submit the following documents in original
 Discharge Summary. (Original ) .
 Final Hospital Bill (with detailed break-up) &Cash paid Receipts (Original)
 Medicine Bills along with Doctor Prescriptions.
 Investigations & Test Reports. (Original)
 Duly Filled Claim Form with Signature. (can be downloaded from website:
www.mediassistindia.com
 Bank Account Details of the Employee to be provided containing following details
 Name of Account Holder (Employee) as per Bank Records
 Bank Account Number
 Bank Name and Address
 IFSC Code
 Copy of cancelled cheque with all the above details
Note: In case of non-availability of prescriptions, kindly ask your Physician to countersign on
the reverse of pharmacy bills.
Claims Processing - Reimbursement Claims
Medi Assist India TPA Pvt. Ltd | Private & Confidential
14
PROCESS TO DOWNLOAD ID CARDS FROM MEDI ASSIST WEBSITE

HR can access Medi Assist Website by following the steps below:-

Log in to Medi Assist website www.mediassistindia.com

Select Corporate Login from the Log in Title

Log in Name shall be Employee Number followed by short name of Corporate

Password will be shared separately by a welcome mail

Employee can view the names of enrolled.
Medi Assist India TPA Pvt. Ltd
Turn Around Time (TAT)
Process
Turn Around Time (TAT)
PRE-AUTHORIZATION
 Approvals processed within 1 Hour to 3 Hours maximum
 Planned hospitalization can be availed 2 days prior to admission
REIMBURSEMENT CLAIMS
Settlement: 15 working days by Electronic Fund Transfer (EFT)
(after receipt of complete claim documents)
Mandatory Requirements for Bank Account Details to be shared containing the following details in
EFT Transfer
addition to all claims documents
• Full Name of Account Holder (Employee) as per Bank Records
• Name and Address of Bank
• IFSC Code
• Copy of Cancelled cheque containing all above details
Medi Assist India TPA Pvt. Ltd | Private & Confidential | Not for Circulation
16
SOME COMMON ERRORS THAT DELAYS SETTLEMENT OF
REIMBURSEMENT CLAIMS








Submitting document without claim form
Quoting wrong claim amount on claim form
Enclosing certificate from doctor instead of detailed discharge summary
Not attaching original cash paid receipts and submitting details on
prescription / hospital letter head instead of proper numbered receipt
Incomplete documents: non submission of Lab reports, breakup for bills
and medicine prescriptions
Not providing Bank Account Details for effecting settlement of claims
through EFT mode
Providing Bank Account Details of a beneficiary instead of Employee Bank
Account
Claim Documents submitted after 30 days of Discharge for Main
Hospitalization and beyond 7 days for Post Hospitalization Expenses.
 (Waiver of this condition is considered by Insurer in extreme cases of hardship where it is
proved to the satisfaction of the Company that under the circumstances in which the
insured was placed it was not possible for him or any other person to give such notice or
file claim within the prescribed time-limit)
CUSTOMER SERVICE CONTACTS
Name
Bhavya A L
Email
[email protected]
Mobile
9342529734(Temp)
Corporate Response
080–32942863 (9-30 am to 6 pm)
Call Centre
Toll Free Number 1800 425 9449
Accessible from any location in India. Multi lingual support available in English,
Kannada, Hindi)
ESCALATION MATRIX
FIRST LEVEL
Rajesh s
[email protected]
Mobile- 9379761657
SECOND LEVEL
Shashikala ( Manager )
Email – [email protected]
Mobile – 9379427268
ADDRESS FOR CORRESPONDENCE
Medi Assist India TPA Private Limited
Bangalore Branch
No 45/A, "Green Arch", B Block, II Floor
1st Main Road, J P Nagar Phase III,
Sarakki Industrial Layout,
Bangalore 560078
Website: www.mediassistindia.com
MediAssist Online!
We are pleased to introduce to you MediAssist Online!
This is a web-based self-service platform provided. With this selfservice application, you will be able to download soft copies of the
Medi Assist cards for you and also check the reimbursement claim
status.
Steps to be followed for:
Coporate HR Login

Features:

Beneficiary details

Claims details

E-card

Change password option
Logon to
www.mediassistindia.com
Click- on the tab
login in the home
page
Online
Access
Online
Access
Click here- to enter your
login details
Click the Tab
Corporate
employee
Username
[email protected]
Online
Access
Password
Please enter your
user name and
password
For
Beneficiary
Details
Click this
Tab
For
E Cards
Click this
Tab
E Cards
Can
Be
Printed
E CARDS
CAN
BE
PRINTED
CLAIMS
INFORMATION
BY
CLICKING
THIS
HYPERLINK
GET MORE
INFORMATION
CLAIM
BREAK
UP
DETAILS
YOU
CAN
GET
YOUR
CLAIM
DEDUCTIO
CHEQ
DET
Online Issues
If you have forgotten your password, or have problems logging into the
system, please contact MediAssist directly by emailing
quoting employee code and corporate name
contact
Ms. Bhavya A L
[email protected]
The same will be ratified within 3 working days from the receipt of the mail.
Wish you a healthy life and
happy future !
Thank you !!!