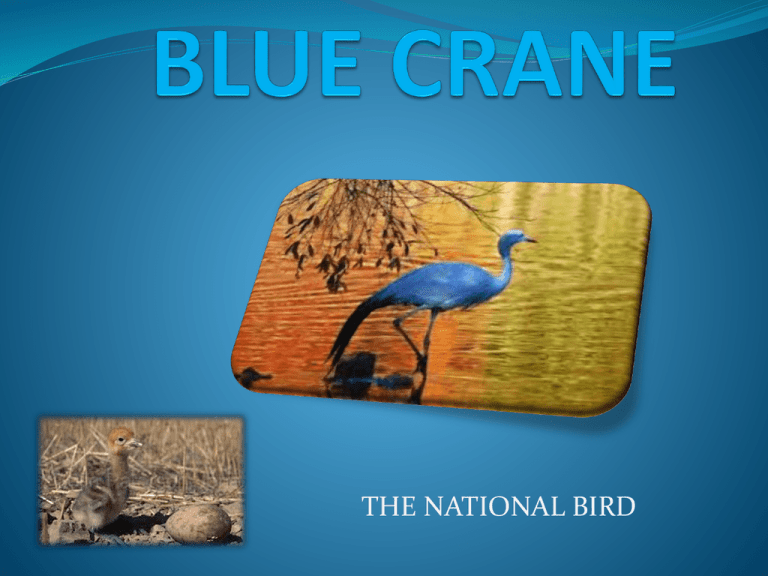 THE NATIONAL BIRD
INDEX
DESCRIPTION
SIZE
ENEMIES
DIET
INTERESTING FACTS
DESCRIPTION
 THE BLUE CRANE IS A PALE BLUE BIRD IN
COLOUR, ALTHOUGH IT CAN APPEAR GREY
FROM A DISTANCE.
SIZE
A BLUE CRANE IS
5.1 KG
IT IS ALSO 4 FT
TALL
ENEMIES
DOGS AND
HUMANS.
THEY ALSO GET
POISONED BY
FARMERS
DIET
EVIDENCE SUGGEST THAT
THE BLUE CRANE IS
PRIMARILY VEGETARIEN
AND EATS SMALL BULBS ,
SEEDS AND ROOTS
INTERESTING FACTS
 THE BLUE CRANE IS A TALL GROUND-DEWLING BIRD
THAT GETS ITS NAME FROM ITS BLUE-GRAY
FEATHERS.
 IT IS A MEMBER OF THE GRUIDAE FAMILY AND ONE
OF FIFFTEEN CRANE SPECIES.
 BLUE CRANE,STANLEY AND PARADISE CRANE ARE
THREE NAMES FOR THE SAME BIRD.
 THE XHOSA WORD FOR BLUE CRANE IS INDWE AND
THE ZULU WORD IS INDWA.