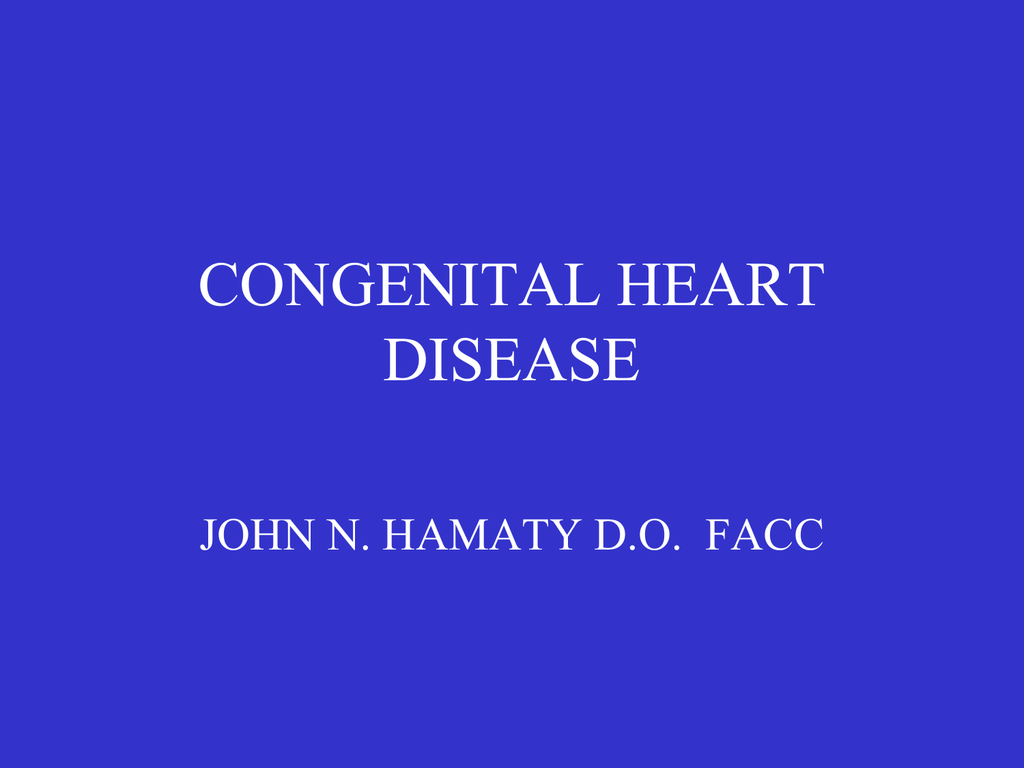 CONGENITAL HEART
DISEASE
JOHN N. HAMATY D.O. FACC
ATRIAL SEPTAL DEFECT
ATRIAL SEPTAL DEFECT
• 4TH-6TH WEEK OF GESTATION, THE
SINGLE ATRIAL CHAMBER IS
DIVIDED INTO TWO
• SPACE BETWEEN THE TWO SEPTUM
IS OSTIUM PRIMUM, OR FIRST HOLE.
• FENESTRATIONS APPEAR IN CENTER
LEADING TO SECOND HOLE- OSTIUM
SECUNDUM.
ATRIAL SEPTAL DEFECT
• ULTIMATE BALANCE BETWEEN
PROLIFERATION AND ABSORPTION
OF THE TWO SEPTA –FORAMEN
OVALE.
ATRIAL SEPTAL DEFECT
•
•
•
•
SINUS VENOSUS DEFECT
CHIARI NETWORK
OSTIUM SECUNDUM
OSTIUM PRIMUM
ATRIAL SEPTAL DEFECT
• ERROR IN DEVELOPMENT IN
DEPOSITION OR ABSORBTION, A
COMMUNICATION RESULTS-ASD.
• IF HIGH IN SEPTUM NEAR SVC AND
IF RT PULM. VEIN IS ANOMALOUSSINUS VENOSUS DEFECT.
ASD-SECUNDUM
• MOST COMMON TYPE OF ASD
• DEFECT IS LOCATED IN CENTER OF
SEPTUM.
ASD-PRIMUM
• COMMUNICATION IS AT THE
LOCATION OF THE LOWER END OF
SEPTUM.
• USUALLY ASSOCIATED WITH
DEFECT IN THE MITRAL VALVE.
• CLASSIFIED AS INCOMPLETE AV
CANAL OR PARTIAL ENDOCARDIAL
CUSHION DEFECT.
HEMODYNAMICS
ASD
• LEFT TO RIGHT SHUNT
• INCREASED RIGHT SIDED VOLUME
• RESULTS IN DILITATION OF RA,RV
AND PULMONARY VESSELS
• LEFT HEART IS UNCHANGED!
PHYSICAL EXAM
• EJECTION MURMUR-2ND LEFT
INTERCOSTAL SPACE
• SAME VOLUME OF BLOOD!!!
• MID-DIASTOLIC FILLING WITH FIXED
VOLUME CONSISTENTLY DELAYS
CLOSURE OF PULMONIC VALVE
• FIXED SPLIT SECOND SOUND
PHYSICAL EXAM
• OSTIUM PRIMUM DEFECT
• SAME DEFECTS AS SECUNDUM WITH
ADDITION OF MITRAL
REGURGITATION.
• POOR GROWTH, CHF-INFANT
VENTRICULAR SEPTAL
DEFECT
VSD
• DEVELOPES BETWEEN THE 4TH AND
8TH WEEKS OF GESTATION
• SINGLE VENTRICLE IS DIVIDED IN
TWO.
• TWO PORTIONS OF SEPTUMMEMBRANOUS AND MUSCULAR
HEMODYNAMICS OF VSD
VSD
•
•
•
•
LEFT TO RIGHT SHUNT
LV TO RV TO PULMONARY ARTERY
RA-NORMAL IN SIZE
RV DILATES AS DOES MAIN PA, LEFT
ATRIUM AND LEFT VENTRICLE
VSD-PHYSICAL EXAM
• ONSET OF SYSTOLE PRODUCES
HOLOSYSTOLIC MURMUR
• HEARD BEST AT THE 4TH LEFT ICS
• WIDESPREAD TRANSMISSION EVEN
INTO PULMONARY ARTERY.
• LOUD!!!
• RV HEAVE
EISENMENGERS COMPLEX
EISENMENGER'S COMPLEX
• CLINICAL SITUATION WHERE IN A
PATIENT WITH ANY LEFT TO RIGHT
SHUNT DEVELOPS SUFFICIENT PULM
VASCULAR DISEASE AND PHTN TO
PRODUCE REVERSAL OF FLOW AND
THEREFORE A RIGHT TO LEFT
SHUNT
HEMODYNAMICS
• EQUILIZATION OF PRESSURES
• MURMUR DIMINISHES DUE TO LESS
SHUNTING
• RV EJECTION TIME DIMINISHES
PERMITTING THE PULMOARY VALVE
TO CLOSE SOONER AND INTENSITY
OF S2 INCREASES
HEMO'S(CON'T)
• WITH TIME, PULMONARY
RESISTANCE INCREASES AND
EXCEEDS SYSTEMIC RESISTANCE
AND THE SHUNT THROUGH THE
VENTRICULES REVERSES
RESULTING IN SYSTEMIC CYANOSIS
PATENT DUCTUS
ARTERIOSUS
PDA
• DEVELOPES BETWEEN THE 5TH AND 7TH
WEEKS OF GESTATION
• AORTIC ARCH DEVELOPS WITH
PROLIFERATION FROM APEX OF TRUNCUS
ARTERIOSUS.
• ON THE LEFT, THE DISTAL PORTION
MAINTAINS ATTACHMENT TO AORTA
AND BECOMES DUCTUS ARTERIOSUS
ANATOMY OF PDA
• IN FETAL LIFE, DUCTUS SERVES AS A
FUNTIONING CONNECTION
BETWEEN THE PULM ARTERY AND
AORTA.
• AFTER BIRTH, THE PARTIAL
PRESSURE OF O2 RISES AND THE
PULM ARTERIOLES DILATE CAUSING
THE DUCTUS TO CLOSE.
ANATOMY (CON'T)
• ULTIMATELY, THE DUCTUS
FIBROSES AND BECOMES THE
LIGAMENTUM ARTERIOSUM
• WHEN IT DOESN'T CLOSE IT IS
CALLED A PATENT DUCTUS
ARTERIOSUS(REDUNDANT)
HEMODYNAMICS OF PDA
HEMODYNAMICS OF PDA
• HIGH PRESSURE AORTA
COMMUNICATES WITH LOW
PRESSURE PULMONARY ARTERY
• INCREASES VOLUME IN LUNGS AND
SUBSEQUENTLY INTO LV
• SIMILAR TO VSD
HEMODYNAMICS
• RA, RV NO CHANGE
• MAIN PA, PULM VESSELS, LA, LV
AND AORTA DILATE
CLILNICAL APPLICATION
• OCCURS EARLY IN LIFE
• INITIALLY MURMUR IS SYSTOLIC,
BUT AS DIASTOLIC EQUILIBRATION
OCCURS, MURMUR BECOMES A
CLASSIC TO AND FRO OR
CONTINUOUS MURMUR OCCURS.
PHYSICAL EXAM OF PDA
• CONTINUOUS MURMUR
• LEFT OF STERNUM AT 2ND OR 3RD
INTERSPACE
• COURSES ALONG STERNUM AND
ALONG PULMONARY ARTERY
• DISPLACE APEX DUE TO INCRESED
VOLUME WITH A THRUST
CLINICAL APPLICATION
• BIRTH-NORMAL
• 2-6 WEEKS-FLOW BEGINS AND
SYSTOLIC MUMRUR IS HEARD
• AS LA AND LV SIZE INCREASE, CHF
DEVELOPES
• MURMUR BECOMES CONTINUOUS AS
PA AND LV DIASTOLIC PRESSURES
EQUAL
COARCTATION OF THE
AORTA
COARCTATION
• 5TH AND 7TH WEEKS OF GESTATION,
THE AORTIC ARCH DEVELOPS
• AT AREA OF PATENT DUCTUS,
AORTA DEVELOPS IMPROPERLY,
LEAVING A RESTRCTED LUMEN.
• LOCATION:PROXIMAL , AT , OR
DISTAL TO INSERTIN OF DUCTUS.
COARCTATION
• MORE COMMON IN MALES
• RIB NOTCHING OCCURS DUE TO
PHYSICAL ERROSION OF THE
UNDERSURFACE OF THE RIBS AS A
RESULT OF INTERCOSTAL
COLLATERAL CIRCULATION
• ASSOCIATED WITH BICUSPID
AORTIC VALVE
TETRALOGY OF FALLOT
TETRALOGY OF FALLOT
• 3RD TO 4TH WEEK, THE COMMON
TRUNK DIVIDES INTO THE
PULMONARY ARTERY AND THE
AORTA.
• 4TH AND 8TH WEEK, THE VENTRICLE
DIVIDES INTO TWO
TETRALOGY
•
•
•
•
DEFINED BY FOUR FINDINGS
1) INFUNDIBULAR STENOSIS
2) VENTRICULAR SEPTAL DEFECT
3) RIGHT VENTRICULAR
HYPERTROPHY
• 4) OVERRIDING OF THE AORTA
HEMODYNAMICS
• DIMINISHED BLOOD FLOW TO THE
LUNGS AND INCREASED BLOOD
FLOW TO THE BODY.
• DUE TO THE STENOSIS OF THE
INFUNDIBULUM, PULMONARY FLOW
IS DIMINISHED. THE OVERRIDING
AORTA ACCEPTS MOST OF THE RV
BLOOD.
CLINICAL APPLICATION
• THIS PRODUCES A RIGHT TO LEFT
SHUNT AND THEREFORE PRODUCES
CYANOSIS OF PERIPHERY.
• CHILDREN PRESENT WITH
CYANOTIC HANDS AND FEET
• CHILDREN SQUAT TO ENHANCE
FLOW BACK TO HEART TO
OXYGENATE.