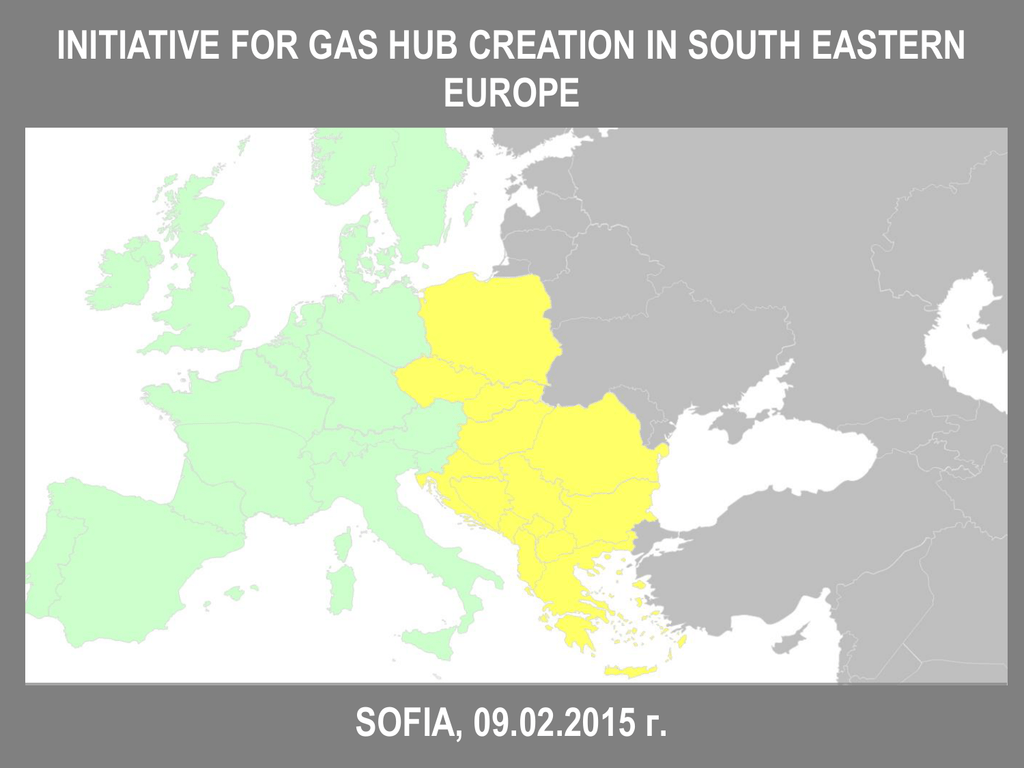 INITIATIVE FOR GAS HUB CREATION IN SOUTH EASTERN
EUROPE
SOFIA, 09.02.2015 г.
Domestic production
Fgreat Britain
Denmark
Holland
Norway
North Sea
Russia
Russia
ЕС 32 %
Share of Russian Gas
Domestic
production
56 %
Share of Russian Gas
LNG
Potential
Domestic
fields Black
Sea
LNG
Дял на вноса на газ от Русия спрямо
общото потребление по държави за
2013 г
Gas import from Russia by states for
2013, bcm/y
Romania 1,10
Italy 24,90
Slovakia 5,30
Czech Republic
7,20
Serbia 1,15
Внос на газ от Русия по
0,53
държави за 2013 г.,Slovenia
bcm/y
Poland 9,60
Hungary 5,90
Share of the gas import from Russia toward the
total consumption by states for 2013
100,0%
Hu
n
ga
ry
Gr
ee
ce
Au
st
ria
Po
lan
d
Se
rb
ia
It a
ly
Ro
m
an
ia
Cr
oa
tia
a
ic
ve
ni
bl
Slo
Re
pu
ga
ria
Cz
ec
h
Bu
l
Slo
va
kia
90,0%
80,0%
70,0%
60,0%
50,0%
40,0%
30,0%
20,0%
10,0%
0,0%
Austria 5,10
Greece 2,40
BULGARIA KEY FACTOR ON THE REGIONAL GAS MARKET
•
The geographic location of Bulgaria defines it as a strategic
partner
•
Well designed national gas infrastructure
•
Well balanced national transit system related with
underground gas storage capacity
•
Exploration of Oil and gas fields in the region
•
Low domestic consumption - spare capacity for transit
•
Transparent public procurement procedures and
construction at fair prices
•
Long and short term capacity
•
Bulgaria will use gained European experience in the
development of trading platforms
•
Unified system for managing gas flows , previously agreed
with the European gas partners
•
Investment opportunities - estimated investment costs Euro
2.2 billion
NCG+
Gaspool
CEGH
BAGA
PSV
CS Chiren
Domestic
LNG
Southern Gas Corridor
21,1 bcm
BULGARIA – GAS HUB
Central Europe
1a
intermittennt
0 bcm
Oriahovo
42,6 bcm/y
(Black Sea)
2
1,5 bcm
1b
Zajčer
42,6 bcm/y
CS 1, 130 MW
2
CS 2, 130 MW
bcm/y
(Bulgaria)
CS
Provadia VARNA
CS P.
Senovets
bcm/y
CS
Lozenets
BG Dom
20
CS Petrich
3
bcm/y
IGB, 3 bcm
TAP
LNG
South Stream 6
GMS
(Black Sea,
CS Strandja
0,8
b
CS V.Dol
GMS
CS
Bul
Dom
(Bla
New UGS
3,3
bcm/y
CS NV 2, 3
CS NV 1
IBS, 1,8 bcm
Romania
Domestic
bcm/y
ITB, 3 bcm
TANAP
LNG
Necessary infrastructure on the territory of Bulgaria –
preliminary estimate
Modernization of the
existing infrastructure
•
•
•
•
Construction of new
infrastructure
Increase of the capacity of CS Strandja with 10 MW
Construction of Lozenets – Rupcha loop – 50 km.
Construction of 20 кm. Gas pipelines
Modernization and expansion of the North semi-ring ~ 272 кm.
• ~ 844 кm. pipelines
• 2 compressor stations with total installed capacity of 265MW (in
the regions of the city of Levski and City of Provadia)
• Construction of a receiving terminal
Estimated investment
costs
Additional storage capacity
• EUR 2 200 million – new infrastructure
• EUR 140 million – Modernization and expansion of
the Northern semi-ring
• Chiren UGS expansion
• Construction of new underground storage
facility
GAS HUB – PILOT PROJECT FOR ENERGY UNION
•
Key mechanism to improve security of gas supply to Europe - a key objective of the European Energy Union, enhancing the
negotiating power of the EU and its economic partners vis-à-vis the external gas suppliers
•
Key project for the implementation of the Internal energy market - to overcome the energy dependence of the region of
Southeast Europe, liberalization by creating a competitive gas market in compliance with EU legislation. Improving
trans-border grid.
•
Gas infrastructure, securing the Member States with natural gas at a competitive price, energy-efficient, environmentally
friendly energy source - improving energy efficiency. Energy Union should be designed to maximize the benefits of
energy efficiency and managing demand.
•
In addition to energy efficiency, gas infrastructure allows reducing emissions in comparison to production from coal
power plants alongside with this Bulgaria has achieved its targets for renewable energy sector.
•
Modernization of the gas transmission network will allow the use of innovative new technologies, switching to
automatic control mode and well balanced transmission system.
INITIATIVE FOR GAS HUB CREATION IN SOUTH
EASTERN EUROPE
THANK YOU FOR YOUR ATTENTION !