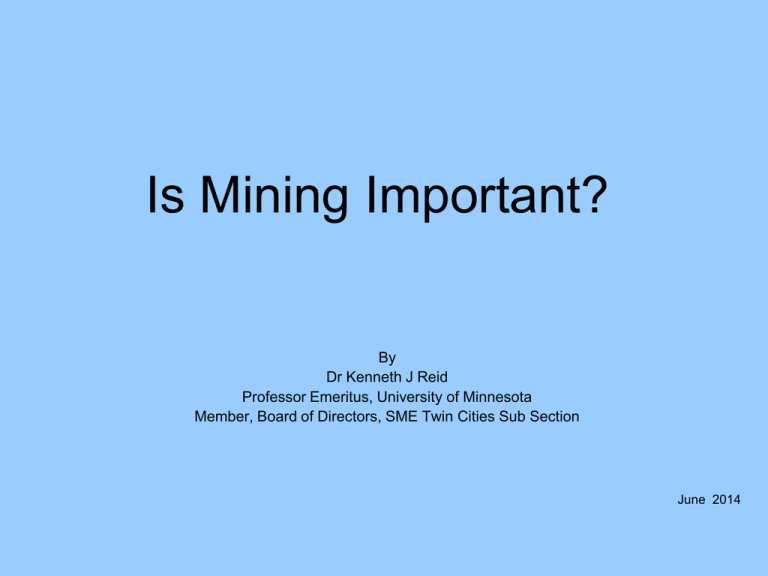 Is Mining Important?
By
Dr Kenneth J Reid
Professor Emeritus, University of Minnesota
Member, Board of Directors, SME Twin Cities Sub Section
June 2014
Consider a World without
Mining
.
No Iron Ore
No Steel
No Limestone
No Cement
No Sand
No Crushed Rock
No Concrete
Without Concrete and Steel
there would be:
.
No Skyscrapers
No Shopping Malls
No Supermarkets
No Sports Stadiums
No Hospitals
No Cities
• .
No Roads
No Rails
No Bridges
No Harbors
No Airports
No Cars
No Trucks
No Trains
No Ships
No Planes
Without Infrastructure and Transportation
No Local Commerce
•
.
No Interstate Trade
No Global Trade
Also Without Concrete and Steel
There would be No Dams
No Water Pumps
No Water Towers
so No Water
If there were No Potash Mines
and No Phosphate Mines
There would be No Fertilizers
and No Crops
• .
so No Feed for Animals
and No Food for Humans
.
So: Are Mines Important?
Without a Doubt
Absolutely everything
we depend on is either made from
Earth Resources or relies on
Earth Resources for its
production and distribution
Copies of this Presentation can be
obtained from the
Minerals Education Coalition website:
mineraleducationcoalition.org
or mii.org
.