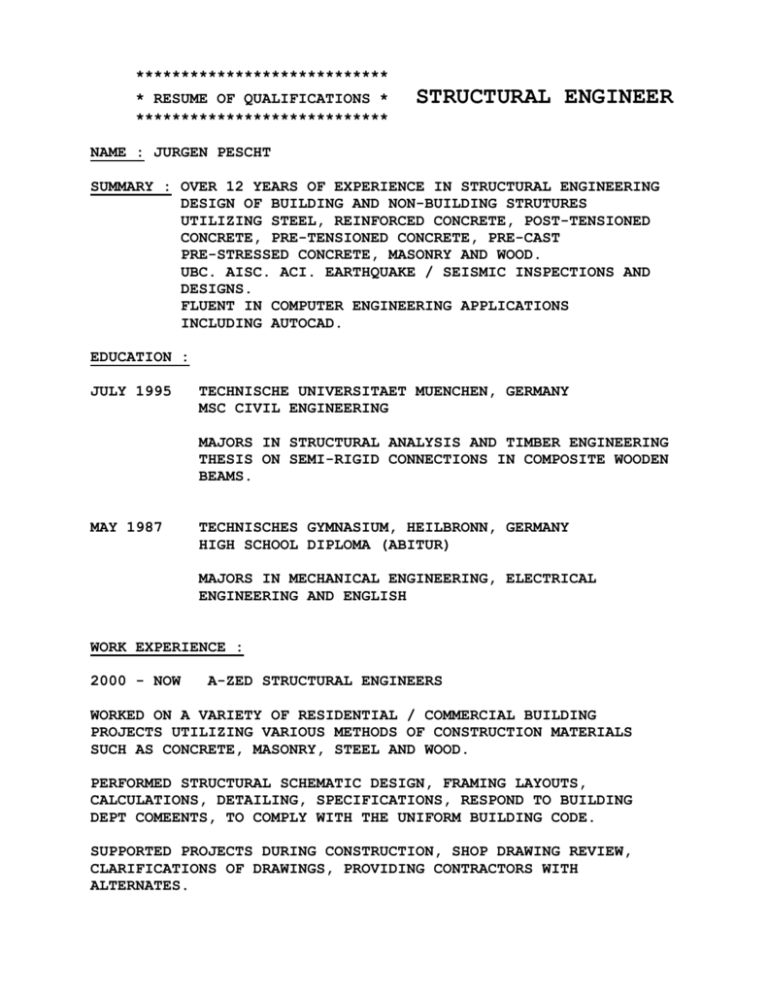 ****************************
* RESUME OF QUALIFICATIONS *
****************************
STRUCTURAL ENGINEER
NAME : JURGEN PESCHT
SUMMARY : OVER 12 YEARS OF EXPERIENCE IN STRUCTURAL ENGINEERING
DESIGN OF BUILDING AND NON-BUILDING STRUTURES
UTILIZING STEEL, REINFORCED CONCRETE, POST-TENSIONED
CONCRETE, PRE-TENSIONED CONCRETE, PRE-CAST
PRE-STRESSED CONCRETE, MASONRY AND WOOD.
UBC. AISC. ACI. EARTHQUAKE / SEISMIC INSPECTIONS AND
DESIGNS.
FLUENT IN COMPUTER ENGINEERING APPLICATIONS
INCLUDING AUTOCAD.
EDUCATION :
JULY 1995
TECHNISCHE UNIVERSITAET MUENCHEN, GERMANY
MSC CIVIL ENGINEERING
MAJORS IN STRUCTURAL ANALYSIS AND TIMBER ENGINEERING
THESIS ON SEMI-RIGID CONNECTIONS IN COMPOSITE WOODEN
BEAMS.
MAY 1987
TECHNISCHES GYMNASIUM, HEILBRONN, GERMANY
HIGH SCHOOL DIPLOMA (ABITUR)
MAJORS IN MECHANICAL ENGINEERING, ELECTRICAL
ENGINEERING AND ENGLISH
WORK EXPERIENCE :
2000 - NOW
A-ZED STRUCTURAL ENGINEERS
WORKED ON A VARIETY OF RESIDENTIAL / COMMERCIAL BUILDING
PROJECTS UTILIZING VARIOUS METHODS OF CONSTRUCTION MATERIALS
SUCH AS CONCRETE, MASONRY, STEEL AND WOOD.
PERFORMED STRUCTURAL SCHEMATIC DESIGN, FRAMING LAYOUTS,
CALCULATIONS, DETAILING, SPECIFICATIONS, RESPOND TO BUILDING
DEPT COMEENTS, TO COMPLY WITH THE UNIFORM BUILDING CODE.
SUPPORTED PROJECTS DURING CONSTRUCTION, SHOP DRAWING REVIEW,
CLARIFICATIONS OF DRAWINGS, PROVIDING CONTRACTORS WITH
ALTERNATES.
PERFORMED STRUCTURAL INVESTIGATIONS / INSPECTIONS.
1995 - 2000
BURGGRAF, WEICHINGER & PARTNER, MUNICH, GERMANY
STRUCTURAL ENGINEER, PROJECT MANAGER.
PROJECT: RESEARCH BUILDING FOR PHARMACEUTICAL CO
(320.000 SQ.FT.)
RESPONSIBLE FOR PRELIMINARY DESIGN, STRUCTURAL AND SITE
ANALYSIS.
MANAGED AND SUPERVISED TEAM OF ENGINEERS AND DRAFTSMEN.
PROJECT ENGINEER
PROJECT: MAIN TOWER, FRANKFURT. HIGH-RISE OFFICE BUILDING.
(HEIGHT 650 FT., 1.000.000 SQ.FT.)
DEVELOPED AND ANALYZED DESIGN OF REINFORCED CONCRETE STRUCTURE.
RESPONSIBLE FOR ANALYZING THE BRACING AND DYNAMIC BEHAVIOR OF
THE BUILDING USING SOPHISTICATED 3-D FRAMED-STRUCTURE SOFTWARE.
SUPERVISED AND CHECKED SHOP DRAWINGS DURING CONSTRUCTION PHASE.
OTHER PROJECTS:
SEVERAL DIFFERENT STEEL CABLE STRUCTURES FOR GLASS FAΣADES (UP
TO 100´ X 75´).
OPEN CUT BRACING FOR DEEP EXCAVATIONS (UP TO 65 FT.).
EMPLOYED REINFORCED CONCRETE PLANES INSTEAD OF STEEL FRAMEWORK.
COST REDUCTION: 25%.
ENCLOSED PEDESTRIAN BRIDGE AS INTERCONNECTING PASSAGE BETWEEN
BUILDINGS. STRUCTURE CHARACTERISTICS: STEEL FRAMEWORK WITH
COMPOUND BEAMS.
LAMINATED TIMBER DOME FOR INDOOR SWIMMING POOL.
UNRESTRAINED STEEL STAIRWAY IN REPRESENTATIVE ENTRANCE-HALL.
SEVERAL STRUCTURAL ALTERNATIONS IN EXISTING BUILDINGS.
OTHER RESPONSIBILITIES:
ACCOUNT MANAGEMENT/ NEGOTIATIONS WITH ARCHITECTS, CLIENTS AND
OTHER PARTIES.
SELECTED FOR TECHNICALLY DEMANDING STRUCTURAL ANALYSIS USING
LEADING ENGINEERING SOFTWARE.
PARTICIPATED IN SEVERAL COMPETITIONS WITH A TEAM OF ARCHITECTS
AND ENGINEERS.
1989 - 1995
COMPAQ COMPUTER GMBH, MUNICH, GERMANY
ASSISTANT ENGINEER
COORDINATED FINAL PHASE OF CONSTRUCTION OF NEW
OFFICE BUILDING. (210.000 SQ.FT.)
WORKED AS A STUDENT ON A PART-TIME BASIS WITH
MULTIPLE TASKS.
1993 - 1993
UNIT STRUCTURES, INC., MORRISVILLE, NC, USA
INTERN ENGINEERING
SUPPORTED ENGINEERING DEPARTMENT OF LAMINATED
TIMBER MANUFACTURER ON MISC. PROJECTS.
DEVELOPED AND ANALYZED DESIGN OF TIMBER STRUCTURES
AND PREPARED SHOP DRAWINGS.
SKILLS :
SOFTWARE:
PROFICIENT IN MANY ENGINEERING PACKAGES AND BUSINESS
APPLICATIONS.
LANGUAGES:
GERMAN MOTHER TONGUE, FLUENT IN ENGLISH, BASIC
KNOWLEDGE IN FRENCH.