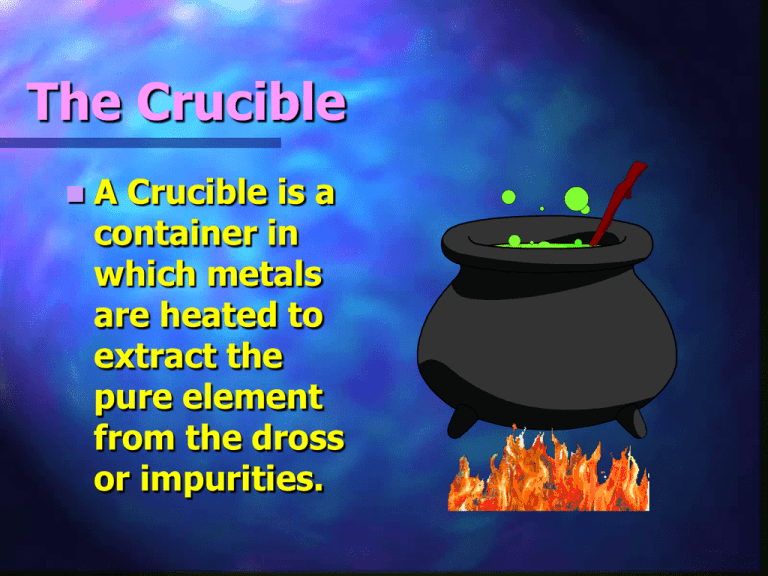 The Crucible

A Crucible is a
container in
which metals
are heated to
extract the
pure element
from the dross
or impurities.
Themes/Focus
The impact of
hysteria on a
community
 The importance of
your
name/reputation
 The use and abuse of
power
 Facing a terrible
dilemma

Setting
Salem is a theocracy the church and state
are one.
 Puritanism – strict,
austere religion. No
dancing, alcohol,
reading anything other
than the Bible, plays.

Theocracy
Breaking moral laws
is the same as
breaking state laws.
 Anyone who behaves
differently from the
norm or breaks the
law is seen to belong
to the devil.

Gossip and Suspicion
Very small
community –
colonists from
Britain. Felt under
threat from all
around.
 Life full of hardship
and hard work.
 Lots of petty
jealousy/gossip.

John Proctor
A farmer who is
respected in his
community.
 Has had an affair with
Abigail Williams.
 No longer goes to
church as much as is
expected.

Abigail Williams
 Still
bitter about
being put out of
the Proctor house.
 Jealous of
Elizabeth Proctor.
 Has an axe to
grind.
Elizabeth Proctor
Still hurt by her
husband's affair,
she has struggled
to forgive him and
is still very hurt.
 She is very devout.

Deputy-Governor Danforth
Represents the
combined
authority of
church and state.
 Takes part in the
trials of all those
accused of witch
craft.

Reverend Hale

Outsider
brought in to
deal with initial
worries and is
instrumental in
causing the
trials.