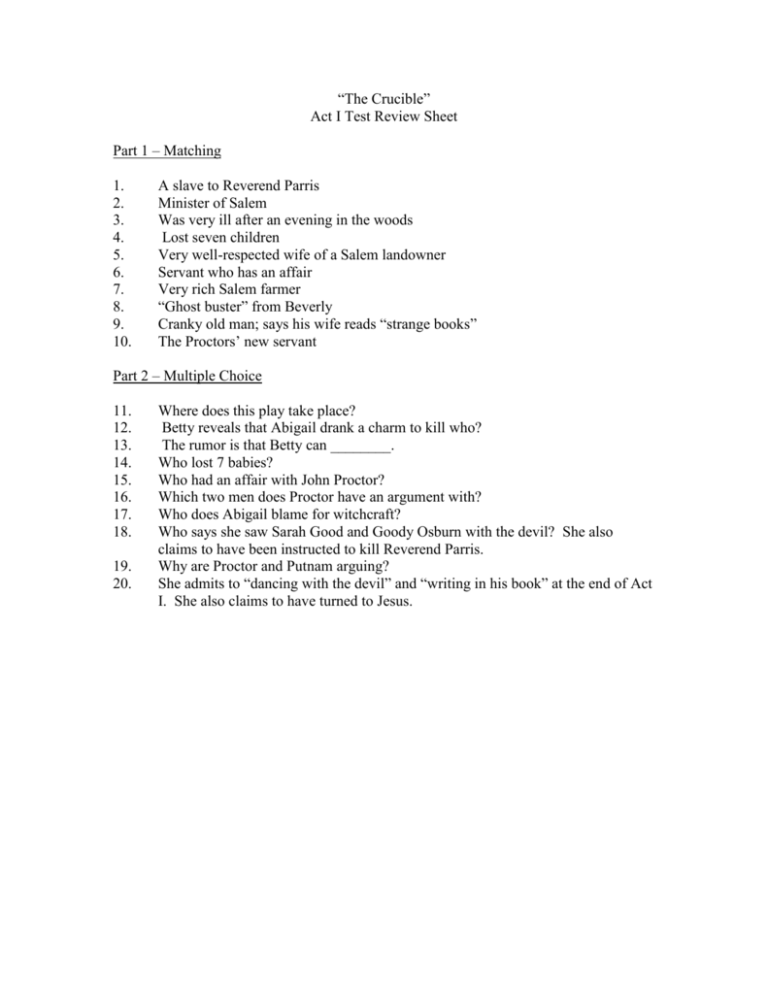 "The Crucible"
Act I Test Review Sheet
Part 1 – Matching
1.
2.
3.
4.
5.
6.
7.
8.
9.
10.
A slave to Reverend Parris
Minister of Salem
Was very ill after an evening in the woods
Lost seven children
Very well-respected wife of a Salem landowner
Servant who has an affair
Very rich Salem farmer
"Ghost buster" from Beverly
Cranky old man; says his wife reads "strange books"
The Proctors' new servant
Part 2 – Multiple Choice
11.
12.
13.
14.
15.
16.
17.
18.
19.
20.
Where does this play take place?
Betty reveals that Abigail drank a charm to kill who?
The rumor is that Betty can ________.
Who lost 7 babies?
Who had an affair with John Proctor?
Which two men does Proctor have an argument with?
Who does Abigail blame for witchcraft?
Who says she saw Sarah Good and Goody Osburn with the devil? She also
claims to have been instructed to kill Reverend Parris.
Why are Proctor and Putnam arguing?
She admits to "dancing with the devil" and "writing in his book" at the end of Act
I. She also claims to have turned to Jesus.