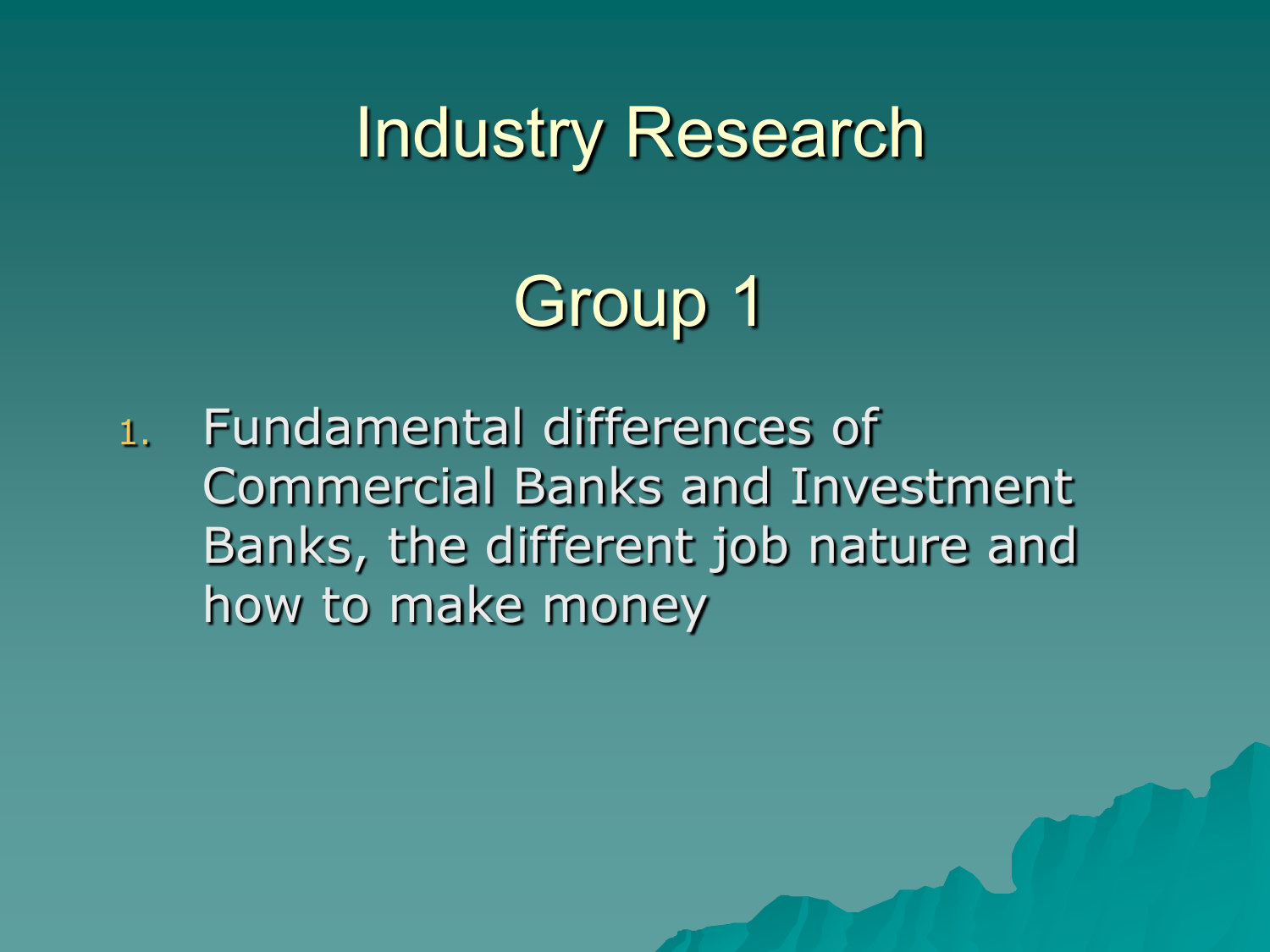 Industry Research
Group 1
1.
Fundamental differences of
Commercial Banks and Investment
Banks, the different job nature and
how to make money
Definition of commercial bank
 An
institution which accepts deposits,
loan and offer services
 Can be classified into 4 groups:
– Community Bank
– Regional Bank
– Super-regional bank
– Money center or international bank
Definition of Investment Bank
 An
institution which acts as an
underwriter or agent for corporation
to issue securities
– Maintain dealer or broker operation
– Maintain market for previously issued
securities.
– Offer advisory services for investors
Differences between the
commercial bank and
investment bank
Commercial Bank
1) Types of Institution
2) Nature of Job
Depository
Accepts deposits,
makes loans and offers
financial services.
3) Classification
Community Bank, Regional
Bank, Super-regional bank
and Money center or
international bank.
Investment Bank
Non-Depository
Act as underwriter or agent
for corporation, municipalities
issuing securities but doest not
accept deposits or make loans, and
offer advisory services to investors
maintain broker/dealer operations,
markets for previously issued securities
NIL
Job Nature of Investment Banks
Leading Investment Firms:
-Goldman Sachs Group,
-Merrill Lynch
-Morgan Stanley Dean Witter
3 main types of activities:
 Investment Banking
 Trading and Principal Investments
 Asset Management and Securities
Services
1. Investment Banking

Corporate Advisory Services
– Mergers
– Acquisitions
– Restructurings

Securities Underwriting
– buying all the shares of IPO for resale at a preestablished price per share

Private Placement of Debt and Equity
Securities
– place, negotiate and close transactions of
private placement
2. Trading and Principal
Investments

Fixed Income, Currency and Commodities
– products are: bank loans, commodities,
currencies, derivatives

Equities
– trades equities and equity-related products

Principal Investments
– make principal investments directly and
through the funds they raise and manage
3. Asset Management and
Securities Services

Asset Management
– Assets under management include mutual funds, separate
accounts managed for institutional and individual investors,
merchant banking funds and other alternative investment
funds

Securities Services
– includes prime brokerage, financing services and securities
lending, all of which generate revenues primarily in the form of
fees or interest rate spreads

Commissions
– include fees from executing and clearing client transactions on
major stock, options and futures markets worldwide
– also include revenues from the increased share of the income
and gains derived from our merchant banking funds.
How Investment Banks Make
Money?
 Investment
Banking
– fees charged for financial advisory
– Commissions from Underwriting
businesses
 Revenues
earned through Trading
and Principal Investments
 Asset Management
– generates management fees by
providing investment advisory services
Personal Banking of Standard Charted
Bank
Job dutuies
Personal Banking
Basic services
Deposits
Loans
Investment
Credit card
Retirement service
Insurance
Personal banking plans
Banking services
Life stage plans
Priority banking
Excel banking
Easy banking
Mobile
WAP
Palm
Automated ATM
Getting started
Young couples
Getting established
Prime
Corporate banking --Trade services
Assist firm in international trade
Factoring/Account Receivables services
 Import and export Letters of Credit
 Documentary collections and guarantees
 Document Against Acceptance
 Document Against Payment
 Credit Bills Negotiation


Tailored trade services packages
Credit facilities
Credit facilities help meet financial
needs
 Working Capital
 Cheque Protection
 Professional Firm Overdraft
 Merchant Overdraft
 Residential and Commercial Property
Financing
Cash management
Help firms manage money
 Transactional accounts (e.g. Savings Account and
Current Account)
 Time Deposit Account
 Remittances and bank drafts
 24-hour phone banking services
 Consolidated statement
 ATM Services
 Fax banking and courier services
 Electronic banking services
 International and local collection and payment
services
Protection and employee service
Offer protection and employee services
provide products such as:
 insurance
 payroll
 provident fund products
How to make money?
 lending
and accepting deposit
to earn net interest income
 charge transaction fees and
commission
from the financial services they
provided
Service charges and commission

Net fees and commissions (HK$
millions)
(HSBC)
2001
Account services
1214
Credit facilities
1534
Import/export
2193
Remittances
856
Securities /stock broking
1530
Cards
2723
Other
3584
Thank You !
The End!