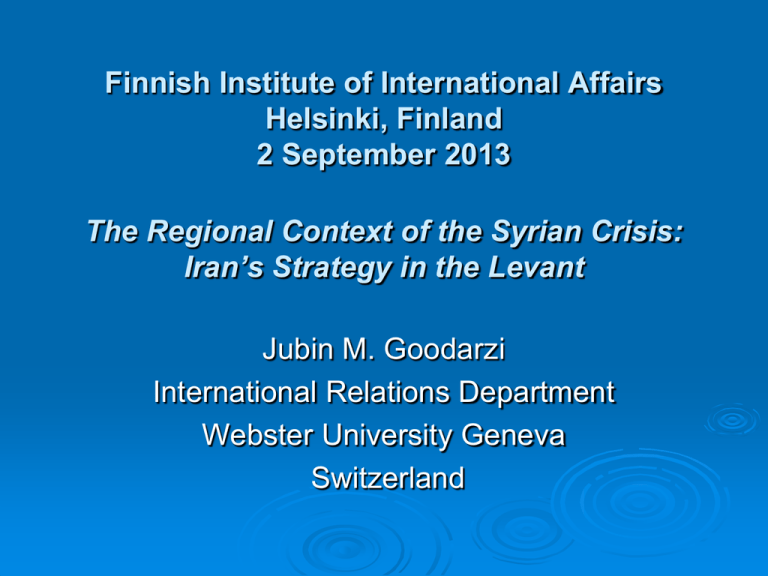 Finnish Institute of International Affairs
Helsinki, Finland
2 September 2013
The Regional Context of the Syrian Crisis:
Iran's Strategy in the Levant
Jubin M. Goodarzi
International Relations Department
Webster University Geneva
Switzerland
Iran and Syria
Notable Quotes


"The chain of resistance against Israel by Iran, Syria,
Hezbollah, the new Iraqi government and Hamas passes
through the Syrian highway. Syria is the golden ring of
the chain of resistance against Israel." Ali Akbar Velayati,
Senior Advisor for Foreign Affairs to Iran's Supreme
Leader. 6 January 2012
"What is happening in Syria is not an internal issue, but a
conflict between the axis of resistance and its enemies in
the region and the world. Iran will not tolerate, in any
form, the breaking of the axis of resistance, of which
Syria is an intrinsic part." Saeed Jalili, Head of Iran's
Supreme National Security Council. 6 August 2012
Syria's Importance to Iran
(1979 to Present)
Most Important & Only Longstanding Arab Ally
2. Provides Tehran with Access to the Levant &
the Arab-Israeli Arena
3. Serves as a Major Conduit for Iranian Arms and
Assistance to Hezbollah in Lebanon
4. Enduring Example of Arab-Iranian Cooperation
on Several Important Levels (Political,
Economic, Strategic/Military, Intelligence,
Ideological, Etc.)
1.
Iran and Syria
The Seven Stages in the Evolution of the Alliance
Between Iran and Syria – 1979 to Present
1.
2.
3.
4.
5.
6.
7.
The Emergence of the Iranian-Syrian Alliance 1979-82
The Zenith & Limits of Iranian-Syrian Power 1982-85
Intra-Alliance Tensions & Consolidation of the Axis 1985-88
The Containment of Saddam's Iraq in the Levant & Gulf 1988-91
Alliance Cooperation in the Post-Cold War Era 1991-2003
The Reinvigoration of the Alliance after the Iraq War 2003-11
The Syrian Civil War and Iran's Involvement 2011-Present
Iranian and Syrian Foreign Policy Priorities
Arab Interests (Syria)
Islamic Interests (Iran)
National Security
Regime
Survival
The Evolution of the Power Structure in the Iranian-Syrian Alliance (1979 to Present)
1980s
1990s
2000s
Syria – The Dominant Partner Due to:
Transition
Iran – The Dominant Partner Due to:
Syrian Military Presence in Lebanon
(since 1976)
Syrian Military Withdrawal from
Lebanon (2005)
Syria's Political Prominence due to
Egypt's Banishment from the Arab Fold
(1979-87) & Iraq's Entanglement in the
Gulf War (1980-88)
Soviet political, military & economic
support for Syria
Collapse of the Soviet Union (1991)
Syria Conduit for Arms Shipments to
Iran
Arms Embargo on Iran (US-led
Operation Staunch since 1983)
Iran Finances Syria's Foreign Arms
Purchases
Development of Indigenous Iranian
Arms Industry
Iranian Military Exports to Syria
Iranian Oil Shipments to Syria (19821989)
Iran at War with Iraq (1980-88)
Iran's Isolation in the Arab World,
Alliance with Syria to Dispel ArabIranian Rift
Iran Mends Fences with Many Arab
States after Eruption of Kuwait Crisis
Iran's Political Posturing on the Nuclear
Issue (2003-Present)
Prominence of pro-Iranian Hezbollah on
Lebanese Political Scene (since 2000 &
2005)
US overstretched in Iraq & Afghanistan
(Iran's Neighbors)
Iran Reaping Political & Economic
Advantages of High Oil Prices
Iran and Syria
The Outbreak of the Syrian Crisis
 To
Support or Not to Support?
 Iran Faces Hobson's Choice:
1. Support Assad and Face the
Consequences
2. Withhold Support and Hope that a New
Syrian Regime Will Be a Friend of the
Islamic Republic
Iran's Support for Damascus
1.
2.
3.
4.
5.
6.
7.
Crowd Control Equipment & Technical
Aid
Guidance/Assistance on Monitoring the
Internet & Mobile Telephone Network
Financial Resources
Arms & Ammunition (i.e. via Iraq)
Oil Shipments (via sea)
Provide Personnel & Specialist Units
Train the National Defense Army
The Evolving Nature of Iran's Position
Since the Outbreak of the Syria Crisis
1.
2.
3.
4.
5.
Steadfast Support for Damascus (Spring 2011)
Growing Doubts & Negotiations with the Syrian
Opposition (Summer 2011)
Emergence of a Proxy War & Stalwart Support
for Assad Regime (Autumn 2011 & Winter of
2011/12)
Support for Multilateral Negotiations Mediated
by the UN/AL (Spring & Summer 2012)
Continued Backing for Damascus and
Exploring Other Options & Exit Strategies
(Autumn 2012 to Present)
Other Motivations for Supporting Damascus
"Defensive" Considerations:
1. Thwart the Dismantling of the "Axis of
Resistance"
2. Prevent Regime Change in Syria and Iran
3. Syria is the "First Line of Defense" Against
Foes
4. Contain the Crisis in Order to Avoid Spillover
into Lebanon and Iraq in Particular.
5. The "Mother of All Nightmares" – Regime
Change in Syria and Iraq

Possible Future Scenarios
1.
2.
3.
4.
The Survival of a Weakened Assad
Regime in Syria or Part of the Country
Regime Collapse & Continued Civil Strife
& Instability in Post-Assad Era
The Emergence of a Secular or Sunni
Islamist Regime in Damascus
Continued Conflict & a Negotiated
Settlement / Political Transition
A Political Solution to the Syrian Conflict
With Iranian Involvement?

1.
2.
3.
4.
5.
6.
Incentives for a Negotiated Settlement:
Contain the Damage & Cut Losses – the Pre-March 2011 Political
Status Quo Ante Cannot Be Restored.
Prevent the Dissolution of Syria and Spillover of Conflict into
Neighboring States (Lebanon and Iraq).
Demonstrate Iran's Importance as a Key Regional Actor to Reach
a Diplomatic Solution.
Avoid Further Polarization and Total Transformation of the Conflict
into a Regional Sectarian War (Sunni vs. Shia).
Facilitate the Emergence of a National Unity Government in
Damascus that is Not Hostile to Tehran.
Iran Cannot Indefinitely Provide Support to Assad in View of its
Own Domestic Woes and Foreign Sanctions.