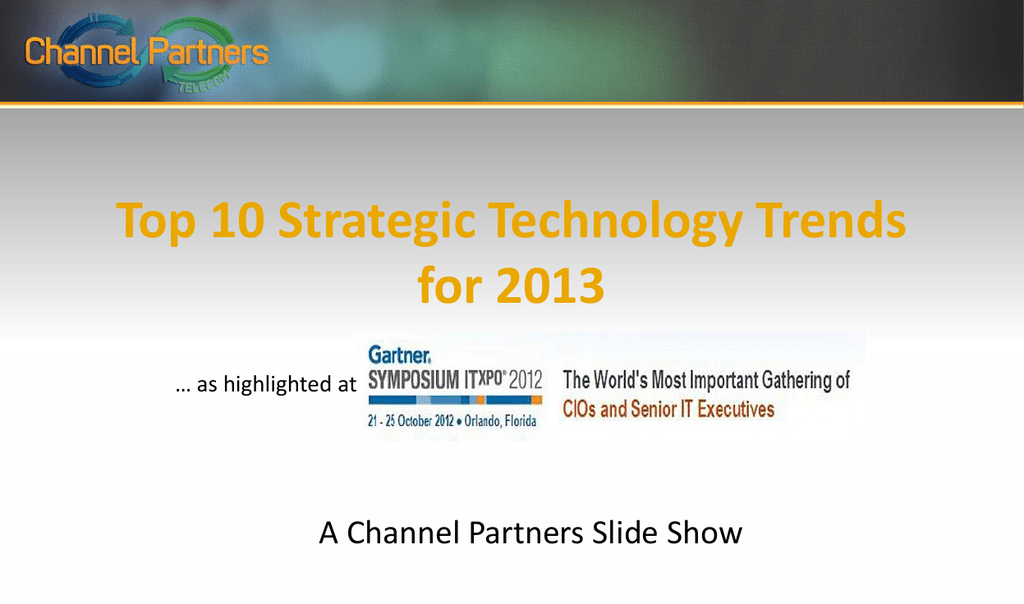 Top 10 Strategic Technology Trends
for 2013
… as highlighted at
A Channel Partners Slide Show
1. Mobile Device Battles
• By 2013, mobile phones are predicted to
take over as the most common Web access
devices, booting PCs out of the top spot.
• More than 80 percent of handsets sold in
mature markets will be smartphones in 2015,
but only 20 percent will be Windows phones.
• Media tablet shipments will be about half
that of laptop shipments, and Windows 8 will
likely be in third place ― behind Google's
Android and Apple's iOS.
2. Mobile Applications and HTML5
• For the next few years, no single tool will be optimal
for mobile applications ― so expect to employ several.
• Six mobile architectures will remain popular: native,
special, hybrid, HTML5, Message, and No Client
• As HTML5 becomes more capable, there will be a
long-term shift from native apps to Web apps.
• Native apps won't disappear and will always offer
the best user experience and most sophisticated
features.
3. Personal Cloud
• The personal cloud will gradually replace the
PC as the center of Web users' digital lives.
• Users will see the personal cloud as a
portable, always-available place where they
can go for all their digital needs.
• Focus will shift from the client device to
cloud-based services delivered across devices.
4. Enterprise App Stores
• Enterprises must deal with multiple stores,
payment processes and sets of licensing terms
as some vendors limit their stores to specific
devices and types of apps.
• Many organizations will deliver mobile
applications to workers through private
application stores by 2014.
• Role of IT shifts from centralized planner to
market manager providing governance and
brokerage services to users ― potentially even
an ecosystem to support "apptrepreneurs."
5. The Internet of Things
• The Internet will expand as physical items like consumer
devices and physical assets are connected to the Net.
• Key elements of IoT in mobile devices: embedded
sensors, image recognition technologies, NFC payments
• Smartphones and intelligent devices no longer just use
the cellular network ― they communicate via NFC,
Bluetooth, LE and Wi-Fi to wristwatch displays, health-care
sensors, smart posters and home entertainment systems.
• The IoT will enable numerous new applications/services.
6. Hybrid IT and Cloud Computing
• Internal cloud services brokerage role is
emerging as IT organizations realize
responsibility to improve consumption of
cloud services for users and business partners.
• This CSB role represents a means for IT
organizations to retain/build influence in the
organization and become value centers while
facing challenges related to an increased
adoption of the cloud.
7. Strategic Big Data
• Big Data is shifting the focus from individual
projects to an influence on enterprises'
strategic information architecture.
• Organizations will abandon the concept of a
single enterprise data warehouse containing
all info needed for decisions.
• Movement toward multiple systems,
including content management, data
warehouses, data marts and specialized file
systems tied in with data services and
metadata
8. Actionable Analytics
• Improvement of performance and costs
allows IT leaders to perform analytics and
simulation for every action taken in the
business
• The mobile client linked to cloud-based
analytic engines and big data repositories
could enable use of simulation everywhere,
every time.
• This new step empowers more decision
flexibility of every business process action.
9. In-Memory Computing
• IMC can squeeze batch processes normally
lasting hours into minutes or seconds.
• These processes are provided in the form of
real-time or near real-time services and
delivered to users in the form of cloud
services.
• Numerous vendors will deliver in-memory
solutions over the next two years, driving this
approach into mainstream use.
10. Integrated Ecosystems
• Shift to more integrated systems/ecosystems
• Driving this trend: (1) User's desire for low
costs, simplicity and assured security and (2)
vendor's ability to control solution stack and
obtain greater margin of sale
• In the mobile world, vendors like Apple,
Google and Microsoft drive control across the
end-to-end ecosystem, extending the client
through the apps.
Thank you for viewing Gartner: Top 10
Strategic Technology Trends for 2013
Visit www.channelpartnersonline.com to view our extensive library of on-demand
slide shows and other resources.
Looking for more? Click here for Gartner's complete report on the
Top 10 Strategic Technology Trends for 2013.