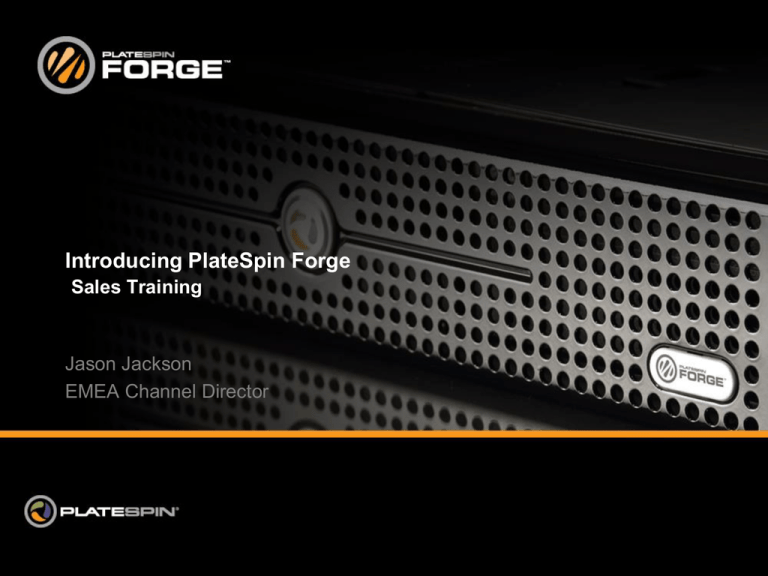 Introducing PlateSpin Forge
Sales Training
Jason Jackson
EMEA Channel Director
Agenda
• 9:30
•
•
•
•
•
•
10:00
10.40
11.00
11:15
11.45
13:00
Registration and Coffee
Introducing PlateSpin Forge
Partner Program
Coffee
PowerRecon & PowerConvert Update
Demonstration of PlateSpin Forge and Recon
Lunch and close
Some interesting facts + numbers…..
•
•
PlateSpin® win "Best of VMworld 2007 - Gold Award for Best Migration
Solution"
Over half of the Fortune 500 are PlateSpin customers
•
PlateSpin PowerConvert software has been used to perform 700,000+
conversions
– meaning nearly 25% of all VM's in the world were created by
PlateSpin
•
Using PlateSpin software solutions:– AXA Group moved an entire data centre from Japan to Australia
– Essent consolidated 3 data centres into 1 moving over 250 Physical
servers to new physical and virtual machines saving over 2 Million
Euros
Product Architecture
Computer
Resources
Hypervisor
Replication Repository
Storage
Resources
Network
Resources
PlateSpin
Management
VM
Recovery
Workload
1
Recovery
Workload
2
Recovery
Workload
…
Recovery
Workload
25
Forge EMEA Pricing
• Protect 10 servers £22k (upgrade path
available)
• Protect 25 servers £39k
• NFR's $10k inc tech training
Product Key Benefits
CONSOLIDATED RECOVERY
SIMPLIFY TEST
FAILOVER AND FAILBACK
GAIN VISIBILITY
Consolidate Recovery
25-1 Recovery
Environment
Whole Workload
Replication
One-click Workload
Failover
No Redundant
Infrastructure Costs
Simplify Testing
Rapidly test recovery
workloads
Testing logged for
reporting and
compliance
Isolated testing of
recovery workload
Rapid Failover and Flexible Failback
Recovery workload runs on
Forge appliance
Failback to dissimilar
hardware
Recovery preparation
accelerates failover
Gain Visibility
Avoid Unnecessary
Replication to Save $$
Demonstrate policy
compliance
Actionable Alerts
Failure notification
Key Points During Sales Cycle
• Highlight PlateSpin's Workload Lifecycle Management story
– Whole workload protection (beyond data replication)
– Protection without hardware dependence
• RPO (Recovery Point Objectives) & RTO (Recovery Time
Objectives)
– Forge can accomplish minutes rather than hours and days
• Spend time discussing customer's current disaster recovery plan
– Emphasize on ability to conduct effective testing
• Out-of-the-box, purpose-built, disaster recovery solution
– During our EAP, the message of "simplicity" really resonated
• Effective DR replication across WAN via block-level transfer
Why PlateSpin Forge for Resellers?
•
Great gain on margin
•
Huge DR market that is under-served
•
Able to bundle your services with your clients
•
Managed services ~ Hosted DR offering
•
Simple and easy – out of the box deployment
•
Great for both SMEs as well as Enterprise accounts that have branch
and remote office needs
•
Single point of support for the complete solution
Customer Case Study
Greenhill & Co.
About Greenhill & Co.
• Listed on the NYSE: GHL
• Independent global
investment banking firm
• Offices in New York, London,
Frankfurt, Toronto, and Dallas
• Greenhill challenge:
• Meet RTO & RPO for
critical production
workloads
Greenhill's DR Solution Criteria
•
•
•
•
•
•
•
Achieve RPO and RTO down to minutes
Protection of data AND system volumes
Simple and Easy-to-use
Short implementation cycle
Options to restore to same or new hardware
Ability to conduct "fire drills" without production impact
Full reporting of recovery environment – to provide to
senior management
Greenhill IT Challenges
• Protect critical financial applications and transactions
as well as operational infrastructures
• Provide business continuity and disaster recovery
plans that will achieve RPO and RTO objectives
• Accomplish this in addition to inherent IT challenges:
–
–
–
–
Accelerated data center growth
Increasing operational complexity
Application to infrastructure dependency
Lengthy provisioning times
Greenhill Forge Implementation
• Implemented at the NY
data center
File Servers
• Protecting 12 workloads
today with plans for more
Sharepoint
• Conducts regular testing
of recovery plans
Financial Apps
Exchange
Forge Recovery Site
Print Servers
Custom Apps
• Remote management
console with Blackberry
actionable alerts
Why Greenhill Chose PlateSpin Forge?
"PlateSpin Forge requires near-zero
configuration and ships with everything you
need to begin protecting workloads including
recovery hardware, replication software and
storage – for considerably less than if we'd
purchased and configured these components
separately."
John Shaffer, Director of Technology, Greenhill & Co.
Comparing to Alternatives
Where Does Forge Fit?
Forge provides affordable protection for your lower & middle tier workloads
Fault
Tolerant
High
Availability
Disaster
Recovery
Tier 1
Disaster
Recovery
Tier 2
Where Consolidated Recovery Fits?
Solution
Cost
Server Clustering
/ HA Data
Replication
$$$$$$
RPO
Near
Zero
RTO
Near
Zero
TTO
Near zero
(Impacts production data, adds risk)
Consolidated
Recovery
$$$$
Image Capture
$$$
24 Hr
Hours
Hours
(Requires additional hardware)
$
24 Hr+
Days
Days
(Impractical)
Tape/Manual
Rebuild
Minutes
Minutes
Minutes
(No impact on production data)
Notes
Duplicate hardware
Complicated setup
Rapid and flexible restore
Easy setup and testing
Limited restore flexibility
Difficult to administer and test
Slow, prone to errors
How does it compare with alternatives?
Build Your Own –
Symantec Backup
Exec System
Recovery
Build Your Own –
Double-Take
PlateSpin Forge
*redundant infrastructure
*Warm Standby, Test
Failover, Appliance
*no failover
Replication Software (x25)
$33,650
$86,000
included
OS License
$2000
$50,000
included
Hypervisor
$0
$0
included
Hardware
$8,000
$125,000
included
$43,650
$261,000
$74,995
$1746 per workload
$10,440 per workload
$3,000 per workload
Future Roadmap
What's Coming up in Forge 2.0?
•
Multiple recovery points
•
SAN (iSCSI & FC) integration
•
Workload Import – Import whole workloads into Forge and only replicate
the delta to minimize WAN bandwidth constraints
•
Management Server for orchestration of multiple Forge appliances
•
Linux support
Forge Support Levels
• For all support calls related to Forge, the initial point of
contact will be the PlateSpin Support
– If the support is hardware related, depending on the severity,
PlateSpin Support will involve Dell Support as required
• With Premium Support, Dell will provide 4-hour on-site
support (see maps in following slides)
• With Standard Support, Dell will provide next business
day support
• Standard hw warranty is for 3yrs – can purchase
extended warranty
• DOA (Dead on Arrival) process
Questions?