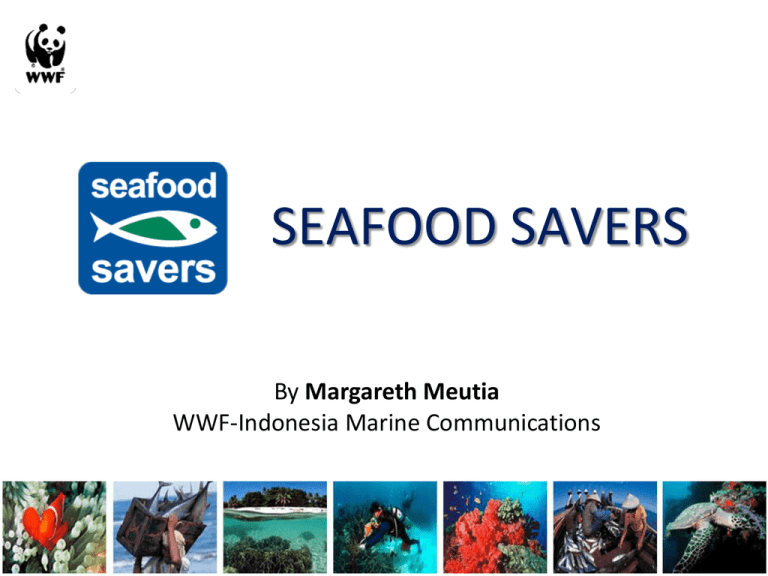 SEAFOOD SAVERS
By Margareth Meutia
WWF-Indonesia Marine Communications
BACKGROUND
Competition
for marine
resources
"Bad
Practices"
Group
Other
NGOs
"Good
Practices"
Group
WWF
WWFin
the
NOW
past
WWF Value: INSPIRING
Exposing good practices as oppose to
fighting bad practices

Source: www.greenpeace.org
OBJECTIVES OF SEAFOOD SAVERS
1.
To be a coordinating
institution of corporate which
possess good initiatives to
achieve sustainable fisheries.
2.
To provide assistance to
corporate aspire to achieving
MSC/ASC certification.
3.
As a facilitating institution to
socialize issues of sustainable
fisheries
ASC
OBJECTIVES OF SEAFOOD SAVERS
4.
To be a place of
encounter between
producers and buyers of
sustainable seafood
products
5.
To facilitate information
exchange among
corporate members
regarding sustainability
issues
MEMBERS
• Producers/Suppliers:
Any individual, groups or company practicing capture fisheries, aquaculture,
processing, collection and delivery of targeted marine resources (tuna,
grouper, snapper, shark, shrimp, napoleon)
• Retailers/Buyers:
any institutions selling targeted marine resources (tuna, grouper, snapper,
shark, shrimp, napoleon) to end consumers
• Financial Institution:
any institutions funding or making investment in business of marine resources.
ALL SEAFOOD SAVERS MEMBERS WILL BECOME CHAMPIONS OF WWF-ID
SEAFOOD CAMPAIGN 2011
STAGES OF IMPLEMENTATION
MoU
Due Diligence
Rehabilitation&Evaluation
(see Rehabilitation Stages
below)
Identification
Cooperation Agreement
(Full Membership)
(minimum requirement)
Conditioning
YES
Evaluation/Planning
What WWF will bring to the
partnership
1. Technical and Strategic Capacity  towards MSC
& ASC
ASC
2. Communications capacity  joint campaign
3. Advocacy & Lobbying Network  national policy
REGIONAL PLATFORM
• Participating countries: Indonesia,
Singapore, the Philippines, Hongkong
• Big Win: At the CTI Business Summit II,
launch of Regional Seafood Savers
Platform whose Partners from across the
seafood market chain champion
sustainable fisheries in the Coral Triangle.
INITIAL INDONESIA'S CORPORATE MEETING
INDONESIAN CANDIDATES
SUPERINDO
PROGRESS OF COMPANIES
COMPANY
LoI
Pulau Mas
Bali Seafood
International

Sea Delight
Mustika
Minanusa
Aurora

Id




Panca Mitra
Multi Perdana

Ranch Market

ANOVA
Due D.

MoU
Conditioning
Evaluation
& Planning
Agreement
Rehab &
Evaluation
PROMOTION TRIAL WITH RANCH
MARKET
IDENTIFICATION PROCESS
EDEKA cooperation
One cooperation
- three contracts
1. Licence Agreement:
Panda Development Fund (logo use etc.)
Fee: X00.000 €
2. Sponsoring Agreement:
Fee: X00.000€
3. Contract for Consultation:
Fee: to cover one staff and additional consultants (e.g.
for seafood assessments)
EDEKA cooperation
2012: 100% sustainable
sourcing for all
seafood products
Analysis of the seafood portfolio
Guidelines for Seafood Sourcing
Moving seafood portfolio towards green
Working along the supply chain to improve fisheries
Traceability
Political Activites
Internal communication
Communication to customers
terima kasih..