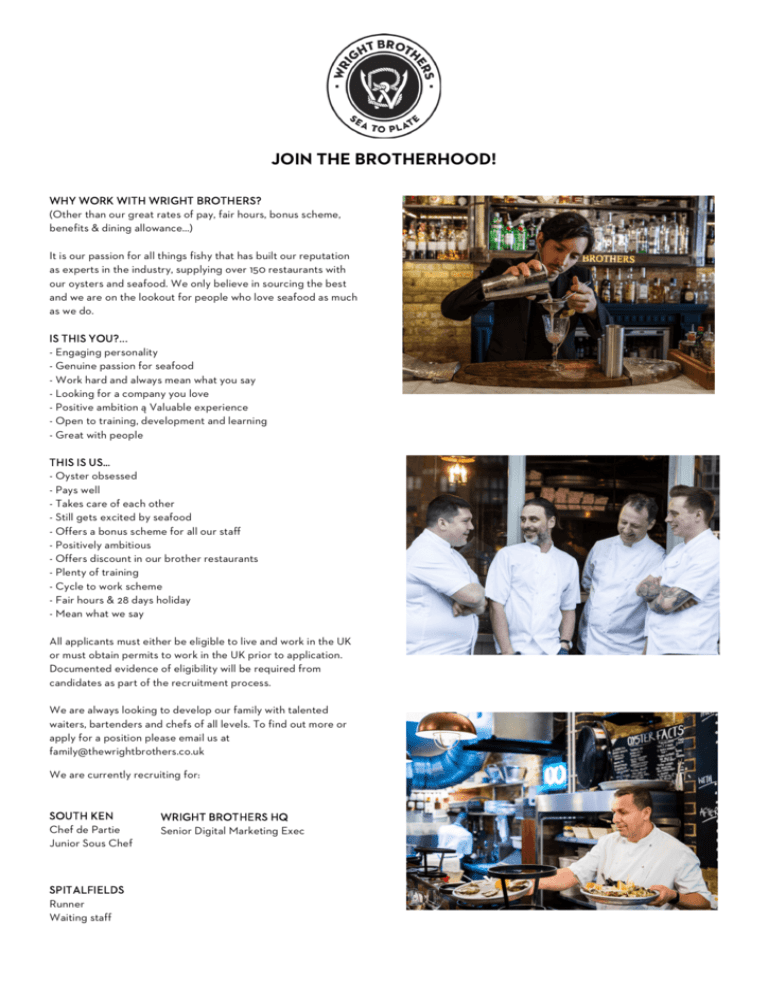 !
!
JOIN THE BROTHERHOOD!
WHY WORK WITH WRIGHT BROTHERS?
(Other than our great rates of pay, fair hours, bonus scheme,
benefits & dining allowance…)
It is our passion for all things fishy that has built our reputation
as experts in the industry, supplying over 150 restaurants with
our oysters and seafood. We only believe in sourcing the best
and we are on the lookout for people who love seafood as much
as we do.
IS THIS YOU?...
- Engaging personality
- Genuine passion for seafood
- Work hard and always mean what you say
- Looking for a company you love
- Positive ambition ą Valuable experience
- Open to training, development and learning
- Great with people
!
THIS IS US…
- Oyster obsessed
- Pays well
- Takes care of each other
- Still gets excited by seafood
- Offers a bonus scheme for all our staff
- Positively ambitious
- Offers discount in our brother restaurants
- Plenty of training
- Cycle to work scheme
- Fair hours & 28 days holiday
- Mean what we say
All applicants must either be eligible to live and work in the UK
or must obtain permits to work in the UK prior to application.
Documented evidence of eligibility will be required from
candidates as part of the recruitment process.
We are always looking to develop our family with talented
waiters, bartenders and chefs of all levels. To find out more or
apply for a position please email us at
family@thewrightbrothers.co.uk
We are currently recruiting for:
SOUTH KEN
Chef de Partie
Junior Sous Chef
SPITALFIELDS
Runner
Waiting staff
WRIGHT BROTHERS HQ
Senior Digital Marketing Exec
!
!