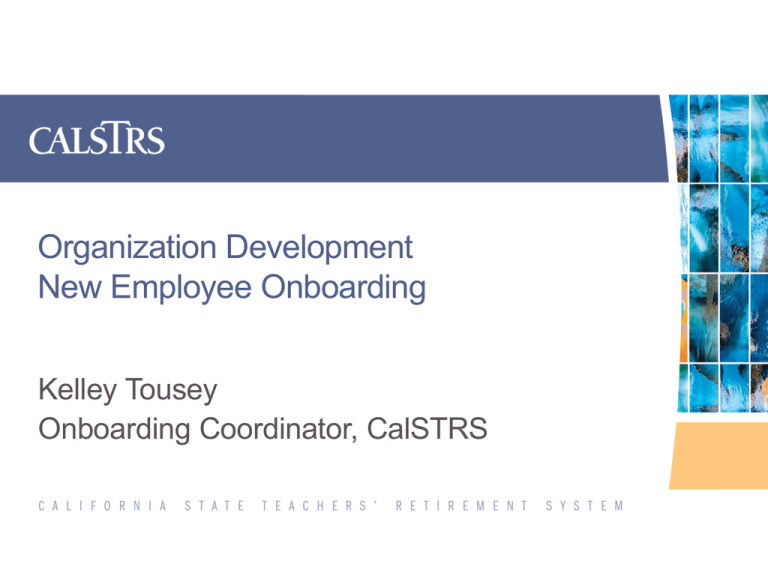 Organization Development
New Employee Onboarding
Kelley Tousey
Onboarding Coordinator, CalSTRS
Overview of Program
The Onboarding Program at CalSTRS was created in
2002 when Jack asked Training to develop a NEO.
However, the Program was formalized in 2009 with
staffing to fully support the program. The OB Program is
supported by leaders and executive management.
Onboarding Coordinator Responsibilities
• Communicate and receive all information on new hires
• Email personnel packet/prepare welcome bag (keep OB materials)
• Enroll 7 OB classes – monitor attendance
• Oversee operation of program/OBA's
• Facilitate training classes
• Educate leaders on value of OB program
• Overall support manager/ambassador/employee
What is Onboarding?
Organization Benefits of Effective Onboarding?
Employee Benefits
Who is Involved in the Onboarding Process?
• OB Coordinator
• OB Ambassador
• Hiring Manager
• Employee
• Technology Services
• Training Services
• Facilities Operations
• Personnel Services
• Survey, Research and Analysis
Elements of Onboarding – First Year
• Pre-arrival calls – OBC, OBA, Manager
• 7 core Onboarding training courses
• Welcome Aboard
• Building Tour
• Life/Safety
• Core Values
• State Service Overview (for employees new to State employment)
• Accountability
• Internal Controls
• Feedback/support from manager
• Regular 1:1's
• Recognition
• Surveys
Statistical Information
CalSTRS onboards approximately 160 new employees every
year with only approximately 25 of those new employee's
leaving CalSTRS within the first year.
These numbers do not include temporary appointments.
The Future of Onboarding at CalSTRS
• Development of an Onboarding program designed for managers who
are hiring managers (leadership)
• Have all leaders fully participate in the program so that all new
employees receive the same Onboarding experience.
• Develop and implement a strategy for continued employee engagement
past the initial first year.