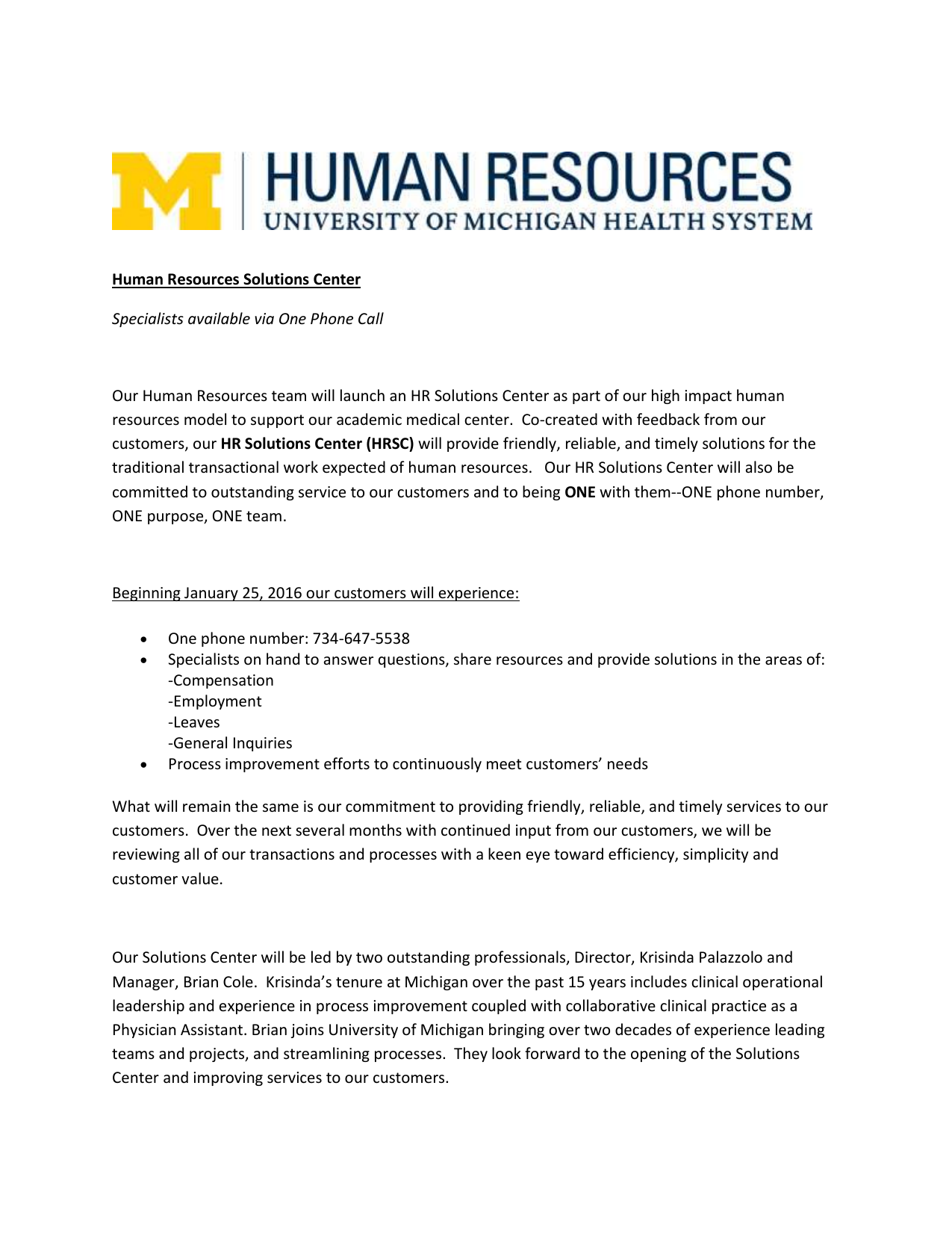 Human Resources Solutions Center
Specialists available via One Phone Call
Our Human Resources team will launch an HR Solutions Center as part of our high impact human
resources model to support our academic medical center. Co-created with feedback from our
customers, our HR Solutions Center (HRSC) will provide friendly, reliable, and timely solutions for the
traditional transactional work expected of human resources. Our HR Solutions Center will also be
committed to outstanding service to our customers and to being ONE with them--ONE phone number,
ONE purpose, ONE team.
Beginning January 25, 2016 our customers will experience:



One phone number: 734-647-5538
Specialists on hand to answer questions, share resources and provide solutions in the areas of:
-Compensation
-Employment
-Leaves
-General Inquiries
Process improvement efforts to continuously meet customers' needs
What will remain the same is our commitment to providing friendly, reliable, and timely services to our
customers. Over the next several months with continued input from our customers, we will be
reviewing all of our transactions and processes with a keen eye toward efficiency, simplicity and
customer value.
Our Solutions Center will be led by two outstanding professionals, Director, Krisinda Palazzolo and
Manager, Brian Cole. Krisinda's tenure at Michigan over the past 15 years includes clinical operational
leadership and experience in process improvement coupled with collaborative clinical practice as a
Physician Assistant. Brian joins University of Michigan bringing over two decades of experience leading
teams and projects, and streamlining processes. They look forward to the opening of the Solutions
Center and improving services to our customers.
Human Resources Business Partners
Our HR Business Partners (HRBP) have moved to be closer to their customers and begun to establish
their partnership with their new departments. In coordination with Stephanie Schroeder, Director of
Business HR, HRBPs are completing onboarding meetings in January and February. The meetings are
focused on partnering with departments to determine priorities, challenges, and structure. When
meetings are complete, leadership will develop first year work plans. The plans will include
departmental priorities and the HRBPs will work in collaboration with leadership to ensure alignment
with goals and metrics.
In addition to the onboarding meetings and first year work plans, the HRBPs have been working on
forming as a high impact team, continuing to attend HR targeted training, and working closely with HRSC
team members.
We want to hear feedback on our high impact model, as we continue to enhance the services we
provide to our customers. If you have any questions related to our transformation to a high impact
model, please email [email protected] For additional information on our high
impact human resource model, view these Frequently Asked Questions.