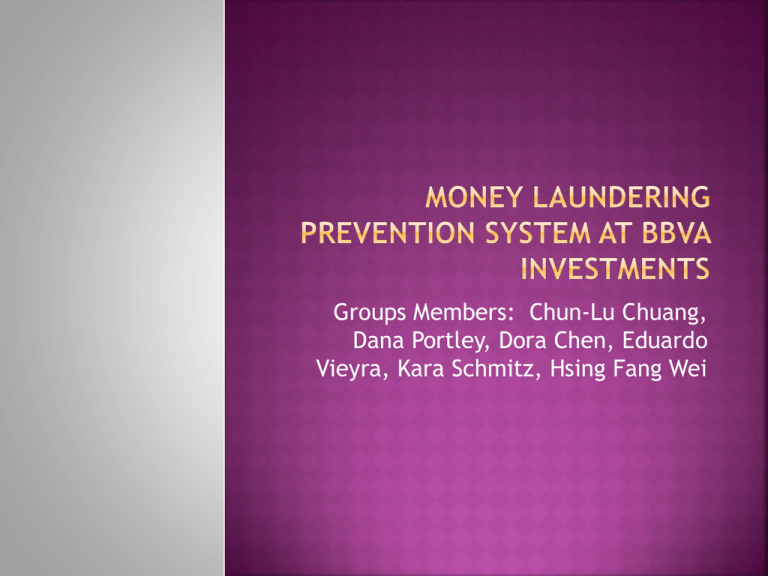 Groups Members: Chun-Lu Chuang,
Dana Portley, Dora Chen, Eduardo
Vieyra, Kara Schmitz, Hsing Fang Wei
 Introduction
of the team members - Dora
 BBVA Background – Dana
 Development History – Eduardo
 Company Analysis – Chun-Lu
 Industry Analysis – Hsing Fang
 Compliance Department Value Chain - Dora
 Recommendation – Kara
Money
Laundering Definition
 Three processes of money
laundering
1.From illegal to legal
2.Many transactions
3.Finance more illegal activities
Prevention
A
subsidiary of BBVA, the eighth largest
bank in the world.
 Major clientele in Mexico and South
America.
 Established compliance department and
anti-money laundering policies

BBVA Investments, Inc. was incorporated in the United
States in 1993 as a brokerage firm.

It is regulated by the Securities and Exchange Commission
(SEC).

BBVA Investments is a member of the Financial Industry
Regulatory Authority (FINRA)

The Company is located in Houston, Texas, in "The
Galleria" Financial Center and has branches in Laredo, San
Antonio, El Paso McAllen, and Tucson (to open in 2009).

BBVA Investments Inc. has specialized in providing
brokerage services to international clients

The anti money laundering systems in BBVA Investments
consists of two systems- OFAC and Assist. OFAC is a
proprietary system developed by the Information
Technology department in BBVA Investments, and Assist
was purchased from a third party vendor.

OFAC: This system comply with The Office of Foreign
Assets Control regulations of the US Department of the
Treasury administers.

ASSIST: Americas Software - TranSactIonS MoniToringcompliance software tool that allows a user to analyze
suspicious activity
through account and transaction trend monitoring.
 Strong
ethical and compliance standard since
1990.
 ASSIST and OFAC are flexible enough so that
it allows the IT department to perform some
customization.
 The OFAC system was developed by BBVA.
Not
fully automated.
May out grow the company
needs.
Assist:
processing a large
number of transactions.
OFAC: preventing people with
poor reputation from laundering
money.
No major system crash.
 It
is really hard to keep the systems and
computer equipment up-to-date.
 Technology keeps changing.
 Terrorists are always trying to find a new way
to launder money.
Operational
Management level.
First line of defense against money
laundering
 Much
more cost effective using compliance
information system
 OFAC security system :
1. minimizes human error
2. more convenient and saves time
 ASSIST security system:
1. user-friendly and easy to navigate around
2. Keep current with newest regulation
 Clients
for BBVA Investment in South America
& Mexico.
 New entrants are a threatening force for
BBVA.
 Anti-Money Laundering System- Assist &
OFAC.
 Assist:
Assist is for detecting transactions
that deviate from the client' profiles.
 OFAC: OFAC System prevents BBVA
Investments from conducting business with
the individuals on the government's and BBVA
Group's lists.
 UBS
Investment Bank: Three global core
businesses are included wealth management,
asset management and investment banking,
and securities trading
 Santander Bank: International financial
services. It is also engaged globally in
wholesale banking means of payment, asset
management, insurance and private banking.
Michael
Porter invented the
model in 1985.
Using manufacturing firms
business processes.
Primary activities - directly add
value to the firm.
Secondary activities - support
and optimize the primary
activities.
Steps and Processes
Customer
Profile
Finance
Customer
Score
Information
Technology
OFAC
List
Public
Affairs
Compliance
Training
Legal
Services
Compliance
Review
Human
Resources
 Training
needs.
 Investigate system from the acquired firm
 Enterprise system
 The proposed system would include:
Customer Identification Program, OFAC
system, Customer Due Diligence Program and
Suspicious Activity Report system.