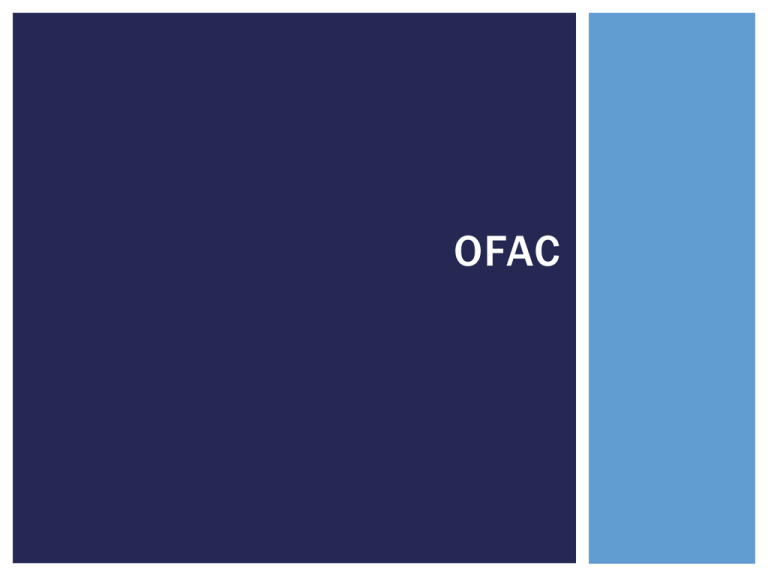 OFAC
INTRODUCTION
 Division of the U.S. Treasury Department.
 Responsible for administering and enforcing U.S. economic
and trade sanctions against:
 Targeted hostile countries and their agents
 Terrorism sponsoring agencies and organizations
 International narcotics traffickers
 U.S. individuals, business and organizations are responsible
for complying with OFAC sanctions.
SDN LIST
 Contains the names
of targeted countries,
persons, or
organizations.
 U.S. persons and
entities cannot have
dealings with anyone
appearing on the list.
 Additions or deletions
can be made to these
lists at any time.
PRODUCTS AND SERVICES SUBJECT TO
OFAC
 Deposit accounts of
any kind
 Checking or share
draft accounts of any
kind
 Money orders, teller
checks, travelers
checks, or similar
monetary instruments
 Wire transfers
 ACH transactions
 Loans of any kind
(consumer, mortgage,
or business loans)
 Visa accounts
 Trust accounts
 Sales of repossessed
vehicles
 Collateral held as
security
 Safety deposit boxes
ENTITIES SUBJECT TO SCREENING
Account owners
Beneficiaries
Collateral owners
Guarantors/ cosigners
Receiving and
sending parties on
transfer requests
DEALING WITH HITS
 Block or "freeze" (and in some cases reject) property,
payment of any funds transfer, or transactions
 Dif ferent sanctions apply to each blocked country and
separate restrictions exist for narcotics traf fickers and
terrorists.
 Credit unions should seek assistance from OFAC whenever
they have a SND list hit.
PROCEDURES
 Method for comparing credit union names against the OFAC
list (interdiction software)
 Procedures for screening new accounts and transactions for
OFAC
 Procedures for screening existing accounts when the SDN list
is updated
 Procedures for verifying or clearing "hits"
 Procedures for blocking or freezing accounts
 Procedures for submitting required reports
REPORTS
Blocked accounts
Rejected
transactions
Annual report
PENALTIES FOR NON-COMPLIANCE
 Corporate and
personal fines of up
to $1 million and 12
years in jail
 Civil penalties of up to
$250,000 per
incident
 Forfeiture of funds or
other property
involved in the
violation.
OFAC PROGRAM
 Identify high-risk areas
 Provide for appropriate internal controls for screening and
reporting
 Establish independent testing for compliance
 Designate a credit union employee(s) as responsible for OFAC
compliance
 Create training programs for appropriate personnel in all
relevant areas of the credit union.
RISK ASSESSMENT
The credit union's
field of membership
Products and
services offered
Location of main
and branch offices
Parties involved in
opening accounts
and conducting
transactions
RECORD RETENTION
 Five years!
 For blocked accounts,
maintain records for
five years after the
date that the account
is unblocked
 Maintain a full and
accurate record of the
blocked account for
as long as the credit
union is holding the
blocked property.