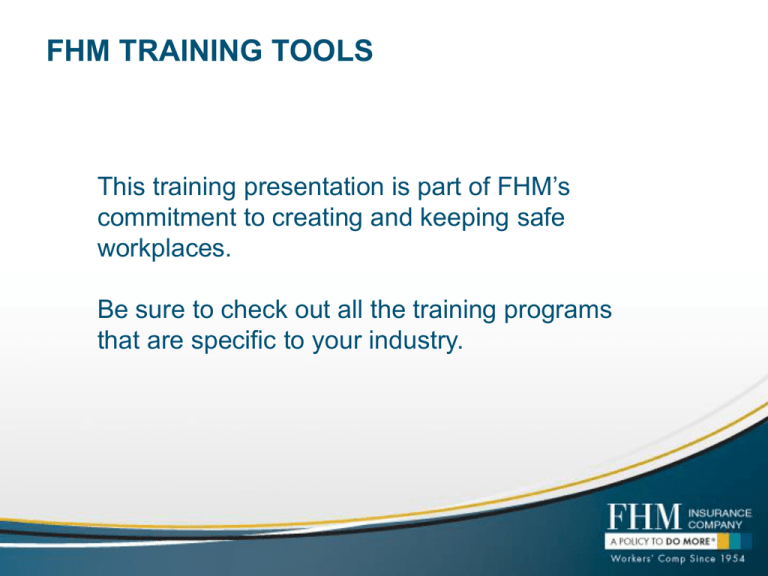 FHM TRAINING TOOLS
This training presentation is part of FHM's
commitment to creating and keeping safe
workplaces.
Be sure to check out all the training programs
that are specific to your industry.
Methylene Chloride
►►►
These materials have been developed based on applicable federal laws and regulations in place at the time the materials were created. The program
is being provided for educational and informational purposes only and does not constitute and is not intended to provide OSHA compliance certification,
regulatory compliance, a substitute for any "hands on" training required by applicable laws and regulations, or other legal or professional advice or
services. By accessing the materials, you assume all responsibility and risk arising from the use of the content contained therein.
©2010 Grainger Safety Services, Inc.
Learning Objectives
Objectives:
►
Understand basics of methylene chloride
►
Recognize exposure effects
►
Understand control measures
Agenda
Agenda:
►
Basic information
►
OSHA requirements
►
Medical surveillance
►
Exposure control
►Section 1
Basic Information
Methylene Chloride and Its Uses
Methylene chloride:
►
Also called dichloromethane
►
Volatile and colorless
►
Chloroform-like odor
►
Used in various industrial
processes
Employee Exposure and Health Consequences
Exposure information:
►
Common exposure from inhalation and skin
exposure
►
Classified as a potential occupational carcinogen
by OSHA
►
Short-term exposures may cause confusion,
light-headedness, nausea, vomiting and
headaches
►
Skin exposure may cause irritation or
chemical burns
Industries Covered
OSHA's standard covers:
►
General industry
►
Shipyard employment
►
Construction
Exposure Limits
Permissible Exposure Limit (PEL):
►
PEL of 25 parts methylene chloride per million
parts (ppm) of air
►
Eight-hour time-weighted average (TWA)
►
Action level for airborne methylene chloride
is 12.5 ppm
►
Short-term exposure limit of 125ppm over
15 minutes
Requirements for Regulated Areas
Standard requirements:
►
Established regulated area
►
Regulated areas must be
marked
►
Multi-employer worksites keep
all employers informed
►
Supply of appropriate
respiratory equipment
Hazard Communication Requirements
OSHA's standard requires:
►
Employers to inform employees
►
Use of labels and material safety data sheets
(MSDS)
►
Informing of health hazards (cancer, cardiac
effects, nervous system effects, and skin and eye
irritation)
►Section 2
Exposure
Monitoring
Benefits
Air sampling and monitoring allows:
►
Better determine exposure
►
Identify the source
►
Select proper control methods
Measuring Employee Exposures
Measuring requires:
►
Breathing zone air samples
►
Eight-hour TWA
►
Short-term 15 minutes exposure
►
Employees sampled must have
highest expected exposure
Initial Exposure Monitoring
Initial monitoring can be waived
when:
►
Objective data proves that
methylene chloride levels can't
be released above PEL or STEL
►
Employees are exposed for
fewer than 30 days per year
Requirements for Periodic Monitoring
Monitoring requirements:
►
Monitoring of all tasks with
exposure levels above the action
level
►
Must monitor employees every
three months
►
Additional monitoring when
workplace conditions change
Requirements for Periodic Monitoring
Further requirements:
►
Notify employees of monitoring
results
►
Describe actions being taken to
reduce exposures
►
Allow affected employees to
observe any monitoring
►
Provide employees with
appropriate protective equipment
Summary of Monitoring Requirements
Exposure Scenario
Required Monitoring Activity
Below the action level (12.5 ppm) and at or
below the STEL (125 ppm)
No eight-hour TWA or STEL monitoring
required
Below the action level (12.5 ppm) and above
the STEL (125 ppm)
No eight-hour TWA monitoring required;
monitor STEL exposures every three months
At or above the action level (12.5 ppm), at or
below the PEL (25 ppm TWA), and at or
below the STEL (125 ppm)
Monitor eight-hour TWA exposures every six
months
At or above the action level (12.5 ppm), at or
below the PEL (25 ppm TWA), and above
the STEL (125 ppm)
Monitor eight-hour TWA exposures every six
months and monitor STEL exposures every
three months
Above the PEL (25 ppm TWA), and at or
below the STEL (125 ppm)
Monitor eight-hour exposures every three
months
Above the PEL (25 ppm TWA) and above
the STEL (125 ppm)
Monitor eight-hour TWA exposures and
STEL exposures every three months
►Section 3
Medical
Surveillance
Employer Responsibility
Employer is responsible for:
►
Frequent medical exams
►
Implementing medical
surveillance program, unless:
– Levels are only at action level
30 days or fewer a year
– At PEL or STEL levels for
fewer than 10 days a year
Employer Responsibility
Employers must provide medical surveillance:
►
To any employee exposed above PEL or STEL
►
All employees during an emergency
►
At no cost to employee
►
Without loss of pay
►
At a reasonable time and place
Requirements for Medical Surveillance
Medical exams must include:
►
Comprehensive medical and
work history
►
A physical exam
►
Emergency exams available in
emergency situations
Information for Examiners
Employer must provide examining physician:
►
Copy of methylene chloride standard
►
Description of employee's duties
►
Employee's exposure level
►
Description of personal protective equipment
►
Information from previous medical surveillances
Services Employers Must Arrange
Employer must arrange for physician
to provide:
►
Written opinion regarding
exam results
►
Recommended limitations
on exposure
►
Statement about telling
employee risk factors
►
Statement that employee was
informed of exam results
►Section 4
Control Measures
How Control Measures Protect Employees
Controls are used to reduce
exposure:
►
Must be used to reduce
exposure to or below PEL and
maintain these levels
►
Exception when demonstrated
that this is infeasible
Engineering Controls
Examples:
►
Local exhaust ventilation
►
General and special isolation
devices
►
Enclosures
Work Practice Controls
Examples:
►
Keeping employee's face out of
the methylene vapor zone
►
Prohibit employees from eating,
drinking, smoking, taking
medication, or applying
cosmetics inside the work area
Administrative Controls
Examples:
►
Scheduling operations with
highest exposure risk
►
Employee rotation
Handling Methylene Chloride Leaks
Provisions must be in place for:
►
Containment
►
Prompt cleaning
►
Proper disposal
When Respiratory Protection is Required
Respirators are to be used when:
►
Exposure is likely to exceed PEL
and STEL
►
Controls are being implemented
or installed
►
Controls are infeasible
►
Controls are not sufficient
►
During emergencies
Selecting a Respirator
Appropriate respiratory protection
varies:
►
Employers must chose
atmosphere-supplying
respirators approved by NIOSH
►
Employers may provide gas
masks for emergency escape
►
Canisters must be replaced after
each use
Selecting a Respirator
Respirator care:
►
Must be fitted properly
►
Employer must perform qualitative
or quantitative tests
►
Employees must wash faces and face pieces
►
Malfunctioning respirators must
be fixed before employee can
return to regulated area
Hygiene Facilities Employers Must Provide
Employers must provide:
►
Conveniently located washing
facilities
►
Eyewash facilities within the
immediate work area
Protective Clothing and Equipment
Personal protective equipment:
►
Employees must use protective clothing and
equipment
►
Employer must provide methylene chloride
resistant clothing and equipment at no cost to
employee
Records Employers Must Keep
Employer must establish and keep
records of:
►
All objective data
►
Exposure monitoring
►
Medical surveillance
Objective Data Records
Records must include:
►
Methylene chloride-containing
material in question
►
Source of objective data
►
Testing protocol and results
►
Description of exempted
operation
►
Other data relevant to the
operations
Exposure Measurement Records
Records must include:
►
Date of measurement for each sample taken
►
Monitored operation involving exposure
►
Number, duration, and results of samples taken
►
Type of personal protection equipment
►
Name, social security number,
job classification, and exposure
monitoring data
Medical Surveillance Records
Records must include:
►
Name, social security number,
and description of duties
►
Physician's written medical
opinions
►
Employee medical conditions
related to exposure
Information and Training Employers Must Provide
Employer must provide the following
information:
►
Requirements of the standard
►
Quantity, location, manner of
use, release, and storage of
methylene chloride
►
Where exposures may be above
the eight-hour TWA PEL or
STEL
Information and Training Employers Must Provide
The employer must:
►
Retrain employees as needed
►
When changes in workplace procedures
could increase exposures
►
Notify other employers about
methylene chloride use
Additional Information
Sources of additional information:
OSHA 3144-06-R, Methylene Chloride.
NIOSH Criteria Documents: Criteria for
a Recommended Standard:
Occupational Exposure to Methylene
Chloride. DHHS (NIOSH) Publication
No. 76-138 (March 1976).