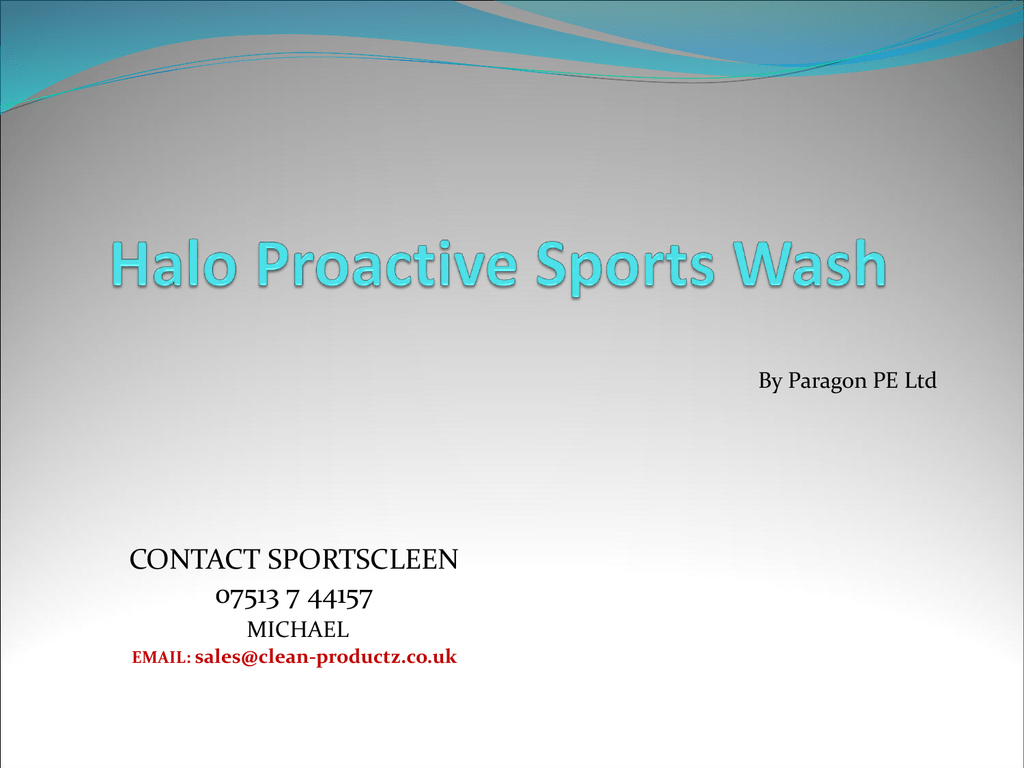 By Paragon PE Ltd
CONTACT SPORTSCLEEN
07513 7 44157
MICHAEL
EMAIL: [email protected]
What is Halo Proactive Sports Wash?
 Halo Sports Wash is a
Non- Bio, Non-Hazardous
Liquid Laundry Detergent
Specially designed for
Sportswear clothing.
 Halo removes Sweat &
Odours from clothing at
Temperatures as low as 30
Degrees, and is proven to
continue working even
after washing.
How Does Halo
Sports Wash Work?
Bacteria act on Sweat trapped in
the weave of the clothing,
producing unpleasant odours.
The Active ingredient in Halo
Proactive Sports wash, Hygienilac,
kills the Bacteria in the weave of
the of the fabric, thus allowing the
clothing to 'breath'.
The Hygienilac also imparts a
residual effect on washed
garments. (See image)
Paragon PE Ltd (Germ Warfare)
manufacturers of Halo, has the
Exclusive Worldwide rights to
incorporate Hygienilac in Laundry
Products.
What Test's Have Been Carried Out?
• Test Method – EN1276: Evaluation of Bactericidal Activity. Passed :
>log 5 reduction (99.9999% of Bacteria were killed)
• Test Method – EN1275: Evaluation of Fungicidal Activity. Passed:
>log 4 reduction (99.99% of Fungi were killed)
• Test Method – EN13704: Evaluation of Sporicidal Activity. Passed:
>log 3 reduction (99.9% of Spores were killed)
• Test Method EN14476: Evaluation of Veridical Activity for
Norovirus. Passed: >log4 (99.99%)
What are the Benefits of Halo Sports
Wash?
Antibacterial, Antifungal & Antiviral
 Meets BS EN 1275, 1276, 13704 & 14476 Test Standards.
 Safe to use on common fabrics such as cotton, polyester,
denim etc & widely used on sportswear fabrics such as
lycra, gore-tex, nylon, elastane, spandex plus many more.
 Can significantly reduce Athletes Foot Fungus & Odours
when used to clean socks & training shoes.
 Non-Hazardous & Environmentally Friendly & Suitable
for any washing machine.
 Non-Bio, so excellent for people with sensitive skin
conditions & Children.
 Tough on Stains but gentle on Fabrics.

Halo Proactive is used
by Olympic Athletes
Jamie Baulch Double World
Champion & Olympic Silver
Medallist.
"As an Olympic Athlete, I
know how much washing has
to be done to keep up with
heavy training sessions day
after day and you want kit not
only looking good but
smelling fresh! Halo Proactive
Sports wash is a perfect match
for Sportsmen and women
who want the best of
everything – this is it!"
Halo Proactive is
used by Celebrity
Fitness Experts
Tina Baker ITV Celebrity Fit
Club Winner & Ex GMTV
Presenter.
"Halo is Brilliant! It's kept me as
fresh as a daisy, even when I was
teaching in 40 degree heat in
Lanzarote! It gets rid of fake tan
stains & any other grubbiness &
pongs that clog up my kit after
hardcore Aerobics. Since leaving
GMTV to become a full time
fitness instructor, I teach 20 classes
a week. Halo is the best product
I've used. My keep fit girls love it
too!"
Halo Proactive is
Tougher than any other
Detergent
ITF England, Gold Medallist
Taekwon- do Team
"The England Taekwon-Do team
takes pride in training intensely so
that we can compete internationally.
The sparring and power competitions
result in our uniforms getting covered
in blood, sweat, and all sorts of stains
that normal detergent will not clean.
England Taekwon-Do needs some
detergent that is better than the
average detergent because of our
demanding environment. It is crucial
for the England squad to look good to
keep us in the running for medals in
international championships.
We tested many detergents and found
Halo was the best for removing stains
and keeping our uniforms looking
and smelling fresh. Halo keeps St
George clean and white and helps
England win Gold Medals. Well done
Halo!
Dosage (Based on a 4.5kg- 5kg load washing machine)
 Light Soiling
Soft/Medium Water Hardness: 60ml
Hard Water: 80ml
 Heavy Soiling
Soft/Medium Water Hardness: 80ml
Hard Water: 100ml
Training Shoes (Check the care label & wash separately from clothing)
 Soft/Medium Water Hardness: 40ml
 Hard Water: 60ml
Suitable for use with other laundry products, e.g. fabric softeners & de -stainers.