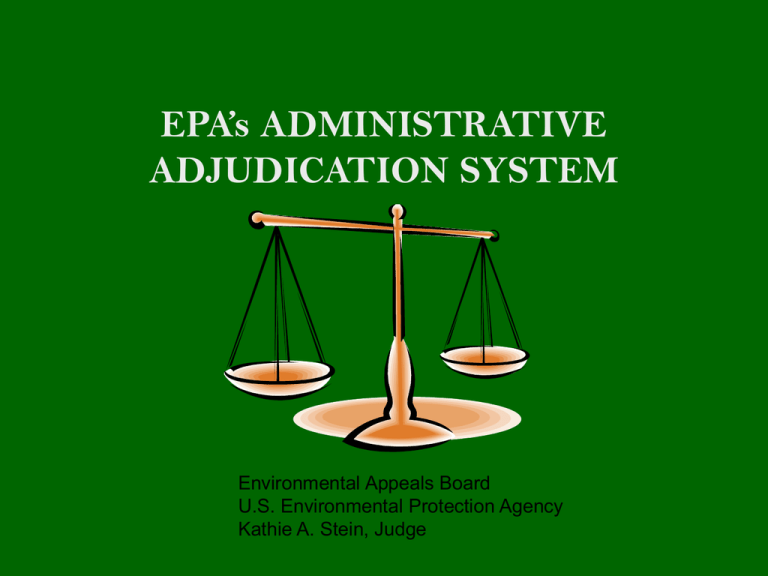 EPA's ADMINISTRATIVE
ADJUDICATION SYSTEM
Environmental Appeals Board
U.S. Environmental Protection Agency
Kathie A. Stein, Judge
Organization of EPA's Administrative
Adjudication System
• Agencies may enforce legal requirements
either in court or in the administrative
forum.
• Tribunals within EPA:
– Administrative Law Judges (ALJs) conduct
administrative evidentiary enforcement trials
to make liability and penalty determinations
– Environmental Appeals Board (EAB) hears
appeals under all of the pollution control
laws that EPA administers, including appeals
from ALJ penalty cases and petitions to
review permitting decisions made by EPA
regional offices or a State. EAB decisions are
the final word of EPA on that matter and are
precedential for future cases.
• Must comply with Administrative Procedure
Act (APA) 5 U.S.C. § 551 et seq. and EPA
procedural rules for adjudicating penalties
40 C.F.R. Part 22 and permit determinations
40 C.F.R. Part 124.
Within the Agency
Administrative
Law Judge
Environmental Appeals
Board
Federal Courts
Hallmarks of the Administrative
Adjudicative Process
•
•
•
•
•
•
•
Adjudicatory Independence
Public Transparency
Prohibition on Ex Parte Communication
Full and Fair Hearings
Record-based Decision-Making
Adjudicative Consistency
Alternative Forum to Federal Court that Resolves Cases
More Quickly and at Less Expense
Adjudicatory Independence &
Transparency
• Administrative Judges are independent of other agency
offices and not involved in investigation, enforcement, or
policy making
– Administrative judges cannot have been involved in the
investigation or prosecution
– Administrative judges can be disqualified from hearing a case based
on personal bias or financial stake in the outcome
• Transparent decision making
–
–
–
–
Rule against ex parte communication
All hearings are open to the public
Requirement for a written record
All EAB decisions, orders and briefs available to the public online
Ex Parte Communication
• All communication must be made part of the record. All
off-the-record communication about the merits of the
case is prohibited:
– Between a party and the judge;
– Between agency prosecutors or investigators and the judge;
– Between any person outside the agency and the judge.
• If ex parte contact occurs, judge must disclose the
communication and place it in the record immediately
• The judge may impose a sanction, including dismissal
Full and Fair Hearings
• Right to be heard: Either before an ALJ or before the EAB,
parties have the right to present their best case to the decision
maker.
• Before an ALJ: parties have the ability to present witnesses
and documentary evidence and respond to evidence presented
by the other side. This body of evidence will form the basis of
the judge's decision. Evidence must be "reliable, probative and
substantial evidence." (APA §556d)
• Before the EAB: Decisions are based on the administrative
record of the appealed decision (ALJ or permit decision).
Parties have a full opportunity to advocate their position by
filing briefs with the EAB, presenting oral argument where the
Board determines that would be beneficial, and moving to have
an EAB final decision reconsidered.
Decisions Based on the Record
• Duty of the ALJ: make findings of fact and law and issue
initial or recommended enforcement decisions based solely on
evidence put into a contemporaneous record. Transcripts,
exhibits and other formally filed papers constitute "the
exclusive record for decision."
• Duty of EAB: make a determination to reverse or uphold an
ALJ enforcement decision, or in the permitting context, to
uphold the permit-issuing agency's determination or remand
the decision back to the decision maker for further review
consistent with EAB's holdings. All decisions are based on the
record made below: the evidentiary record of the ALJ, or the
body of evidence relied on by the permit-issuing agency and
compiled in an administrative record.
Transparency of Decisions
• ALJ and EAB hearings are open to the public.
• Decisions of an ALJ or the EAB explain the basis of
the decision in detail and are made available to the
public via the EPA ALJ and EPA EAB websites.
www.epa.gov/eab
• All orders issued in any case and all filings by the
parties are also part of the record of the case and
available on the website.
• EAB decisions are also published in bound volumes,
Environmental Administrative Decisions.
Adjudicative Consistency
• EAB decisions constitute the final word of the
Agency on a particular matter and serve as
precedent for future cases.
• Publication of EAB decisions via the web and
published volumes provides access to the Board's
decisions on any given topic and promotes
predictability on the part of regulated industry and
interested citizens.
Alternative Forum to Federal Court that
Resolves Cases More Quickly and at Less
Expense
• Efficiency:
– Administrative adjudication is typically faster than
litigation in federal court.
– High percentage of cases brought administratively are
resolved at the administrative stage through litigation
or mediation and are not appealed to federal court.
• Expense: Administrative litigation is typically less
expensive than litigation in federal court.
• Deferential standard of review: If appealed, federal
courts typically defer to EAB decisions, further
discouraging appealing administrative cases to federal
court.