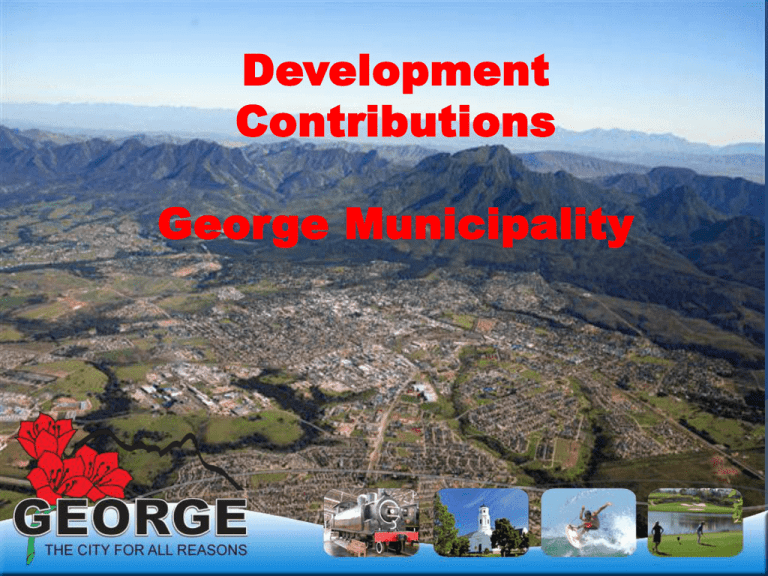 Development
Contributions
George Municipality
BASIS FOR DETERMINING DEVELOPMENT
CONTRIBUTIONS
•PSDF
•George Municipality's SDF
• Master Plans
Water
Sewer
Roads
Stormwater
Solid Waste
Bulk Raw Water Resources Plan
PRINCIPLE S APPLIED
• Payable in terms of Section 42 of the land use Planning
Ordinance (1985) & Section 75A of the local Government
Municipal Systems Act 32 of 2000
• Must be defined in a Council Policy
• Cost of providing bulk services must be financially
sustainable and based on sound principles
• Private Development is responsible to cover the cost
of bulk services required to accommodate this development
• Burden of financing services to accommodate new
development must not be borne by existing rate payer
PRINCIPLE S APPLIED cont.
• Low Cost Housing contribution covered by MIG allocation
(inadequate to cover actual cost, and inevitably supplemented
from municipal income base)
• Contribution payable must be fair, transparent, reflect actual
cost
• Private development carries the full cost of link services and
dedicated services
• Council may not fund the provision of certain services on
private property (legislation) eg roads
• Cost of infrastructure required is expressed as a cost per
equivalent erven
BASIC STEPS TO DETERMINE
DEVELOPMENT CONTRIBUTIONS
• Consultation with Town Planning – provide direction on
future growth areas and densification patterns
• Adaptation of Master Plans accordingly
• Costing of services required to accommodate all new
growth and development (current construction costs)
• Equivalent erf defined in accordance with Red Book (Guideline
on Human Settlement Planning & Design)
• Calculation of DC payable per equivalent erf =
Total service cost / Number of equivalent erven to be serviced
• Annual revision – zero based cost to inform tariffs list
• Principles and calculation of DC's workshopped with
Town Planners and Consulting Engineers
Definitions
Equivalent erf:
• A property of which the hypothetic average daily water
usage does not exceed 1000 L / day
• A property of which the hypothetic design capacity of
10kVA before diversity maximum demand (BDMD)
• A property of which the hypothetic solid waste generated is
equal to that of a three-bedroom residential unit
• A Cash payment equal to 72m² x market value per m² for
public open space
Transfer:
• Transfer in relation to immovable property, transfer of the
relevant property in terms of the deeds Registries Act 47 of
1937 or any suchlike transfer of ownership
When are DC's Payable
Payable on time of transfer or submission of approved
building plans, whichever takes place first
•
Developer becomes liable for payment of DC when:
i
Extending exiting floor area;
ii
Change of approved building plans;
iii
Change of land use;
iv
New building be erected;
v
Electrical supply be increase
Overview of Capital Contribution
•
DC for roads calculated in accordance with applicable
standard formula (refer to COTO)
• DC payable by registered owner of the property concerned at
the time when CC is due.
• DC payable in terms of Section 75A of the Systems Act,
unless the amount is replaced by a condition in terms of the
Land Use Planning Ordinance. (refer to service agreements)
• DC may be refunded, less 10% administration cost, if the
applicant, who already paid DC, but chooses not to exercise
his rights.
• DC may not be paid in advance, to avoid tariff increase.