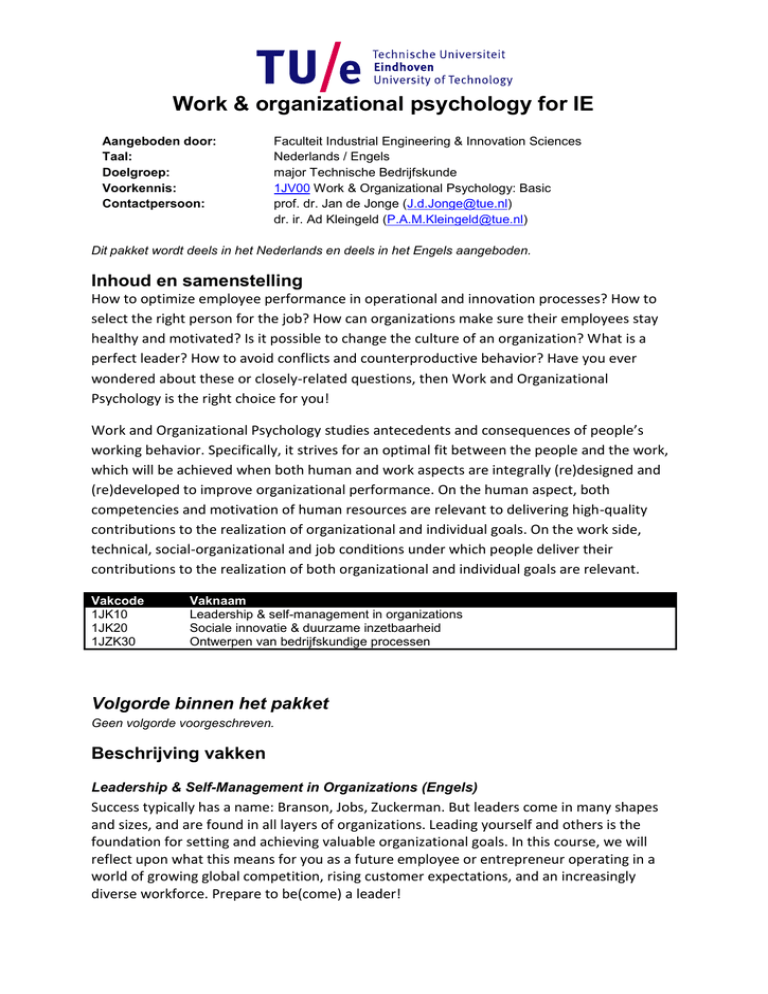 Work & organizational psychology for IE
Aangeboden door:
Taal:
Doelgroep:
Voorkennis:
Contactpersoon:
Faculteit Industrial Engineering & Innovation Sciences
Nederlands / Engels
major Technische Bedrijfskunde
1JV00 Work & Organizational Psychology: Basic
prof. dr. Jan de Jonge (J.d.Jonge@tue.nl)
dr. ir. Ad Kleingeld (P.A.M.Kleingeld@tue.nl)
Dit pakket wordt deels in het Nederlands en deels in het Engels aangeboden.
Inhoud en samenstelling
How to optimize employee performance in operational and innovation processes? How to
select the right person for the job? How can organizations make sure their employees stay
healthy and motivated? Is it possible to change the culture of an organization? What is a
perfect leader? How to avoid conflicts and counterproductive behavior? Have you ever
wondered about these or closely-related questions, then Work and Organizational
Psychology is the right choice for you!
Work and Organizational Psychology studies antecedents and consequences of people's
working behavior. Specifically, it strives for an optimal fit between the people and the work,
which will be achieved when both human and work aspects are integrally (re)designed and
(re)developed to improve organizational performance. On the human aspect, both
competencies and motivation of human resources are relevant to delivering high-quality
contributions to the realization of organizational and individual goals. On the work side,
technical, social-organizational and job conditions under which people deliver their
contributions to the realization of both organizational and individual goals are relevant.
Vakcode
1JK10
1JK20
1JZK30
Vaknaam
Leadership & self-management in organizations
Sociale innovatie & duurzame inzetbaarheid
Ontwerpen van bedrijfskundige processen
Volgorde binnen het pakket
Geen volgorde voorgeschreven.
Beschrijving vakken
Leadership & Self-Management in Organizations (Engels)
Success typically has a name: Branson, Jobs, Zuckerman. But leaders come in many shapes
and sizes, and are found in all layers of organizations. Leading yourself and others is the
foundation for setting and achieving valuable organizational goals. In this course, we will
reflect upon what this means for you as a future employee or entrepreneur operating in a
world of growing global competition, rising customer expectations, and an increasingly
diverse workforce. Prepare to be(come) a leader!
Sociale Innovatie & Duurzame Inzetbaarheid (Nederlands)
Moderne werkplekken veranderen voortdurend, wat leidt tot discussies over de nieuwe
professionaliteit, veranderende organisatieconfiguraties, nieuwe technologieën, en de
ontwikkeling van nieuwe competenties van werknemers ("het nieuwe werken"). Dit
betekent dat werknemers hun leven lang moeten leren om tegemoet te kunnen komen aan
veranderingen in de nieuwe kenniseconomie, teneinde duurzaam inzetbaar te kunnen zijn.
In deze cursus leer je deze discussies te begrijpen vanuit een organisationeel, technologisch
en met name sociaal perspectief. Deze cursus kan eerder beschouwd worden als een
ontdekkingsreis die leidt tot interactie en onderling debat, dan als een poging tot reguliere
kennisoverdracht. Het uiteindelijke doel is om als student stelling te nemen in deze debatten.
Vanwege de opzet van het vak kunnen maximaal 50 studenten aan dit vak deelnemen.
Ontwerpen van Bedrijfskundige Processen (Nederlands)
Dit keuzevak gaat over het feitelijk vormgeven van de organisatie van een bedrijf. Vragen die
centraal staan, zijn: Hoe zorg je ervoor dat een bedrijf voldoende vernieuwend en
innoverend is, dat mensen er met plezier en ambitie in kunnen werken, en dat hun
prestaties op voldoende niveau komen en blijven? Het antwoord op die vragen ligt
verscholen in een goed doordacht bedrijfskundig ontwerp van de organisatie. Wil je zelf
graag leren hoe dat ontwerpproces in zijn werk gaat, dan is dit vak voor jou een prima keuze.
In het vak leer je hoe je een productieafdeling kunt (her)ontwerpen op basis van
sociotechnische principes, hoe je een performance management systeem kunt ontwerpen
voor een zelfsturend team en hoe je innovatieprocessen kunt (her)ontwerpen op basis van
functionele specificaties.