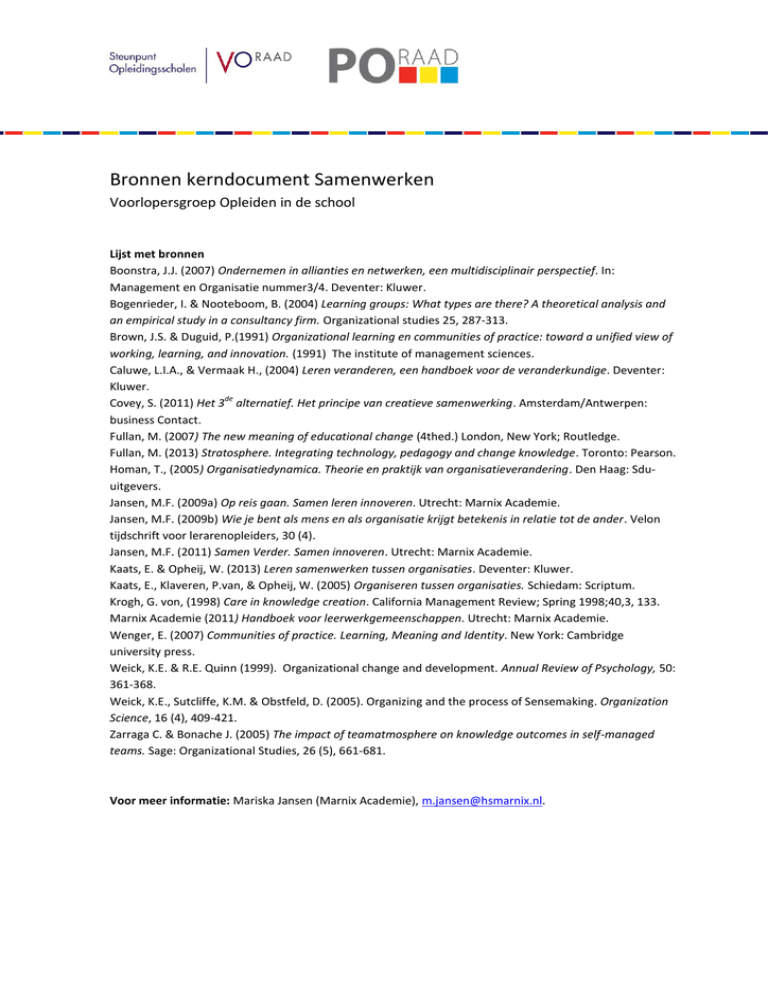 Bronnen kerndocument Samenwerken
Voorlopersgroep Opleiden in de school
Lijst met bronnen
Boonstra, J.J. (2007) Ondernemen in allianties en netwerken, een multidisciplinair perspectief. In:
Management en Organisatie nummer3/4. Deventer: Kluwer.
Bogenrieder, I. & Nooteboom, B. (2004) Learning groups: What types are there? A theoretical analysis and
an empirical study in a consultancy firm. Organizational studies 25, 287-313.
Brown, J.S. & Duguid, P.(1991) Organizational learning en communities of practice: toward a unified view of
working, learning, and innovation. (1991) The institute of management sciences.
Caluwe, L.I.A., & Vermaak H., (2004) Leren veranderen, een handboek voor de veranderkundige. Deventer:
Kluwer.
de
Covey, S. (2011) Het 3 alternatief. Het principe van creatieve samenwerking. Amsterdam/Antwerpen:
business Contact.
Fullan, M. (2007) The new meaning of educational change (4thed.) London, New York; Routledge.
Fullan, M. (2013) Stratosphere. Integrating technology, pedagogy and change knowledge. Toronto: Pearson.
Homan, T., (2005) Organisatiedynamica. Theorie en praktijk van organisatieverandering. Den Haag: Sduuitgevers.
Jansen, M.F. (2009a) Op reis gaan. Samen leren innoveren. Utrecht: Marnix Academie.
Jansen, M.F. (2009b) Wie je bent als mens en als organisatie krijgt betekenis in relatie tot de ander. Velon
tijdschrift voor lerarenopleiders, 30 (4).
Jansen, M.F. (2011) Samen Verder. Samen innoveren. Utrecht: Marnix Academie.
Kaats, E. & Opheij, W. (2013) Leren samenwerken tussen organisaties. Deventer: Kluwer.
Kaats, E., Klaveren, P.van, & Opheij, W. (2005) Organiseren tussen organisaties. Schiedam: Scriptum.
Krogh, G. von, (1998) Care in knowledge creation. California Management Review; Spring 1998;40,3, 133.
Marnix Academie (2011) Handboek voor leerwerkgemeenschappen. Utrecht: Marnix Academie.
Wenger, E. (2007) Communities of practice. Learning, Meaning and Identity. New York: Cambridge
university press.
Weick, K.E. & R.E. Quinn (1999). Organizational change and development. Annual Review of Psychology, 50:
361-368.
Weick, K.E., Sutcliffe, K.M. & Obstfeld, D. (2005). Organizing and the process of Sensemaking. Organization
Science, 16 (4), 409-421.
Zarraga C. & Bonache J. (2005) The impact of teamatmosphere on knowledge outcomes in self-managed
teams. Sage: Organizational Studies, 26 (5), 661-681.
Voor meer informatie: Mariska Jansen (Marnix Academie), m.jansen@hsmarnix.nl.