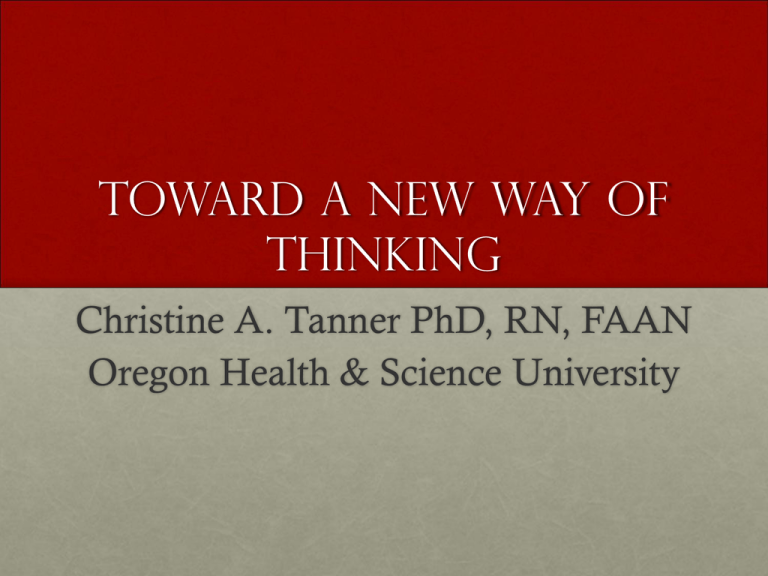 Toward a New Way of
Thinking
Christine A. Tanner PhD, RN, FAAN
Oregon Health & Science University
Partnerships
If you want to go quickly, go alone
If you want to go far, go together
Building Trust
Clarity of goals
• What does alignment mean?
• To what end?
• Who are our clients?
• What are their health care needs?
• How must the system evolve to meet their needs?
• What competencies must a nurse have to practice in
this new world?
Clarity of goals
• Clinically competent, safe nurse
• Prepared for practice – "hit the ground running"
• Critically thinking
Challenging Taken
for Granted
Assumptions &
Practices
I had an Epiphany!
Challenging
Assumptions
• Generalist practice
• Fundamentals of nursing
• Nursing Process
Challenging
Accepted practices
Challenging
Accepted practices
• Clinical Education
Supporting
Innovation
Its always" sit, stay heal!" never
"Think, Innovate, Be Yourself "
Assessing outcomes
My question is "Are We Making an
Impact?"
Your Turn
• What partnerships/alliances do you need to form?
• What are your goals?
• What are our assumptions & do they hold up in this
new environment?
• How will you support innovation while holding to
standards?
• What are our educational outcomes and how will we
assess them?