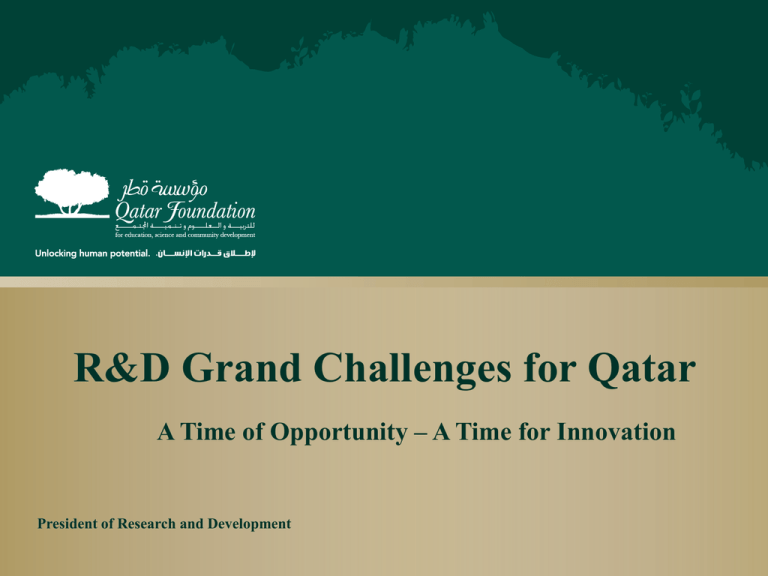 R&D Grand Challenges for Qatar
A Time of Opportunity – A Time for Innovation
President of Research and Development
Global trends today: Observations and Opportunities
• Greatness can be fueled by excellence in research and innovation
• Opportunity for leadership:
– Energy, Digital Economy, Health & Life Sciences
– No nation has yet established a dominant position
• For the foreseeable future, education and research coupled with
innovation will provide competitive advantage
The Qatar National Research Strategy (QNRS)
Will Apply R&D to Achieve Our National Vision
The Qatar National Research
Strategy 2012 specifies R&D
actions to achieve QNV 2030
Qatar's National Vision
for 2030 sets priorities for
research and innovation
Our R&D Vision Is Ambitious and Achievable
Vision: Qatar will be an international center for research and
development excellence and innovation.
Mission: The national research program will be based on inclusiveness
and intellectual merit to:
•
•
•
•
•
Develop the capabilities of Qatar's people and institutions
Build and maintain a competitive and diversified economy
Improve the health and social well-being of Qatar's population
Support Qatar's distinctive culture and the security of its people
Preserve and improve the natural and built environment
To achieve the nation's R&D mission, we will:
•
•
•
•
Strategically guide the nation's R&D strategy
Ensure good stewardship of its R&D investments
Optimize synergies
Support, facilitate and conduct research and development
QNRS Defines Our Path Forward to Address
Specific National Priorities
Four research themes support national priorities
Energy and
Environment
Computing and
Information
Technology
Health and Related
Life Science
and Technologies
Social Sciences,
Arts, Humanities
Enterprise-wide interdisciplinary research and development
Developing capabilities and capacities across research institutions and organizations
Stakeholders Will Advance the R&D Value Chain
Basic→ Applied → Tech Development → Prototype/Test → Commercialization
QNRS defines our research objectives based on National priorities
QNRF:
Enable
the research
community
to achieve objectives
Qatar's R&D entities:
Conduct
research
that contributes
to objectives
QSTP:
Facilitate
innovation
and the transition
of ideas into markets
QF R&D will facilitate, monitor and evaluate research activity
Research: From Inspiration to Results
QNRF
QRIs
QSTP
Research
Funders
Basic→ Applied → Tech Development → Prototype/Test → Commercialization
Universities
QRIs
QSTP and tenants
Research
Performers
Qatar Foundation Leads Qatar's Collaborative
R&D Enterprise
• Major investments to achieve an
ambitious national vision:
Transform Qatar into a
knowledge economy
• Participatory process among key
stakeholders
• From Vision to Strategy
• From Strategy to Grand Challenges
R&D
Grand
Challenges
Qatar National
Research Strategy
Research & Development
Enterprise
Qatar's 2030 Vision & development goal s
Grand Challenges Add Focus to the R&D Enterprise
Multiple Actors Are Needed to Achieve QNV 2030
QNV 2030 and QNDS Development Pillars:
Human – Social – Economic – Environmental
•
•
Other Government (laws, policies, standards, services)
Public Engagement (awareness, uptake, behaviors)
Education
Enterprise
• Education: K12,university,
professional
• Training: management,
leadership, vocational
R&D Enterprise
• Informed by QNRS
• Grand challenges build
on QNRS to propel the
country's R&D agenda
forward toward Qatar's
Vision 2030
Innovation
Enterprise
• Technology
accelerators
• Science & technology
park
• Commercialization
Criteria for Grand Challenges and for R&D Success:
Research Need and Capacity Shape Impact
Need
• Responsive to a national priority
• R&D will solve specific, important problem
• Problem unique to Qatar, potentially
regional and global impact
Capacity
• Realistic R&D investment
• Multi-sector engagement & collaboration
• Sustainable innovation capacity
Impact
•
•
•
•
•
Address national priorities
Transform the economy
Build sustainable innovation capacity
Strengthen education for R&D
Enhance the knowledge base & society
Grand Challenge Ideas from March 2013 Meetings
Relate Clearly to QNDS and QNV 2030
Grand Challenge Idea
Specified Policy Challenge (from QNDS 2011-16)
Energy security
Improved energy efficiency, hydrocarbon diversification
Water security
Reforming unsustainable water consumption patterns
Food security
(Linked to water security and agro-food sustainability)
Cyber security
ICT Development strategy
Modernized, integrated
health care system
Rebalancing the health care system
Sustainable urbanization
Encouraging sustainable urbanization & consumption
Managing the social
dimensions of change
Modernization and preservation of culture & traditions
Mobility and road safety
Improved road traffic safety, (add value to megaprojects)
Culture, arts, and media
Preserving traditional Qatari culture & Arab identity
Sport culture & WC2022
Environment and society
Human capacity
development
Healthy and active living through sports
Environmental awareness
Meeting needs for high-quality workforce (X-sectors)
QNV 2030 Pillars
Economic
Human
Social
Environmental
Grand Challenges Are Inter-Related
Integrated mobility
Built environment
Road Safety
Modern,
Sustainable
Cities and
Society
Sport
Cyber Security
Modern, Integrated
Health Care
Human Capacity
Development
Grand Challenges Reflect Many QNRS Objectives
R&D Grand Challenges:
QNRS Goals/Objectives:
EW1- Governance
EW2- M&E
EW3- Ecosystem
EW4- Workforce
EW5- Partnerships
EE1- Oil and gas
EE2- Renewable energy
EE3- Energy efficiency
EE4- Nat. environment
EE5- Env. sustainability
EE6- Climate change
EE7- Cross-cutting
ICT1- Infrastructure
ICT2- Computing, analytics
ICT3- Arabic lang. technol.
ICT4- Systems, robotics
ICT5- Cross-cutting
HE1- National priorities
HE2- Enabling platforms
SAH1- Society
SAH2- Culture
SAH3- Public & economic life
SAH4- Cross-cutting
•
•
•
•
•
•
•
•
•
•
•
•
Energy Security
Water Security
Food Security
Cyber Security
Modern, integrated health care
Sustainable Urbanization
Social dimensions of change
Mobility & Road Safety
Sport Culture
WC2022 & Legacy
Environment & Society
Human Capacity Development
We Will Develop a Plan for Each Grand Challenge
Grand
Challenge
R&D
Activities
Grand Challenge
• List of research projects/activities to be undertaken – across institutions and sectors
• List of R&D outcomes generated from the activities above
R&D
Outcomes
• Government: Laws/enforcement, policies, standards, programs/services
Translation • Public: Awareness, uptake, behaviors
GC Goal
Success: Achievement of the ultimate goal of the Grand Challenge
We Want to Ensure Progress on Grand Challenges
2030
2013
Grand Challenge Idea
Energy security
Water security
Food security
Cyber security
R&D Grand Challenges
Basic  Applied/Translational 
Commercialization  Uptake/Use
QNV 2030
Impact
Economic
Modernized, integrated
health care system
Human
Sustainable urbanization
Managing the social
dimensions of change
Mobility and road safety
Sport culture /or/
Culture, arts, media, sport
WC2022 & legacy
Environment and society
Human capacity
development
Plan
R&D
Implement
R&D
Monitor
R&D
Social
Environmental
We Will Partner with Industry to Apply R&D
Innovations
 Collaborative R&D agreements
 Creation and growth of
businesses based on R&D
technologies developed in Qatar
 Venture capital relationships
 Aggressive outreach
QSTP Since 2009:
 ?? new companies
 $?? million investment
 $?? million in revenues
 ??? new jobs
We Are Building a World Leading Innovation
Ecosystem to Address R&D Grand Challenges
• We have important problems to solve
– Energy, Water, Food, Environment, Health
• We have a vision, strategy and unwavering leadership commitment
to tackle these problems and transition solutions to society
• We are blessed with world leading people with whom to
collaborate
• We are building unsurpassed research facilities and will invest
significant resources to address Grand Challenges and achieve
Qatar's National Vision for 2030.