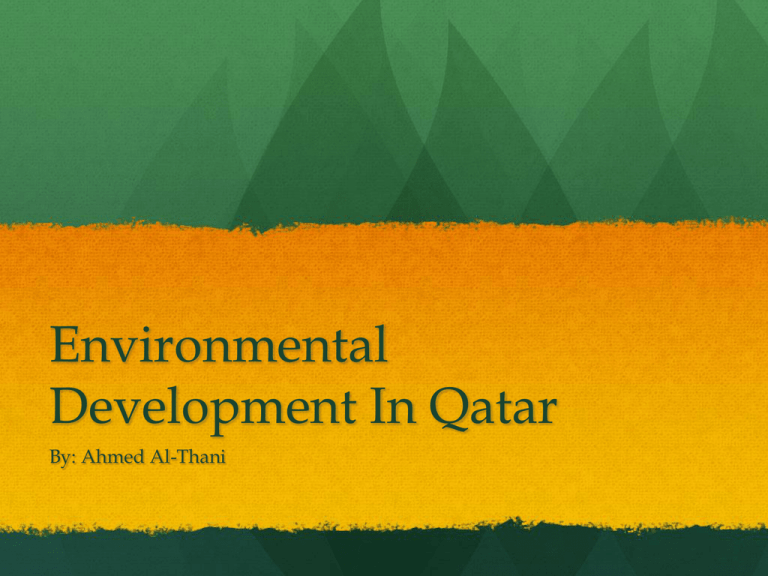 Environmental
Development In Qatar
By: Ahmed Al-Thani
How will Qatar's
Environment change and
develop by 2030?
The Outline
 Qatar Needs to Improve their Environment so that
People will migrate here.
 Qatar needs to worry about the pollution and the
water rising.
 Another big issue Qatar needs to worry about is
Global Warming
Fifa 2022 World Cup
 Qatar needs to speed up the process of the 2030
plans
What goals will Qatar
reach by 2030
 I belief Qatar can reach each one of their goals by
2030
Bibliography
Web.
<http://www.constructionweekonline.com/picture
s/gallery/Projects/Doha_city_web.jpg>.
Web.
<http://img2.photographersdirect.com/img/95/w
m/pd2257579.jpg>.
Web.
<http://wwwdelivery.superstock.com/WI/223/17
83/PreviewComp/SuperStock_1783-19546.jpg>.
Bibliography
 Web. <http://cdn.greenprophet.com/wpcontent/uploads/2009/08/090731-greensahara_big1.jpg>.
 Web.
<http://qataracademy.org/file.php/383/Unit_3__Oil/Qatar_National_Vision_2030.pdf>.