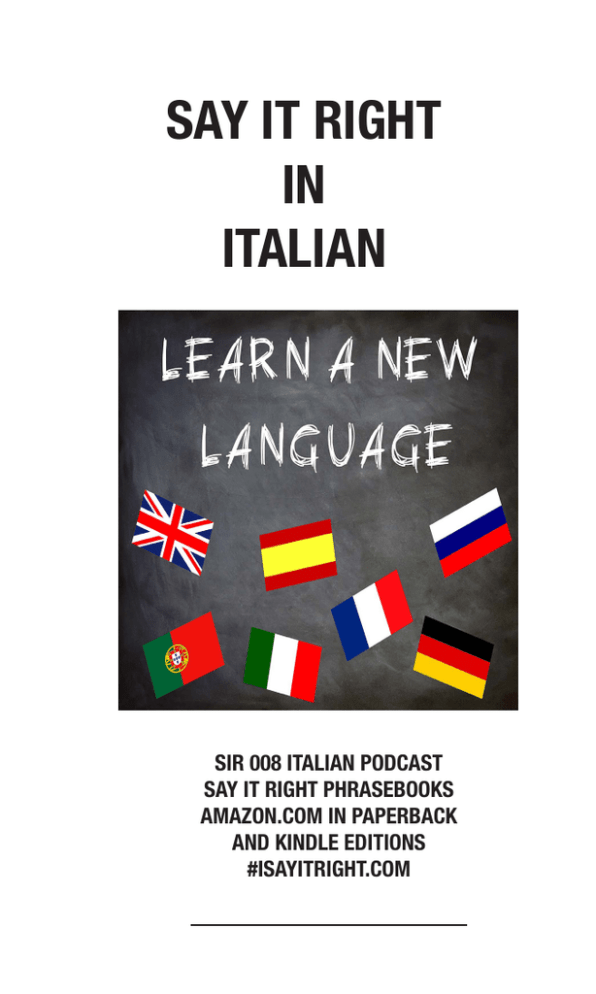 SAY IT RIGHT
IN
ITALIAN
SIR 008 ITALIAN PODCAST
SAY IT RIGHT PHRASEBOOKS
AMAZON.COM IN PAPERBACK
AND KINDLE EDITIONS
#ISAYITRIGHT.COM
ITALIAN romantic
phrases
Hello to everyone!
Buon giorno a tutti!
bwOn jO´´R-nO Å tø´-tE
My love!
Mio amore!
mE´-O Å-mO´-Ré
My darling!
Tesoro mio!
té-zO´-RO mE´-O
My little star!
Mia sellina!
mE´-Å stél-lE´-nÅ
I miss you!
Mi manci!
mE mÅ´ñ-kE
I need you!
Ho bisogno di te!
O bE-zO´´n-yO dE té
I miss your kisses!
Mi manacano i tuoi baci!
mE mÅ´´n-kÅ-nO E t7 bÅ´-chE
ITALIAN romantic
phrases
I adore you!
Ti adoro!
tE Å-dO´-RO
You are my life!
Sei la mia vita!
sé lÅ mE´-Å vE´-tÅ
I think of you every day!
Ti penso ogni giorno!
tE pé´´n-sO O´´ñ-yE jO´R-nO
I love you! (only for romantic partners)
Ti amo!
tE Å´-mO
Will you marry me?
Mi vuoi sposare?
mE v7 spO-zÅ´´-Ré
Good-bye!
Arrivederci!
Å-RE-vé-dé´R-chE
© 2014 EPLS, I Say it Right. All Rights Reserved.