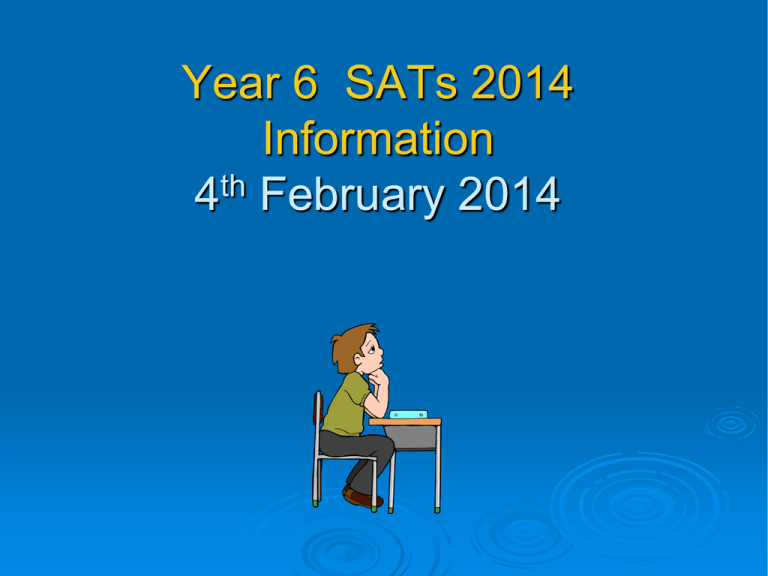 Year 6 SATs 2014
Information
th
4 February 2014
Why do we do SATs?
Standard Assessment Tests are designed to
test pupils' knowledge and understanding of
the Key Stage 2 curriculum. They provide a
level of attainment in:
• Reading
• Mathematics
• SPaG
• Science*
*(from 2010, only selected schools/pupils. Results will not be reported
at school level.)
What do SATs tell us?
•
•
•
•
SATs results contribute to the information
your child's future teacher receives about
your child's ability and standard of work
They also show the teachers which area of
work your child needs to focus on next
They help the secondary school set
individual targets for your child's needs
At the end of Year 6 your child's teacher
will assess their progress from Year 2 to
Year 6, which will also inform the
secondary school.
SATs Levels
•
There is no pass or fail mark
• At the end of Key Stage 2 the 'average' or
'expected' attainment is a level 4 in the
tests
• The levels range from level 3 to level 5.
• There is also a separate test that tests
Level 6. Only a very small selection of
children will complete this.
Key Information
•
•
•
•
It is vital that ALL children are in school in the run
up to the tests, when revision is being undertaken
It is vital that ALL children are in school during
SATs week
If your child is seriously unwell on the morning of
a test, please contact the school immediately.
If your child is under the weather and you would
normally keep them at home, we would
encourage you to bring the child in for the period
of the test only.
SATs Week
Not long to go!
3rd-7th Feb
10th-14th Feb
Half Term
24th-28th Feb
3rd – 7th March
10th – 15th March
17th – 21st March
24th – 28th March
31st – 4th April
Easter Holiday
Easter Holiday
22nd – 25th April
4 days
SATs Week
28th – 2nd May
6th – 9th May
4 days
SATs Week
Tuesday
13 May
Wednesday
14 May
Thursday
15 May
English
Reading
Test
English
Grammar,
Punctuation
and Spelling
Test
Mental
Maths
Test
Maths
Test
Paper A
Maths
Test
Paper B
Level 6
English
Reading
Test
Level 6
English
Grammar,
Punctuation
and Spelling
Test
Monday
12 May
am
pm
Level 6
Maths
Test
Paper 1
and 2
Friday
16 May
English
Reading Test
• The test will include different texts such as stories, poems,
explanations, interviews and reports that the children have
to answer questions about.
Spelling, Punctuation and Grammar Test
• There is a 20 word spelling test
• There is also a test booklet which tests the children on
their ability to use and identify punctuation and grammar.
Over to you…
•
Spend a few minutes looking through the
reading and SPaG test papers.
Mathematics
There are three maths tests:
•
Test A
• Test B
• Mental Arithmetic
Over to you…
•
Mental Arithmetic Test
• Have a go at the questions on the sheet.
Science
We will be notified by the end of the Spring term if
we have been selected to participate on the
Science assessments.
The outcome of these tests is not shared with the
schools or the children, it is simply a national
sample.
Between Now and Then…
Preparation for the tests is very important
• Class 7 and 8 teachers will continue to give
practice tests throughout the coming term
• Children will review their answers, be told their
results and get given tips for improvement
• Homework will support the concepts that will be
needed in the tests, acting as revision.
How can you support your child?
•
Give them quick fire recall tests in multiplication
and division tables
• Encourage your child to visit and use some good
quality 'revision' websites:
BBC Bitesize, My Maths, Kent ICT
Education City, Sumdog – English and maths
• Plan fun activities at the weekend to help your
child relax (as they are working hard at school
during the week!)
• Keep sleep patterns consistent – even through the
Easter holidays.
• Healthy eating contributes to brain power. Regular
meals are vital as is a good breakfast every
morning!
Special Arrangements
•
The school decides on, and makes
appropriate arrangements for children with
a range of learning needs. If this affects
your child you should already be aware of
this as they will have had practice with, for
example, a reader or a scribe. Some
children may also be allowed extra time to
complete their tests.
Any Questions?
Thank you for your
continued support.