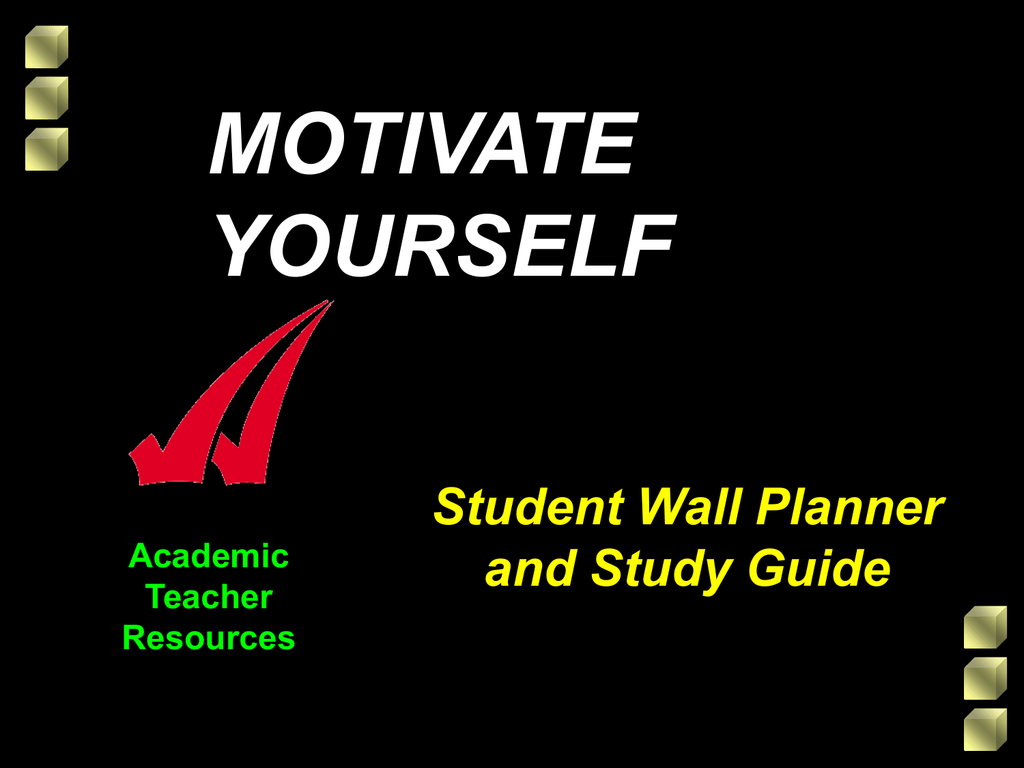 MOTIVATE
YOURSELF
Academic
Teacher
Resources
Student Wall Planner
and Study Guide
MOTIVATION
To improve your grades, marks,
results and approach to learning
answer the key questions
 HOW
 WHEN
 WHERE and
 WHY
(1):
HOW?
Give your very best effort:
In class
 With your homework
 With your study routine
 In examination preparation

Follow the suggestions in this Study Guide
and use the Student Wall Planner
WHEN?
Start right now.
 Don't put things off
 Act now to maximise the
opportunities before you

(2)
WHERE?
Here and now!
At school
At home
In the library
With you homework
With your assignments
With you study

(3)
WHY?

Reflect on your motivation and
reasons
(4)
 To be empowered?
 Better marks and grades for better
employment?
 Keep your parents and teachers happy?
 Self desire to do well?
 To gain power (knowledge is power)?
 Fear of failure?
MOTIVATION
What makes you want to study or not? Is it:
 Interest
in the work?
 The need to know and learn?
 The desire to improve?
 Seeking knowledge for power?
 Be able to do things?
 To better yourself?
 To enjoy the learning process?
MOTIVATION
 If these triggers are true then
you obtain motivation from (5)
INTRINSIC FACTORS (ie:
from within learning)
 Also called (6) MASTERY
GOALS as they focus on
mastering the work
MOTIVATION
What makes you want to study or
not? Is it:
 Want
high marks?
 Want lots of money?
 To do better than your class mates?
 Don't want to let down your teacher?
 Don't want to disappoint your parents?
 Do want to fail?
MOTIVATION
If these triggers for study are true then
you are motivated by EXTRINSIC
FACTORS (ie: from things outside the
learning itself)
These are called PERFORMANCE
GOALS because they focus on
achievement levels.
Most of us are motivated by a
combination of both FACTORS
(7)
(8)
(9)
MOTIVATION
When setting your goals try to use both
factors.
 (10) Your attitude to yourself and study play a
huge part in your motivation.
 (11) Reward yourself – only – when the task is
completed
Make sure the reward matches the effort to
complete the task: time with friends, icecream, TV
Motivation: Successful
Strategies to Achieve Your Goals
In order for you to
strengthen your approach
to goal setting and
achieving the desired
outcome there are a
number of strategies that
are available.
Motivation: Successful
Strategies to Achieve Your Goals
Form a Study Group with a few
friends
Meet Your Subject Teacher on
regular basis
Mentor System
Alternative Sources
Team Up
Note Pad

(12)

(13)




(14)
(15)
(16)
(17)
Class Time - Maximised
 Be
on (18) Time for Class
(19) Sit at the front – avoid distractions
(window, fellow students)
(20) Be alert in Class
(21) Be organised – books, pens, notes
(22) Engage your mind – be pro active
 Use the time wisely (23) ask questions
(24) Revise your notes and handouts
each night





Other Study Ideas
Form a Study Group
(26) Summarise Topics – Pages
(27) Cards – Definitions and Key Points
(28) Diagrams and illustrations
(29) Extended Reading (beyond text)
 Review Today's Information in (30) tonight's
study session
(31) Review this week's information again on the
weekend
 Time spent studying and reviewing now (32) will
save you many hours leading to the
examinations






(25)
Oral Presentations:
Identifying Signal Statements
During oral presentations
the presenter will make
alert statements that
important notes need to be
made.
These statements are
called signal statements.
(33)
Oral Presentations:
Identifying Signal Statements
A Signal statements include:
The most important point …
 Keep in mind …
 Make sure you know …
 I am going to expect you do …
 Listen carefully as I …..

Oral Presentations:
Identifying Signal Statements
 High
school teachers usually talk as
a rate of about (34) 100 – 120 words per
minute.
 Average high school student can (35)
write about 15 to 20 words per
minute.
 Be selective in the words you record.